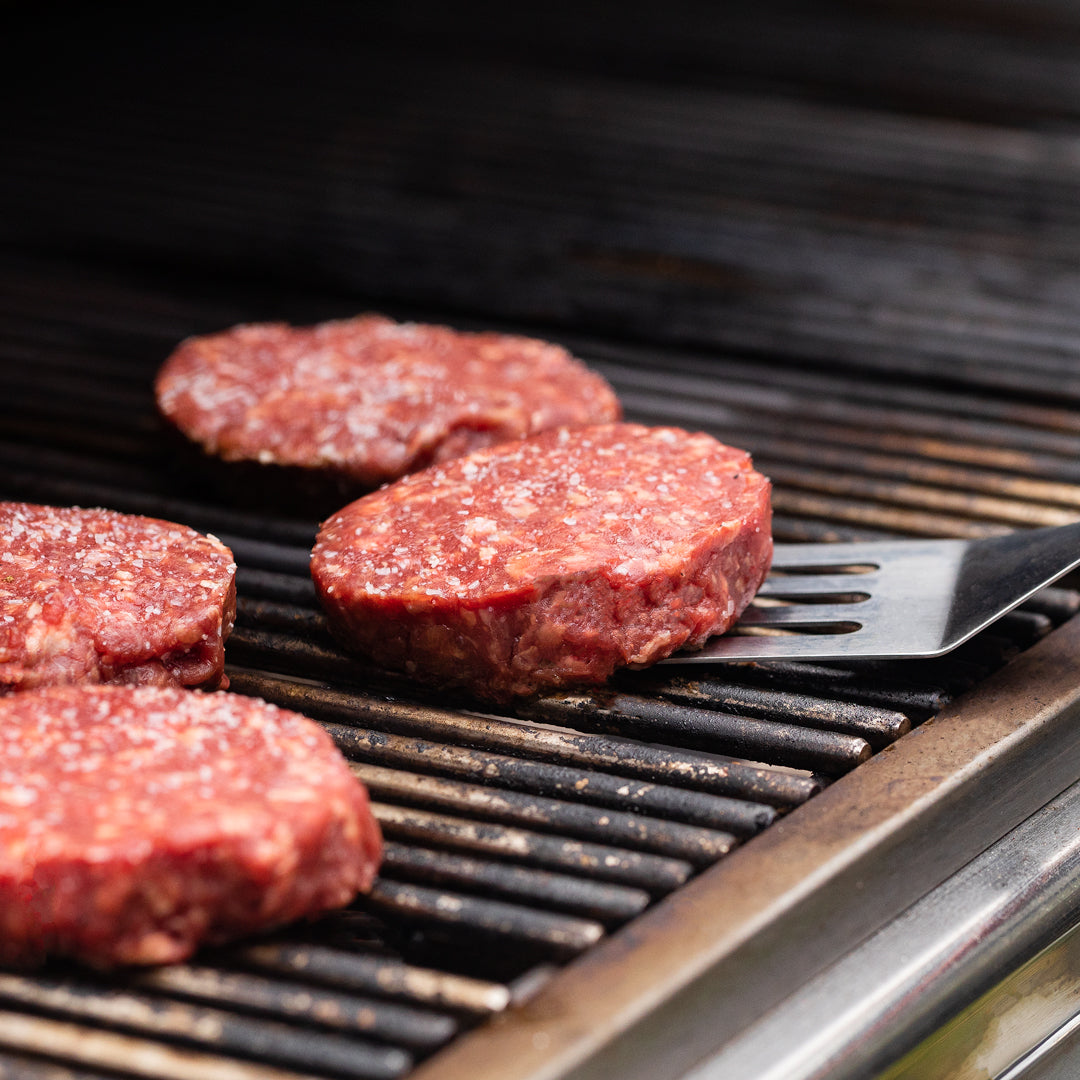 10 Burger Recipes for Your Cookout
The 4th of July holiday has become synonymous with cookouts and this Independence Day, rather than serving up a plain old hot dog with ketchup and mustard, upgrade your patriotic partying with one of these delicious burger recipes made with Pre's 100% grass fed ground beef. Try one (or more) of these 10 Burger recipes!
The best part of any burger is the beef, and at Pre we strive to offer the best tasting, highest quality beef in the world so no matter which of these 4th of July burgers you choose to serve it's sure to be a hit! Our selection of grass fed ground beef is Non-GMO Project Verified with no added hormones or antibiotics so not only are these grass fed burger recipes guaranteed to be tasty but they're healthy too.  We believe food will naturally taste great if chosen with care and integrity and that nature, not technology, should supply what's on your plate. That's why we source all our beef from farms that raise animals in ethical, natural and sustainable environments and choose from our 15 points of curation. You won't find any better grass fed beef, or grass fed burger recipes, anywhere.
The burger is an all-American staple and all of these burger recipes made with Pre's ground beef have the potential to become a staple of your Summer cookouts for years to come.
Made with Pre's 85% Lean Ground Beef, the Sweet and Spicy Blended Burger is the best of both worlds. Adobo chilis provide the spice which is offset by shaved carrots and zucchini, creating a wonderful taste sensation. Add lettuce and your choice of cheese to complete the burger. The full burger recipe can be found here.
This is recipe pays homage to Detroit, one of our favorite midwestern cities and an icon in American car culture, making it a perfect 4th of July burger. As the name of the burger suggests, the caramelized onions are the star ingredient – aside from Pre's ground beef, of course – so be sure to load them up on each slider. Mayo, pickles, and your choice of cheese finish off the dish. Check out the full recipe here.
If you're looking for a healthy 4th of July burger, look no further than the Whole30 Florentine-Style Ground Beef burger. Packed with spinach and sun-dried tomatoes, this burger is keto friendly, paleo friendly, and Whole30 friendly. Pre's 92% and 95% Lean Ground Beef work best for this burger recipe, which can be found in full here.
Our take on the famous cheeseburgers offered at the Au Cheval restaurants in Chicago and New York lets you skip the long lines people usually wait in to get a taste and experience the deliciousness at home. If you really want a 4th of July burger that will impress friends and family this one will do the job. Find the full burger recipe here.
What more is there to say about this burger aside from the fried egg? – That should be enticing enough for most. Avocado and green chilis accompany the fried egg, making this burger gluten-free and keto, paleo, and Whole30 friendly if you forgo the bun. The burger recipe is best made with Pre's 85% lean patties and can be found in full here.
A Pre team favorite, this burger is a mouthful cheesy goodness. The sharp and salty blue cheese stuffed inside Pre's 85% Lean Ground Beef is complimented nicely by maple bacon and the onions add some slightly spicy notes. Add your favorite barbeque sauce and you've got a delectable burger. Get cooking with the full recipe here.
Another healthy burger recipe that is keto, paleo, and Whole30 friendly, the Cajun Burger Lettuce Wraps are a lighter option but with a big taste. Pre's 95% Lean Ground Beef is the star with red bell peppers, red onions, celery salt, and Cajun seasoning mixed into the ground beef, and we recommend mayo, chopped olives, and Remoulade sauce all included in the lettuce wrap. You also have the option of eating the burger open face. Lastly, check out the full burger recipe here.
We at Pre predict that this will be the most flavorful burger you've ever had. Our 85% Lean Ground Beef is formed into a patty and then salted and basted with dijon mustard. Place on the grill and baste the other side before flipping. The mustard infuses into the burger and creates a well-rounded taste and a flavorful base for toppings. Lastly, find out how you can make it to perfection here.
Make your own Mexican flavored dry rub for your burgers. Rub the burgers with the seasoning and coat with high heat oil. Grill on a hot grill and then serve on a platter with all different toppings. Pair with traditional toppings like lettuce and tomato or add jalapenos and cilantro for a bit of heat. Lastly, click here to view the recipe in full.
Lastly, from our favorite 10 burger recipes is the classic! You can't go wrong with a burger recipe as classic as this and Pre's Lean Ground Beef will elevate it above any other simple burger recipes out there. This will be a 4
th
of July burger that should please everybody, especially any picky eaters. Lastly, you can find the full recipe
here
.
Make one of these delicious 10 Burger Recipes for your next cookout and for the Fourth of July!