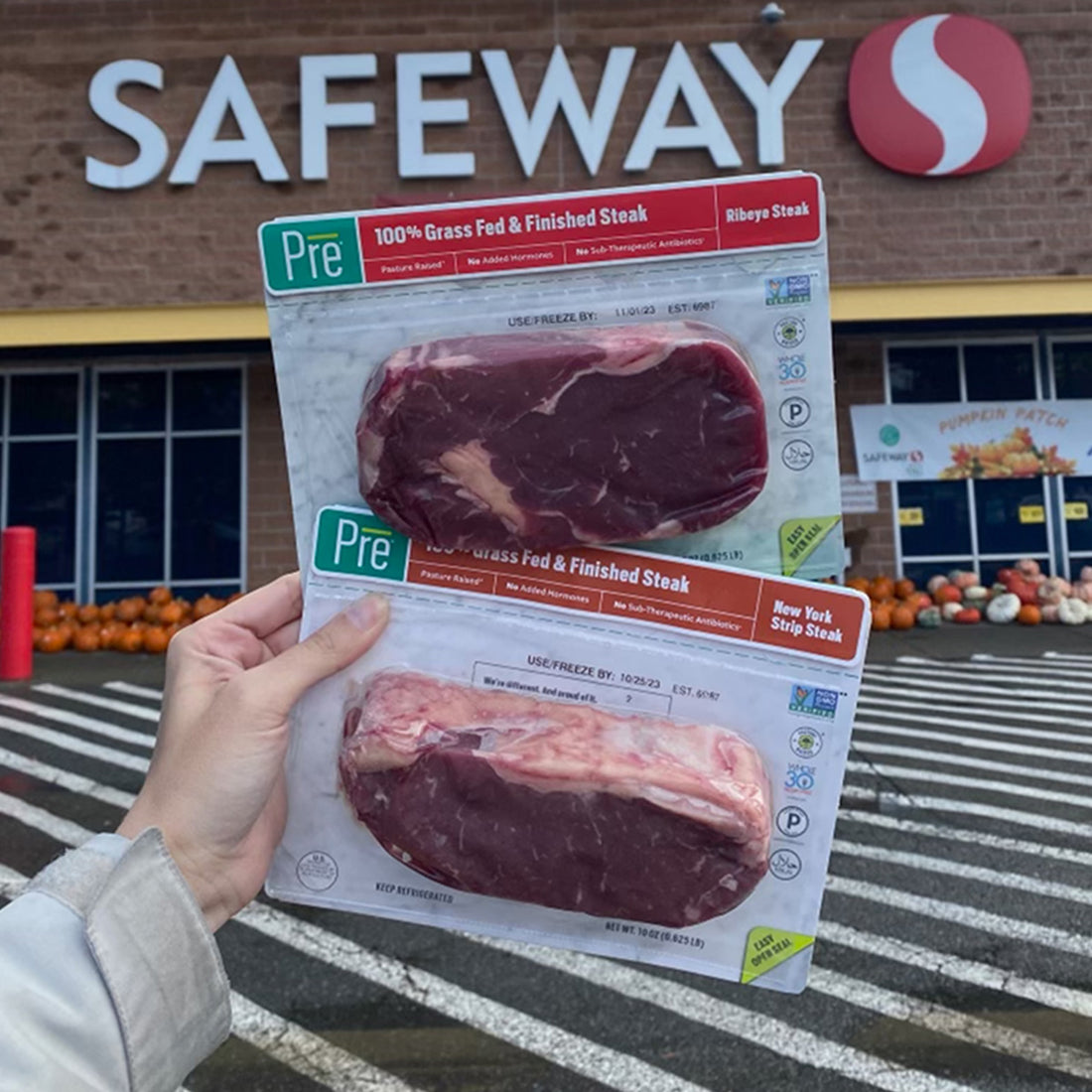 It's Never Been Easier to Find Pre Grass Fed and Finished Beef
Here at Pre, we've been working hard to make it easier to shop for 100% grass fed and finished beef. You can now find us in several new stores across the country and some brand new products are hitting shelves in the stores you already love. Read on to discover where you can get your hands on this delicious and nutritious beef.

A couple of really exciting products are now available in hundreds of Harris Teeters throughout the South Atlantic region and Washington D.C. Keep an eye out for the fantastic Korean Bulgogi Sirloin and Barbacoa Flank marinades. If you'd rather not worry about finding the perfect recipe for your marinades, we've got you covered! 
Look out Seattle! You can now find our incredible New York Strip and the ever-popular Ribeye steaks in Safeways around the Seattle area and reaching all the way to Spokane and Coeur d'Alene. We're so excited to bring our 100% grass fed and finished beef to the Pacific and Inland Northwest.
All y'all in Georgia, North Carolina, South Carolina, Tennessee, Virginia and West Virginia, you're in luck. You can now find Pre 85% Lean Ground Beef in your local Food Lions. Of course, you can still find our 92% and 95% Lean Ground as well as Filet Mignon, New York Strip, Ribeye, and Top Sirloin. Try that 85% in your next burger and you won't be disappointed!
We're expanding in the St. Louis area and our beef can now be found at even more Schnuck's throughout Missouri and Illinois. Now is the perfect time to stock up on steaks and ground beef to prepare for the winter months.
We're super-excited to launch in Giant Eagles across Ohio and Pennsylvania this month. Head to the meat department and get your hands on some of our 100% grass fed and finished Filet, Petite Sirloin, Ribeye, and New York Strip.
These are just a few of the new stores where you can now find Pre beef. With its expansion into these top retailers, Pre beef is more accessible than ever before. Whether you're looking for a juicy steak or lean ground beef, Pre has you covered. Visit your nearest store today and experience the delicious taste and superior quality of Pre beef.