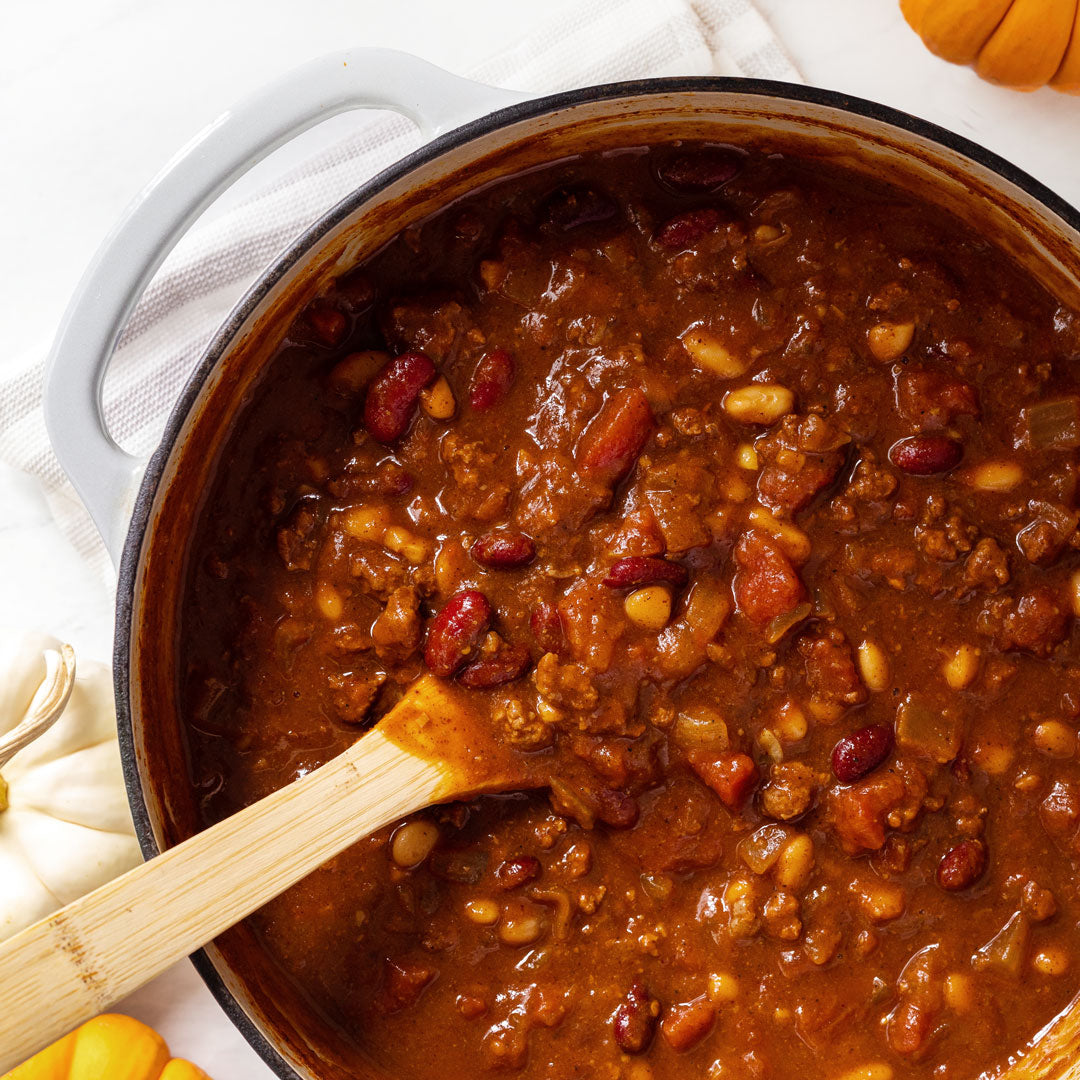 The Best Fall Recipes to Get into the Season
As we near the beginning of fall, we're reminded of some of the best beef and best fall recipes we know. With the season of fall comes a wonderful assortment of seasonal flavors that finally have time to shine. We've come up with a few of our favorite fall recipes to get you excited for fall foods, and many of them use our favorite staple – beef. Boasting non-GMO grass-fed beef and grass-fed steak, these simply are the best fall beef recipes out there!
This delicious recipe incorporates the classic (and somewhat trendy) fall flavor of pumpkin that everyone loves so much. A wonderful blend of zucchini, pumpkin puree, garlic, seasonings, and mustard is mixed with ground beef to create a unique take on meatloaf.
As we've all discovered over the last decade, pumpkin spice is pretty amazing. So why not add it to a hearty bowl of velvety ground beef chili? This recipe is so good you'll be making it over and over again all winter long.
Boasting all the flavors of fall, this dish is a bit of a showoff that everyone will love. Combine mashed pumpkin, ghee, leeks, mustard powder, and nutmeg with flavorful cheddar cheeses and a beautiful amber lager and start dipping. Pro tip: Top sirloin skewers pair wonderfully with this warm, cheesy, fondue-esque dip.
If you've ever wanted to capture the essence of fall, put it in a bowl, and eat to your heart's content, you're in luck. This hearty bowl will continue to amaze you and will have your home smelling like fall (well, cinnamon…which is basically fall).
Shredded chuck roast really brings this dish together. So much so that you may just start replacing ground beef with it in all your chili recipes. This Whole30 approved, hearty dish boasts hints of smoked paprika and cocoa powder and will definitely keep you warm on a cold night.
It's no secret that we love a good chuck roast recipe. This one makes a great addition to the best fall beef recipes. This one is filled with curry spice and everything nice and to top it off can be whipped up and on the table in under an hour!
A quality bone broth can really heat things up on a cold autumn night. Spiced with Thai chilis, ginger, and turmeric, this bone broth packs a punch. It may take longer to make, but it's super simple and sooo worth it in the end. Simply use it in soups, stews, marinades, and specialty sauces to bring out a delightful beefy flavor.
This dish may seem overly simple, but we'll stand by its deliciousness. Whip up this beefy, cheesy, favorite fall recipe in 40 minutes or less. Scoop it up with your favorite crackers or chips. Pro tip: Top with little plastic spiders (after it's out of the oven) for a spooky addition.
Pre Has You Covered
If you're ready to get creative (and spooky) with your Halloween and fall recipes, we recommend purchasing some quality, delicious grass-fed beef. Our beef will bring out the best flavor for the best fall beef recipes for any meal!