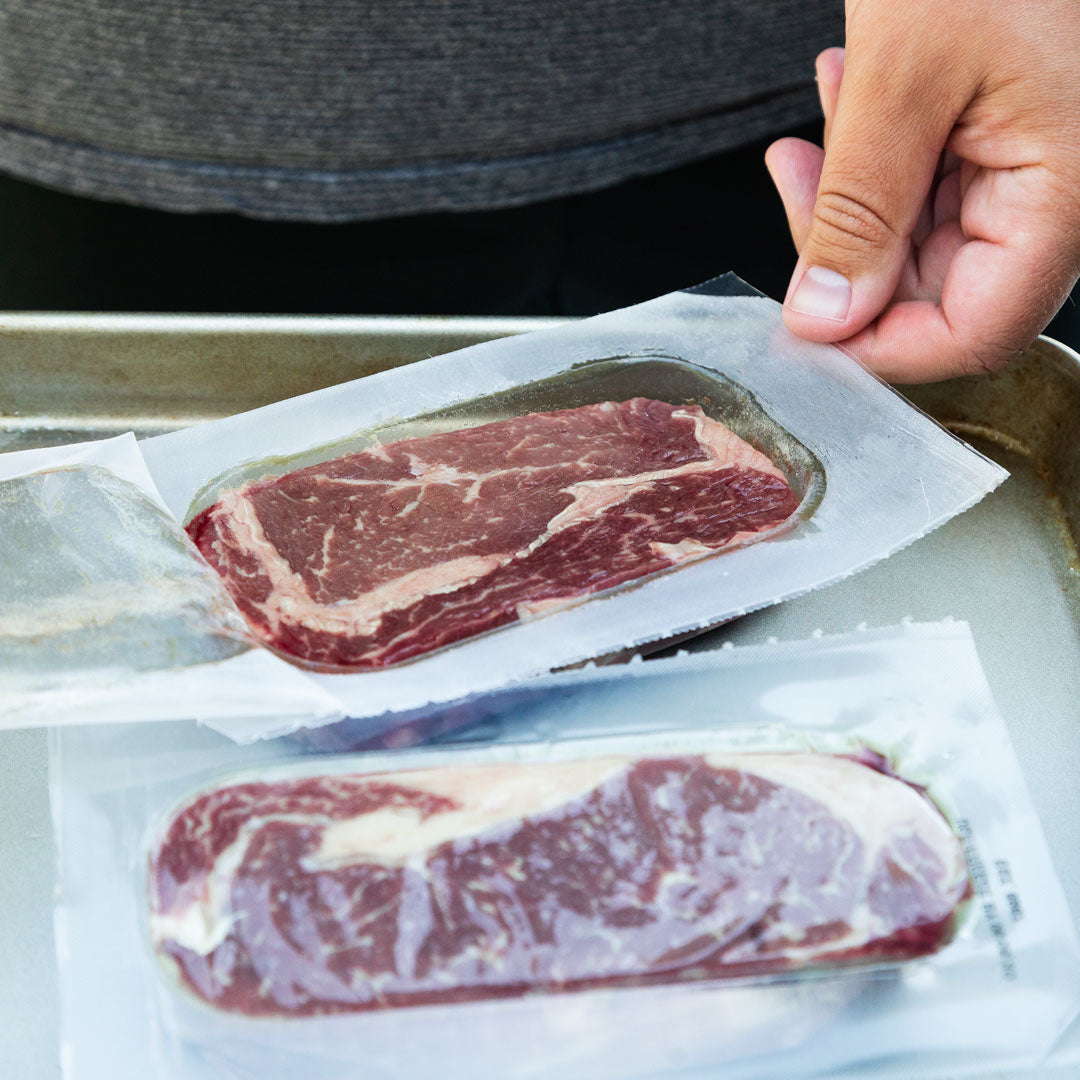 The Importance of Pre Beef Packaging
Understanding the Importance of Meat Packaging 
At Pre we understand that our customers put a lot of stock in the quality of their meat. In order to obtain the best quality, certain standards must be met. In an effort to maintain the high standards of our grass-fed and finished beef products, such as our steaks, grinds, boxes, and seasonal cuts, we worked hard to develop a patented fresh meat package that works for every grind and cut. You must understand the importance of meat packaging if you want to choose the best beef products for your family.
Key Benefits of Meat Packaging 
When it comes to choosing meat for your family, keep in mind the importance of packaging and labels. Many meat products are packaged in poor materials with so many confusing labels slapped on. It can be difficult to understand what you are purchasing. Pre wanted to make a difference, so we've gone the extra mile to be completely transparent – literally. We vacuum seal all our ethically sourced beef in our patented, transparent fresh meat packaging. This provides you with a 360° view of the meat so that you know exactly what you're buying. Our labels and packaging are:
Vacuum sealed for freshness

Easy to open with our easy-peel feature

100% BPA-Free

100% transparent
The Added Value of Our Patented Fresh Meat Packaging
As important as it is to provide our customers with safe and healthy packaging options, it is also important to provide you with convenience. Pre understands that many of our customers will end up freezing our products before consumption, so we've developed our packaging to accommodate that. Our specialty transparent packaging not only is freezer-safe and ready, it's also the perfect package to thaw your beef in, in preparation for a delicious meal. Accessing our grass-fed beef is easy when you utilize the easy-peel perforation featured on our packaging, and it doesn't stop there – we also include cooking instructions on the back, so you can successfully prepare and devour every bite of premium Pre beef!
Understanding Where Your Beef Comes From 
At Pre it is important to us that we source all our beef ethically, and as a pasture-raised beef brand, we believe that food naturally tastes great when chosen with integrity and care. We work solely with farms in Australia and New Zealand that raise animals in ethical, natural, sustainable environments and that understand organic is a lifestyle, not a label. In an effort to share our passion for sourcing ethical beef, we've incorporated a QR code on all of our products. Scanning this code allows our customers to see and understand where their beef comes from.
What Separates Pre from the Crowd?
The nutritional benefits of Pre grass-fed and finished beef seriously stacks up against the rest. When compared to grain-fed beef brands, our premium beef is lower in calories and lower in fat. In addition, we never add antibiotics or growth hormones to our beef. No living organism can be hormone free, so our beef is not hormone-free. We are, however, able to say that our cattle have never been given hormones in order to promote growth during their lifetime. At Pre, we work diligently to provide our customers with an accurate nutritional profile of our products. When compared against a USDA choice version for the same cut of beef, our steaks came out ahead with fewer calories, less fat, higher heart-healthy Omega 3s, and higher CLA.
Pre beef proudly carries the following certifications: Certified Paleo, Keto Certified, Non-GMO Project Verified, and Whole30 Approved. We are also Halal compliant.  Get in touch with us to learn more about our packaging today.