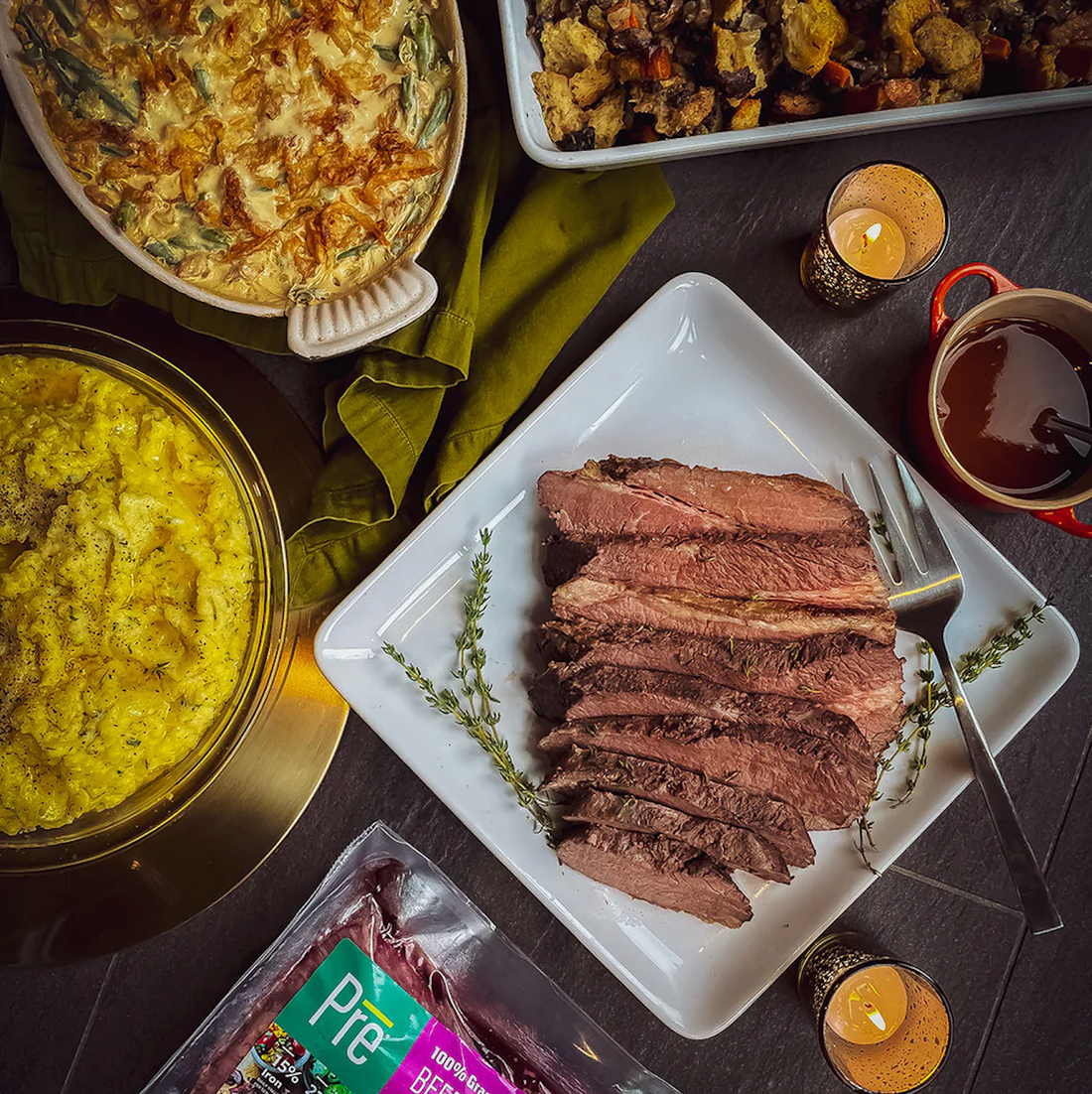 Thanksgiving Recipes
Let's be honest; Turkey is boring and hard to cook! The tradition of having Turkey at Thanksgiving dates back to 1621… but a lot has changed since then, and we think that includes your Thanksgiving dinner. Not to mention there is a national Turkey shortage this year due to inflation and Highly Pathogenic Avian Influenza (HPAI) throughout the Turkey population. 
We invite you to Flip the Bird this Thanksgiving and make some tenderloin, chuck roast, or brisket instead this year. It's not "traditional," but following old traditions can… get pretty old, and we're much more excited about a juicy roast than a dry turkey. 
This is a challenging holiday regarding the cooking and stress involved. So we've made a menu that works with any of our fantastic beef products in our NEW FLIP THE BIRD beef box! We have plenty of EASY recipe ideas and sides to make this day memorable and stress-free! 
What's in the FLIP THE BIRD box?
(2) 28-oz Center cut Beef Tenderloin

(2) 38-oz Briskets

(2) 24-oz Chuck Roast

(2) 16-oz 85% Lean Ground Beef
Everything is always:
100% Grass-fed and finished

No added antibiotics

No added hormones

Non-GMO Project Verified. nongmoproject.org*

Whole 30 Approved

Certified Paleo
Try these recipes at your Thanksgiving this year; we guarantee your family will be extremely thankful!
Chuck roast is the perfect Fall or Winter treat; you can't mess it up. It just needs to cook low and slow for a long time. It will be tender and juicy if you use a slow cooker or dutch oven. We love experimenting with different flavor profiles, and what is better than a cold beer and some excellent beef flavor? We thought it could be even better with Twisted Hippo's Beeting Heart beer. And you know what? We were right. This is a dish worthy of center stage at your next gathering; you'll also use the braising liquid to create a luscious pan sauce!
It might sound fancy and intimidating, but as long as you have the time, you'll find the sous vide method to be a reliable cooking friend in the kitchen. Perfect for large gatherings, this foolproof method is a show-stopper in the Center of the table. You may be asking, "what IS sous vide?" It is translated as "under vacuum." It is a French technique that has been a standard in restaurant kitchens for decades. You will need a sous vide circulator. A decent one can be bought for about $100. The circulator warms the water and gradually cooks the meat at a steady & controlled temperature until you are ready to serve dinner.
What more can we say about this classic holiday side? Iconic. It's a snap to prep, and you can make it up to 2 days ahead. This dish is better when you make it ahead—reheat it in the oven and let it sit for at least 15 minutes before serving.
We like to use Yukon gold potatoes instead of the more commonly used — russets — which are more starchy. Use a potato ricer, then follow up with a potato masher (also great for making guacamole!) This gives the potatoes such a creamy texture that your guests will be asking how many cups of heavy cream you used!
This stuffing recipe is easy, but it does take some time to pull together. You'll want to leave time for the seasoning in the ground beef mixture to meld (12 hours to overnight) and leave the bread out, uncovered, overnight. You can prepare the stuffing up to 2 days before serving. Assemble the recipe, cover it tightly with foil and keep it in the refrigerator. Allow the uncooked stuffing to come to room temperature before baking.
This beef tenderloin recipe is relatively easy to make and brings a delightfully different flavor to the table. Take the flavors of French Onion Soup and turn them saucy. All you have to do is pour the french onion pan sauce over a Pre beef tenderloin and slice.
Horseradish comes as a sauce, or you can buy the fresh horseradish root that is far more vibrant and intense compared to the sauce. Although horseradish has a spicy and unique flavor, it perfectly compliments the Center cut beef tenderloin! This beef dish will leave your guests wanting more.