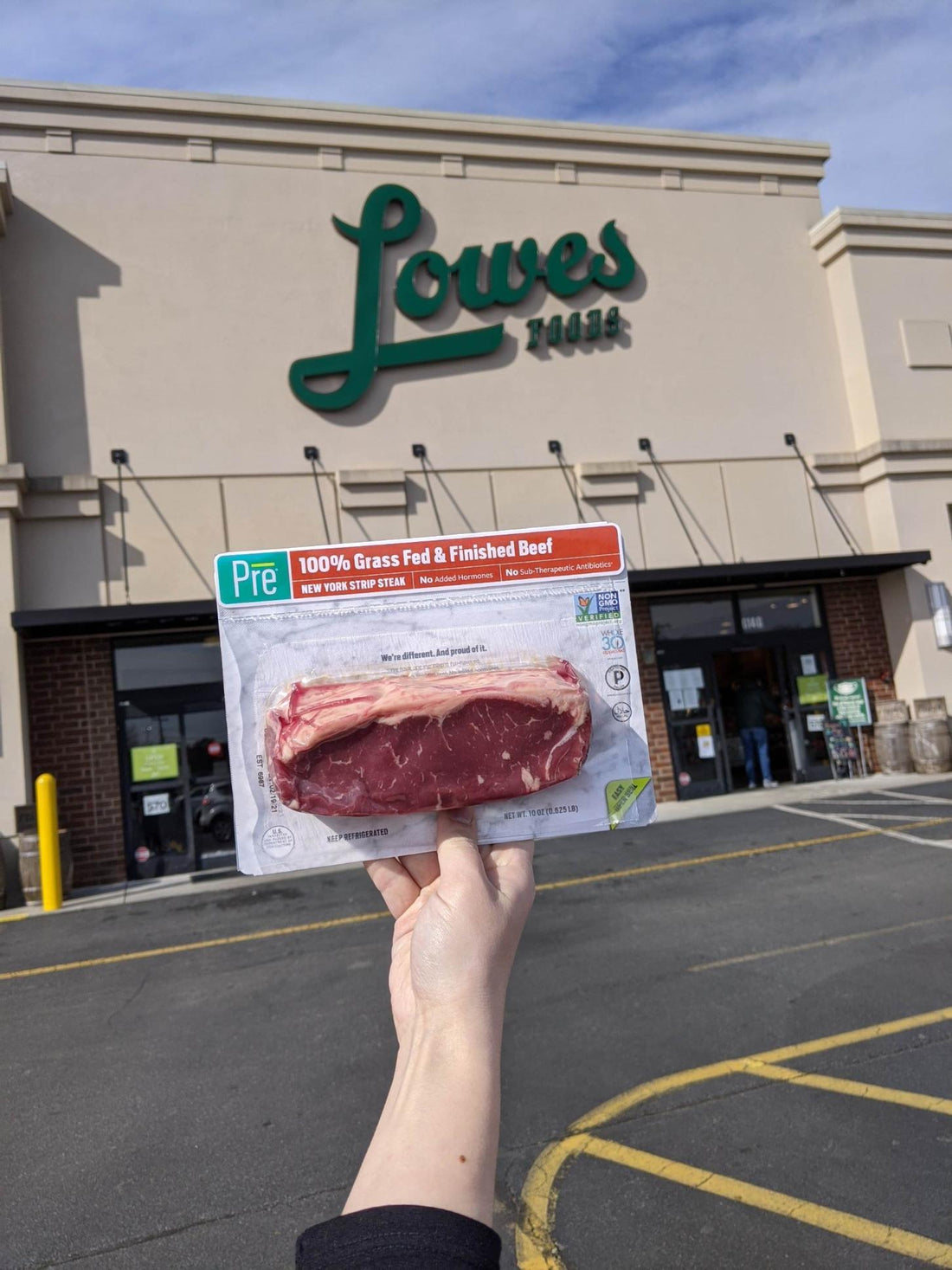 Pre Brands Expansion Momentum Continues to Southeast
Chicago, Ill. – February 09, 2021 – Pre® Brands, a leading provider of 100% grass-fed and grass-finished beef and the leading brand of steak in the better for you beef category, continues its expansion drive with the launch to highly attractive super regional in the Southeast, Lowes Foods. 
 "Pre Brands was founded with an inspiring, uncompromising vision to deliver what consumers want in beef, including great taste, transparency, health, and humanely treated animals," said Pre Brands Chief Executive Officer, Kevin Ponticelli. "Pre has delivered on this mission and is category leading growth, basket size and loyalty, due to our exceptional product quality and strong consumer and customer investments." The most recent Nielsen syndicated data demonstrates significant dollar consumption growth from Pre grass-fed and finished beef, up 113% vs a year ago. 
"We are honored to open up the Southeast region with the highly respected Lowe's Foods," said Pre Brands Chief Sales Officer, David Meltzer. "We believe Pre's proven ability to drive better for you beef segment growth and incrementality at retail and through click and collect, with world class customer service levels."
Pre's assortment of steaks is Non-GMO Project Verified, Whole30 Approved, Keto, and Paleo Certified. They offer high-quality 100% grass-fed and finished beef which comes from animals raised ethically and sustainably on pasture year-round with no added antibiotics or hormones. Pre's grass fed beef up to 62% leaner and 37% fewer calories than USDA Choice. Pre takes great pride in the quality of our products. If customers are not completely satisfied with Pre products, they can get their money back. For more information, visit eatpre.com/tasteguarantee.
Shoppers in North Carolina, South Carolina and Virginia can now find Pre Brands at Lowes Foods.  
About Pre® Brands
Pre thinks about beef differently, so they approach beef differently. Pre believes in respecting your taste, your health, and your time. They founded a company to deliver just that – offering the best-tasting, highest-quality beef in the world – with absolute transparency from pasture to package to plate.
Pre is 100% grass-fed and finished beef never adds hormones or antibiotics and is Non-GMO Project Verified. Pasture-raised year-round with respect for the animals. The 100% transparent packaging is free of synthetic chemicals and 100% BPA free. Pre is available nationally in retail and online. Learn more at eatpre.com
About Lowes Foods
Founded in 1954, Lowes Foods operates nearly 100 full-service supermarkets in North Carolina, South Carolina and Virginia. Locally owned and operated, Lowes Foods is truly a homegrown company committed to bringing community back to the table, by providing customers with the freshest and most innovative local products from local suppliers. The company maintains a strong focus on exceptional attention to our guests, with services like Lowes Foods-To-Go personal shopping and gas rewards discounts. To learn more, visit lowesfoods.com or follow Lowes Foods on Facebook or Twitter. Lowes