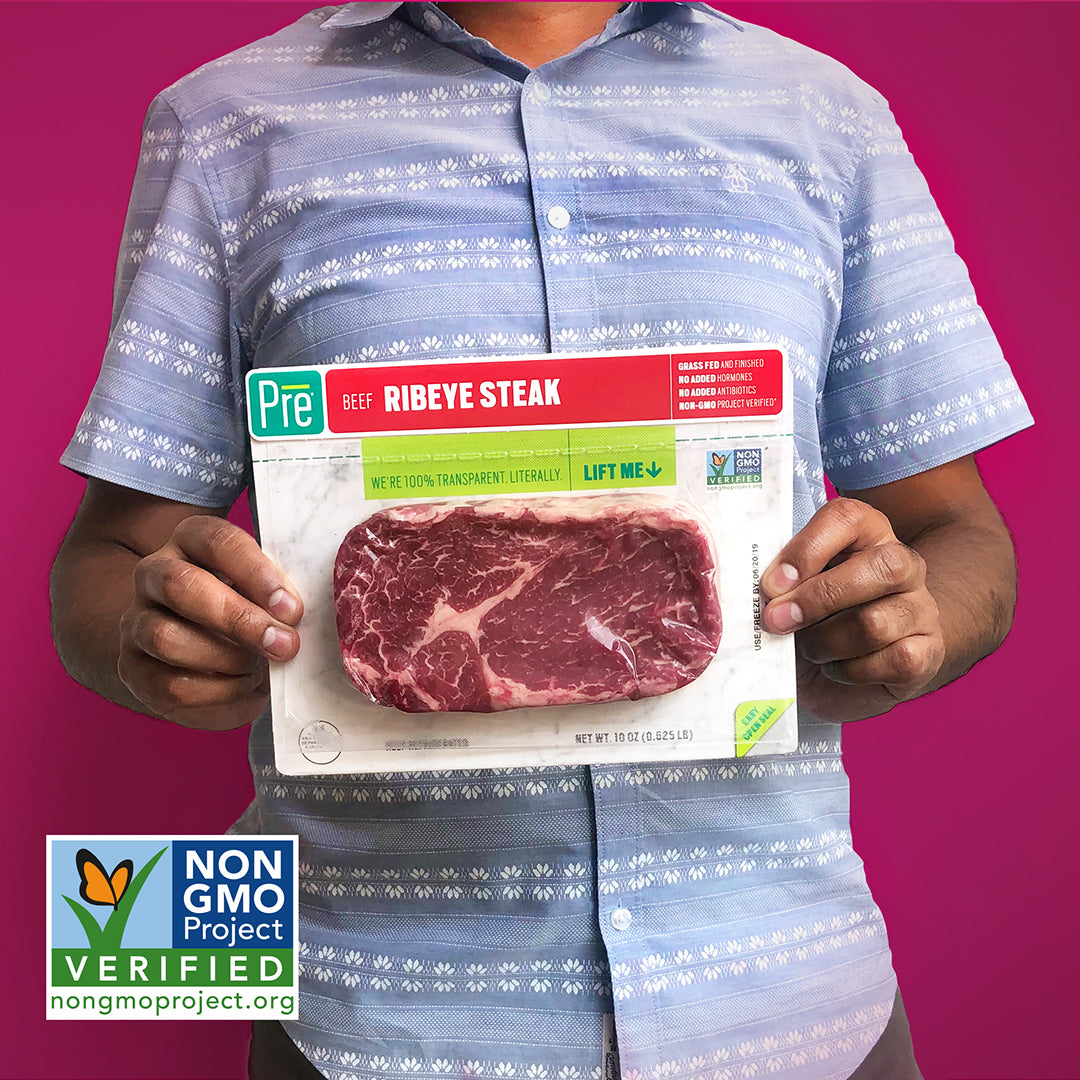 Living Non-GMO with Clean Beef
Let's talk about clean, unprocessed non-GMO beef.
That's right, we said it.

October is Living Non-GMO month and we are proud to wear the butterfly wings here at Pre. We are a Non-GMO beef brand!
There's a lot of meat alternatives out there and somewhere along the evolutionary path from spear-toting hunter-gatherer to soylent-swigging smartphone soldiers we went from a diet featuring whole ingredients to unholy matrimonies of industrialized monstrosities, harvested, mechanically separated, and reassembled into questionable beef-like objects with more ingredients than we have time to google their definitions.
As a result, we've become weird about food. We're lactose intolerant, gluten-free, non-GMO, grain-free, buzzword fiends chasing the dietary dragon to get our fix of that pure, unadulterated taste we remember from a time long forgotten. But guess what? The real solution isn't the next big thing. It was actually the first big thing: Pre-Industrial food. We don't believe in feedlots, added hormones, unnecessary antibiotics, or corn-fed cattle. We are a Non-GMO beef company!

At Pre, we are proud to have ONE ingredient, to be free of added antibiotics and hormones, and to be one of the ONLY beef brands to wear the Non-GMO Project Verified logo.

Pre wants to  set the taste clock back to the time just before food got so weird, and keep the quality right there. It's not going to be easy, but doing things the right way rarely is. These things make us different, and we're okay with that.
We only source from farmers who have practiced humane and sustainable standards for generations, and that means, no GMOs. We asked a few of our Australian and New Zealand farmers, "what do you think about GMOs?" Here are some of the answers.
Pre is proud to be Non-GMO Project Verified. What does this mean to you as a farmer who supplies to Pre? We are a non-GMO beef brand.

"I think we are getting smarter about where our food comes from and what goes into it. I'm all for keeping it natural. The way it was designed in the beginning."

"I am really pleased that Pre has gone down this path. We believe that nature can look after itself and, as a consumer, I'd prefer to have no GMO's on my family's dinner plate."


 

 

Are GMO's on your radar as a cattle rancher?

"GMO's are not part of our program, and I cannot see where they will fit in anytime in the near future. It is easier to work with nature, rather than against it."

"Not for us. We pride ourselves on being clean and green." 
Do you find yourself or your work affected in any way by consumer food and nutrition trends? If so, what are the biggest trends or buzz words you've noticed in the recent past?
"We observed the Whole Food phenomenon when we visited the US in 2007 and recognized that this market would suit our approach to farming. We are proud to produce a GMO, hormone and antibiotic free product that is produced sustainably and that provides the consumer with a first-class eating experience."

"I've noticed a trend: consumers moving away from caged eggs, factory farming heading back to traditional ways of raising livestock."
Just for fun...What's your favorite cut of beef?
"Wing rib roast, cooked rare"

"Scotch fillet, cooked rare."

 
Do you know the difference between Organic and Non-GMO when it comes to beef? We talked to our Chief Operating Officer, and she gave us some great information about Non-GMO beef and this is what you should know.
Listen to our Quality Manager, talk about why Pre decided to become Non-GMO Project Verified instead of Organic.