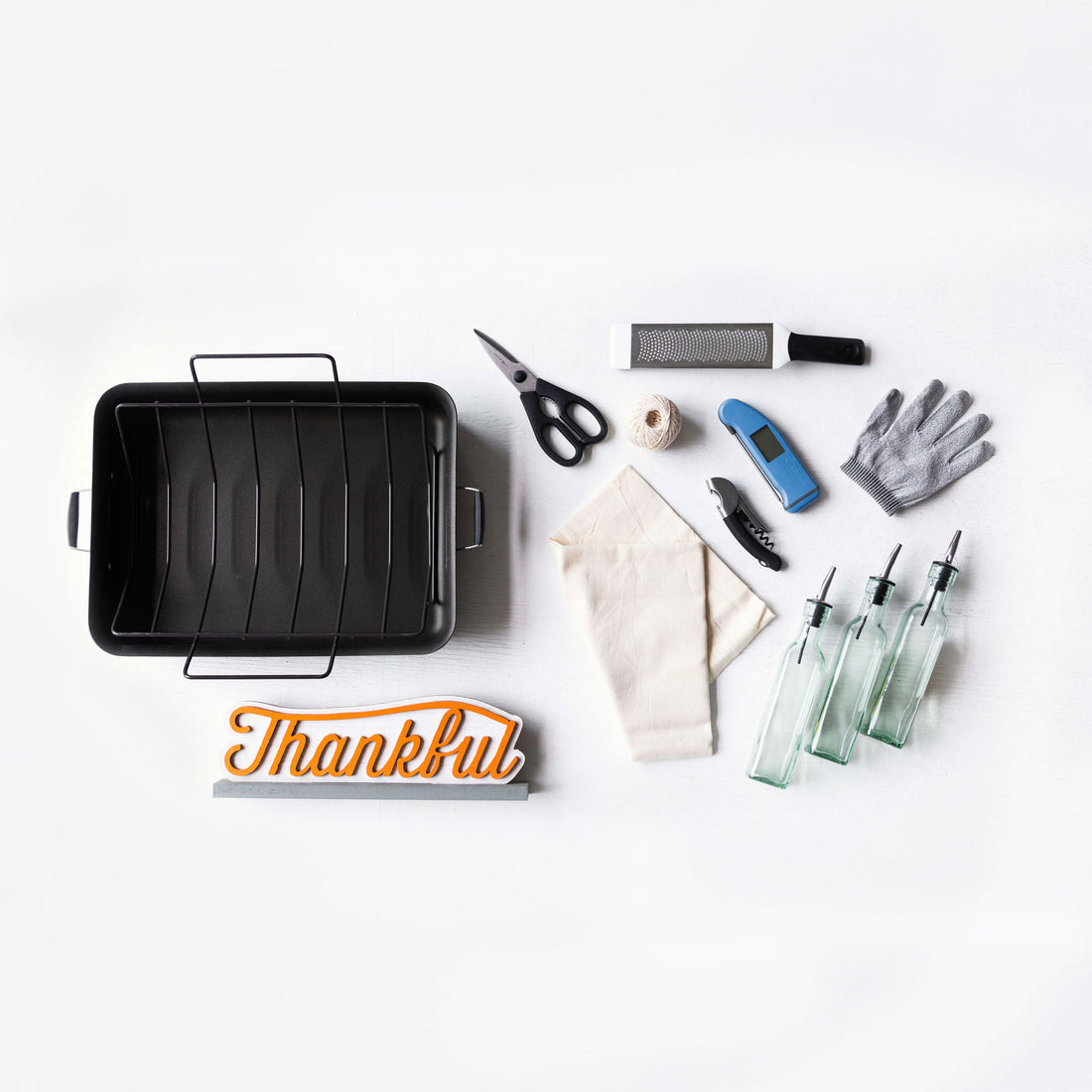 5 Thanksgiving Tools You Won't Regret Buying This Year
It's the time of the year where making lists and prepping food for big get-togethers just seems like part of the new daily routine. But if you are planning a big Thanksgiving dinner, you will want to grab these 5 essential cooking tools. We promise your life this holiday will be 10 times less stressful, and you'll actually reuse these tools every year after. (You might even want to buy a couple of these to give as gifts too!)
Here at the 5 Tools
1. Roasting Pan
You're in charge of the meat. Whether it is a turkey, a prime rib, a chicken, or a leg of lamb, you must have a roasting pan. Sure, you can use the disposable aluminum tray instead, but it's much harder to swirl and save all the delicious juices from the meat. The foil pans are not quite sturdy enough to move in and out of the oven as you baste or dress the meat. There is a high potential risk for spillage which is very hazardous in the oven or on the floor. Investing in a good roasting pan will serve you well in your kitchen for more than just 1 day a year. You can enjoy perfect lasagna, roasted potatoes, enchiladas, and even cobbler!

2. Kitchen String

The second of the 5 tools you need in your kitchen is a kitchen string. The kitchen string will come in handy for a variety of tasks on Thanksgiving and beyond. From tying up your turkey or roast to tying down the sharpie used to putting names on cups, this is a gem you'll wish you had in your kitchen a long time ago. Some other uses: making herb sachets, tying off cheesecloth, stuffing a beef tenderloin, or using it decoratively at your place setting.
3. Digital Meat Thermometer
Poultry should reach an internal temperature of at least 165º in order to be safe to eat. Beef can be cooked to lower temperatures depending on the cut. Use our steak cooking guide for our recommended temperatures. The only way to truly know you hit that temp: a digital meat thermometer. We recommend a Thermapen. The digital ones are more expensive, but you do not need to calibrate it. Other thermometers will need to be calibrated at a minimum every six months. If you do not, they can be off from 5-20 degrees.
4. Microplane
The 4th out of the 5 tools you must have in your kitchen is. a microplane. Zest, grate and mince away with this hand-held grater. This is essential in any kitchen, but especially around Thanksgiving when we want all of our food to have the extra special zing. Zest fresh lemon peel on your herbaceous roast. Grate pecorino on your ground beef and rosemary apple bites. And, most importantly, mince garlic straight into mashed potatoes, and watch as it disappears into the starchy folds. Your taste buds will thank you. 
5. Heat / Cut Resistant Gloves
While you're using that microplane, make sure to wear these. A few swift swipes, and you might be spending Thanksgiving at the doctor instead of the dinner table. It's also great to use while you're carving your roast or bird. The meat will be hot, and you need to protect yourself from the hot steam.
That's it! Those 5 tools will save you in a pinch. While you're at it, you might want to pick up a few of our favorite gifts for anyone on your list -- the chef, the new cook, the entertainer, and more!