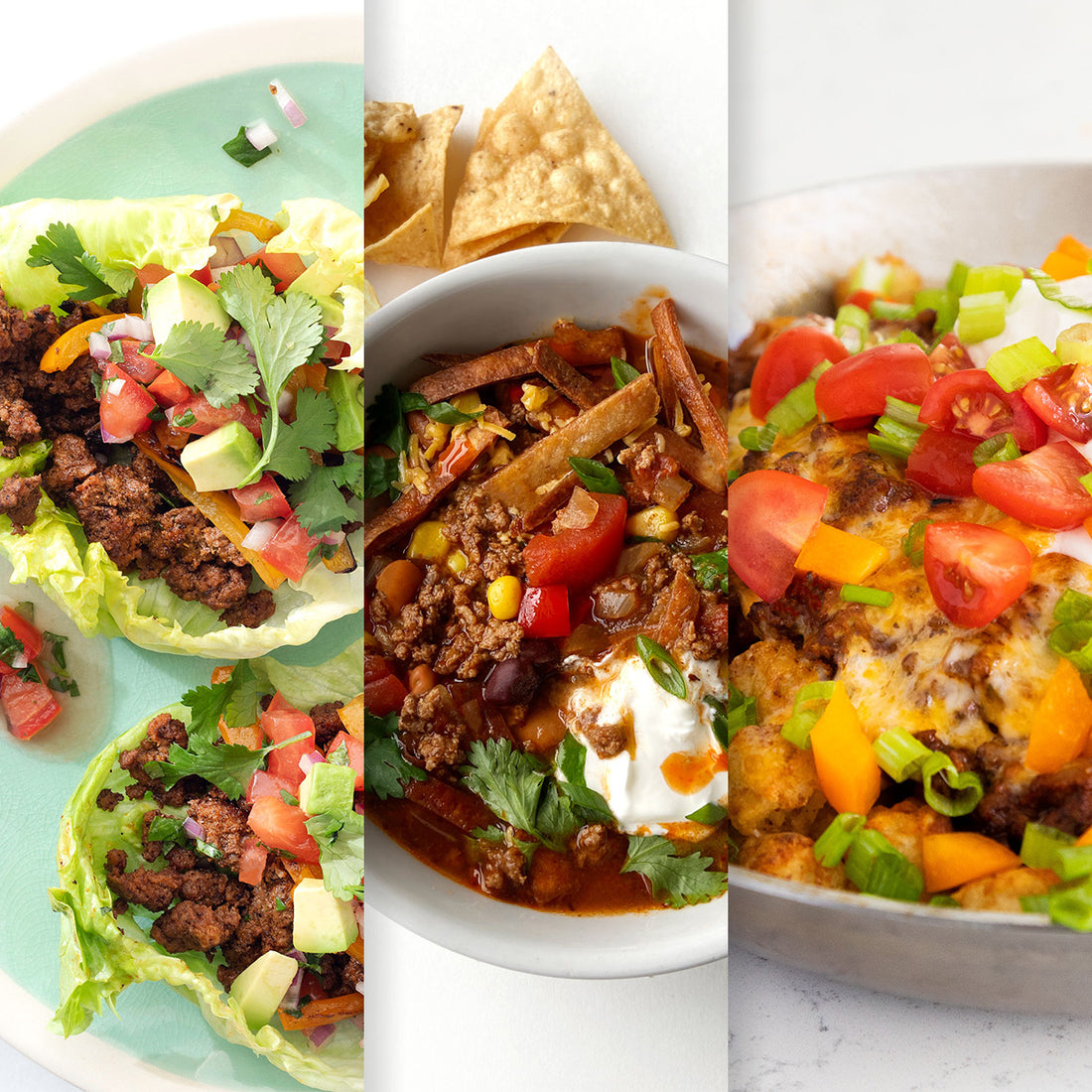 One of the most talked-about and trendy meals to cook at home is tacos, especially on Tuesday nights, thus the title Taco Tuesday. Pre has tons of unique taco recipes to keep you and your family full and satisfied but we wanted to highlight these 3 options as a fun twist on the traditional Taco Tuesday. Check out these three different recipes that can be made using similar ingredients. Finally, that means fewer trips to the grocery store!

Taco Tuesday Tex Mex Beef Totchos
A different take on nachos, these Totchos combine the best of both worlds: tater tots and nachos for a delicious and savory meal. Plus, you can top them with our 92% lean grass fed and finished beef, to give it that extra fullness. But, the only thing you are sacrificing from regular nachos is the corn chips. Kick the flavor up to the next level with a deluxe version that is sure to please! 


Taco Tuesday Whole30 Taco Beef Lettuce Cups
Many of us are trying new eating habits and at-home workout routines. Some are trying different lifestyles like Paleo, Whole30, and Keto* that some people have found effective. If you are trying out one of these lifestyles, you have omitted grain from your diet but don't worry we have the perfect lifestyle-friendly take on your favorite snack. Try these Whole30 taco beef lettuce cups. Moreover, they still bring the taste you crave without compromising your program.
Read more: Download our FREE Whole30 Beef Cookbook


Taco Tuesday Tex Mex Taco Soup
Get creative with this Tex-Mex Taco Soup that can be crafted from just about anything you have on hand. You won't find any frills or intricate methods of prep on this meal. This recipe is designed to let you decide what ingredients you want to bring together to create something as unique as it is tasty. Finally, this Tex-Mex recipe cooking is all about using what you have to put together some amazing comfort food.
Read more: Substituting Recipe Ingredients

For your shopping trip
To help you out, here are the ingredients you'll need to make all three dishes:

Specific for the Tex-Mex Beef Totchos
1lb Pre 92% Lean Ground Beef
2 bags frozen tots
1 small onion
1 8oz can tomato sauce
Vinegar or lime juice
Shredded cheddar cheese (as much as you want to heap on)

For the Whole30 Taco Beef Lettuce Cups
1lb Pre 85% Lean Ground Beef
1 head of Boston lettuce

Tex-Mex Taco Soup
1lb Pre 92% Lean Ground Beef
1 8oz can diced tomatoes
1 8oz can tomato sauce
1 Bell pepper (any color)
1 onion
1 jalapeño
Recommended:
1 8oz can of whole kernel corn
1 8oz can of black beans
1 8oz can of pinto beans
Taco seasoning packets (or make your own!)
Ingredients for All 3
Here's your spices, misc., and other stuff that brings it all together with that signature Tex-Mex flavor:
Grapeseed oil (or high-heat oil) to brown the beef
Salt
Black pepper
Powdered cumin
Chili powder
Smoked paprika
Garlic powder
Ground cayenne pepper
Oregano
Hot sauce
Pico de Gallo, avocado, red onion, cilantro, just go nuts!
Tortilla chips
Sour cream
Green onions for garnish/flavor
Looking to get more creative while cooking?
Take our quiz  to match your cooking style with the perfect recipe!

The Pre beef difference
Pre does things a little differently. Firstly, our beef is 100% grass-fed and finished, without added antibiotics, hormones, or other harmful factory farm additives; that way you know what you are feeding your family! Our beef is raised on the open pastures, where cattle roam the land under the bright blue sky, drinking from clear creeks, and doing nothing but getting some sunshine and becoming delicious. Additionally, without the antibiotics or hormones, you can count on Pre beef to give you the vitamins and health benefits our bodies need. Want to learn more? Want to become a beef geek? Finally, join our email list to get delicious offers, events, recipes, and more! You can find a store near you to stock up on Pre as well!