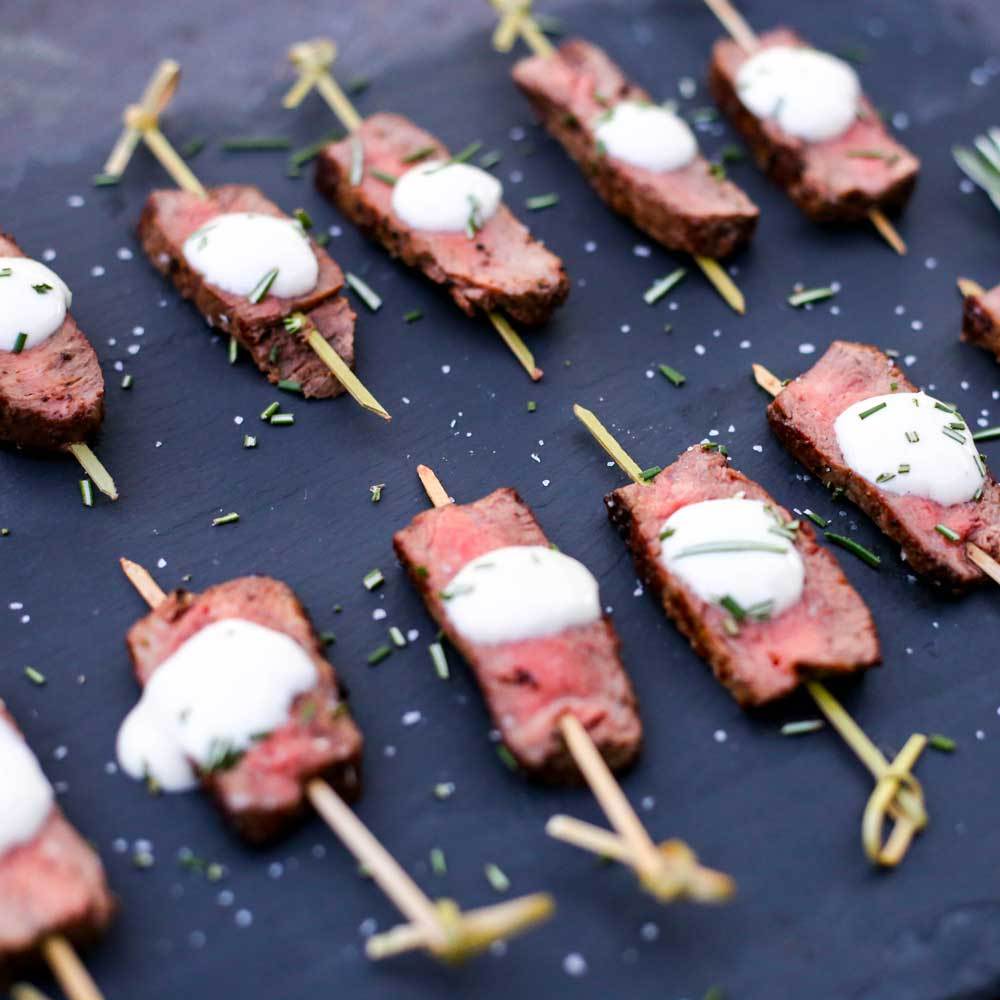 Seven Delicious Days of Filet Mignon
never worked a day in its life

ounce

-

for

-

ounce is cheaper than

movie theater

popcorn

was given a French name by American author O. Henry of

'The

Gift of the Magi' fame?
This post's title is a bit of a spoiler. That's right - it's filet mignon!  To learn more, read 7 Things You Didn't Know About the Filet Mignon. To taste more, try out these 7 recipes, all of which take full advantage of the filet's exquisite tenderness, quick cook time and amazing flavor. 
Our favorite filet recipes 
In no particular order, because really, how could we choose?
Consider them all
#1
.
There is such a thing as being overdressed. We've managed to strip down the traditional beef wellington –commonly served at weddings or steakhouses –and make it fashionable for any occasion. It's a modern spin on a classic dish. And did we mention that it only takes 30 minutes?
These appetizers are very 'moreish,' as the British say, because your guests will keep coming back for more. And why not? Skewers of thinly sliced, rare, all-natural filet are topped with a dollop of fresh homemade horseradish sauce. Light, refreshing and so tasty. More, please!
Get ready for some tangy, lemony goodness. In this recipe, the filet and carrots have delicious lemon pepper flavors. Then there's that dipping sauce of lemon juice and fresh dill mixed into tangy Greek yogurt: a delicious, piquant sauce highlighting the sweetness of the carrots and the richness of the 100% grass-fed beef.
A poke bowl is traditionally made with raw fish, of course, but why not beef? Especially when it's ultra-tender Pre filet mignon. We couldn't resist, so we created this steak poke bowl. Diced raw filet is briefly marinated in salt, pepper, soy sauce, and rice wine vinegar. Then it's mixed with sliced green onion and chopped ripe avocado. Serve over fresh greens and/or white rice. Don't forget to sprinkle everything generously with sesame seeds or homemade furikake.
A 15-minute appetizer? Now, that's what we call party-friendly. It all starts with toasted slices of pretzel bread baguette. Firstly, add a generous layer of fresh crab meat mixed with a fresh lemony-herbed tartar sauce and diced Roma tomatoes. Top with deli-thin slices of the filet. Eat. Enjoy the party!
Pan-fried filets are topped with crumbled blue cheese and popped into the broiler just long enough to melt the cheese. When you place the filet's into the broiler, pay attention. It only takes about a minute for it to cook. Then they're drizzled with balsamic vinegar that's been reduced with a little sugar until it's syrupy. Steak and blue cheese and balsamic syrup? Now that's a deliciously complex flavor trio!
Of course, you love the flavor of chimichurri, but have you ever made your own chimichurri salad dressing? Surprisingly easy, you can use it to top a salad of spring lettuces, cucumber, carrots, watermelon radishes, cherry tomatoes, and fresh sweet corn kernels. Just don't forget the thin strips of tender filet, and you've got a gourmet, simple, nutritious salad in minutes.
Let's get down to business
. Why does Pre beef cost more?
After all, beef is our business and we like being transparent in all of our business dealings. You can buy less expensive beef. You can even buy less expensive beef that's mostly grass-fed. But if you want quality, grass-fed and finished beef, it does cost a bit more. To learn more about pasture raising, check out our video with Julie Divis, our Quality Manager where she explains "grass fed" and "grass fed and finished."
The cattle that produce our filets spend their entire lives on pasture, slowly grazing their way to beefy perfection. No added hormones, no steroids, no added prophylactic antibiotics, and no unnatural diet, stress, disease or production demands of a feedlot. It takes longer to produce all-natural beef our way, and we're okay with that. Once you taste it, we think you will be too. 
So give us a try and remember, our beef is Whole30 approved and Paleo and Keto* compliant. Contact us anytime for more information.