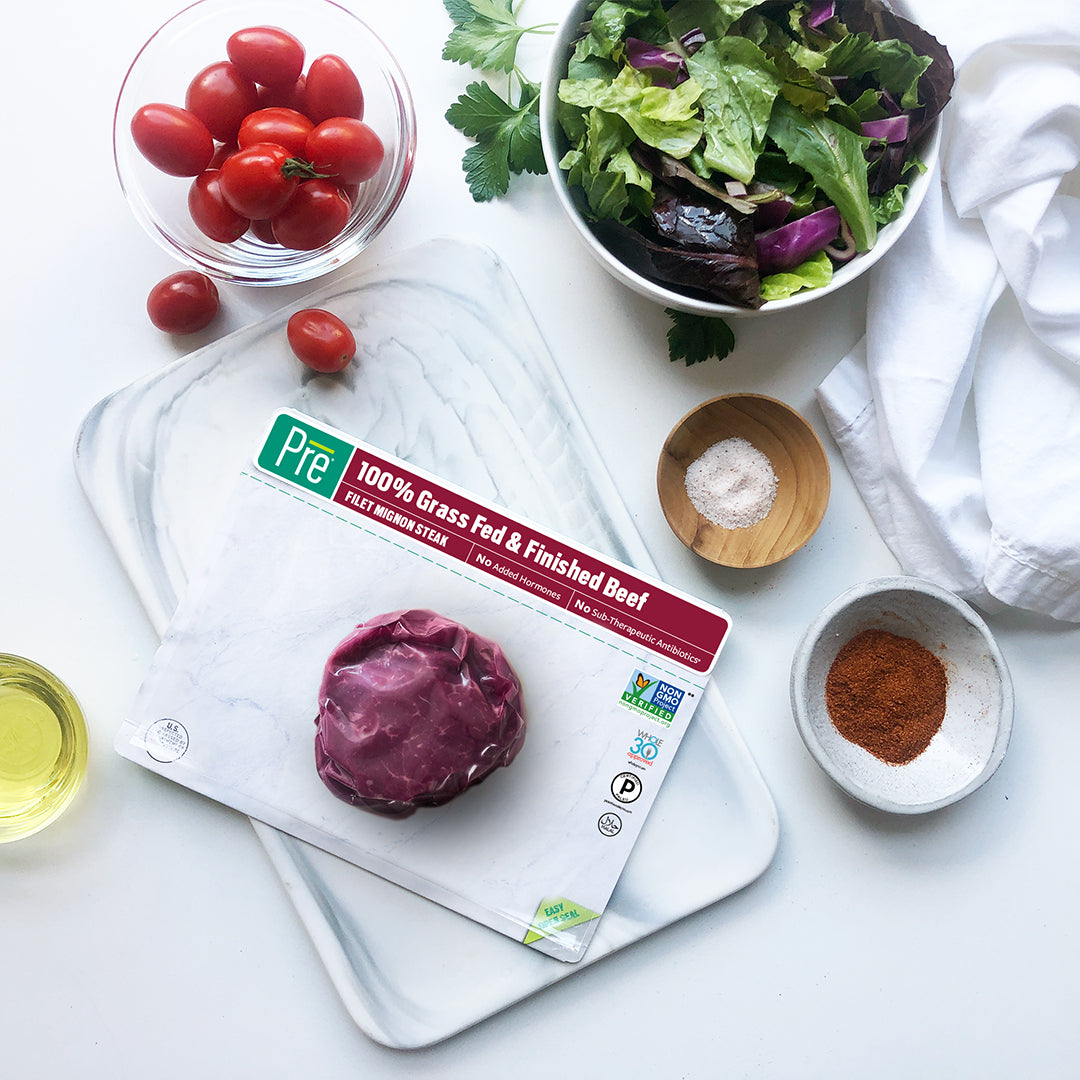 Understanding the Meat Label
Beef Geek or not, labels are downright confusing.
No matter what you are buying, it seems that every package has a claim or certification that you are supposed to understand. This can make for a very stressful grocery shopping trip! But don't worry, you are not alone. According to SWNS Research, 53% of Americans find food labels misleading.* Understanding labels is incredibly important for meat!
As the Quality Manager for Pre, I want to set your worries aside and give you confidence when shopping the meat aisle. I put together a simple and clear labeling guide to help you understand exactly what each label means. Next time you head out to the grocery store, you will be able to breeze through the meat aisle like a pro!  
MEAT LABELING 101
Cattle eat freshly grazed or stored grasses (hay, silage) until the finishing period. Finishing is on grass or grain, but a "grass fed" label does not mean it was finished on grass alone, is depends on when the label was approved for use. Look for 'grass fed and finished' or '100% grass fed' to be sure.
Pre Note: We source from areas of Australia and New Zealand with climates mild enough to provide fresh grass to graze on year round.
Pasture Raised
It's a good idea to read the packaging, as each company defines "pasture raised" differently. At a minimum, animals must have continuous free access to the outdoors for 120 days per year. At Pre, cattle are raised outdoors on pasture for their lifespan.
Humanely Raised
There is no legal or agreed-upon definition of humanely raised. Each company is required to define it for themselves on the packaging. 
Certified Humane
This is a third-party certification for audited farms that meet certain conditions regarding the appropriate environment, considerate handling, and feed nutrition. Companies must pay to be certified, which can be financially unattainable for those who source from many farms.

Pre Note: Our suppliers use third-party certification bodies in Australia and New Zealand that inspect farms to ensure humane handling.
Non-GMO Project Verified
This is a third-party certification for brands that are audited for GMO use.
Pre Note: All our supply is guaranteed non-GMO through third-party audits in Australia and New Zealand. As a whole, New Zealand forbids the use of GMOs and Australia permits them only for cotton and canola.
No Added Antibiotics
Antibiotics can only be administered by a veterinarian when necessary to treat disease. If an animal is ill and needs to be treated, it is removed from the herd until all residue is out of their system.

No Antibiotics Administered / Raised without antibiotics
The animal has not been given antibiotics at any time, even if sick.
 
No Hormones / Hormone Free
This is not possible as all multi-cell organisms contain naturally occurring hormones, even plants.

No Added Hormones
No growth hormones have been administered to the animals at any time.
Natural and Variations
Natural applies only to how meat is processed after it has been harvested – no artificial ingredients or added color and only minimally processed. Each company must define what it means by natural.

Organic
Organic doesn't describe the type of feed (grass or grain), but rather requires that the feed be organic. The feed cannot be exposed to synthetic pesticides or fertilizers, GMOs and other synthetic contaminants. In addition, the animals must be raised in living conditions that allow them to exhibit natural behaviors and cannot be given hormones or antibiotics. Organic does not cover further details about animal welfare.

Pre Note: Our products are sourced from a large number of small farmers in New Zealand and Australia where the methods of 100% grass feeding, no routine antibiotic use, no added hormones, and humane treatment are standard. Therefore we are not actively pursuing an organic certification.

In Conclusion
The best way to have complete confidence in your beef is to contact the brand to find out where the animal was raised, what it ate during its lifespan, and how it was processed and packaged. Then ask yourself if it delivers the taste and nutrition that you desire. Overall, you have to look at the big picture – and you won't find that on a label.
Definitions
Finishing: What cattle are fed during the last part of their lives. If finished on grain, this is considered an energy-dense diet to increase the weight and fat content of the cattle quickly. If finished on grass, cattle will continue to graze on pasture until they reach the desired weight (which may take longer than grain finishing).

Genetically Modified Organisms (GMOs): Living organisms (plants, animals, microorganisms) whose genetic material has been modified in a lab using genetic engineering or technology. 

Weaning: The period of time at which young cattle transition from mother's milk to grazing on pasture.