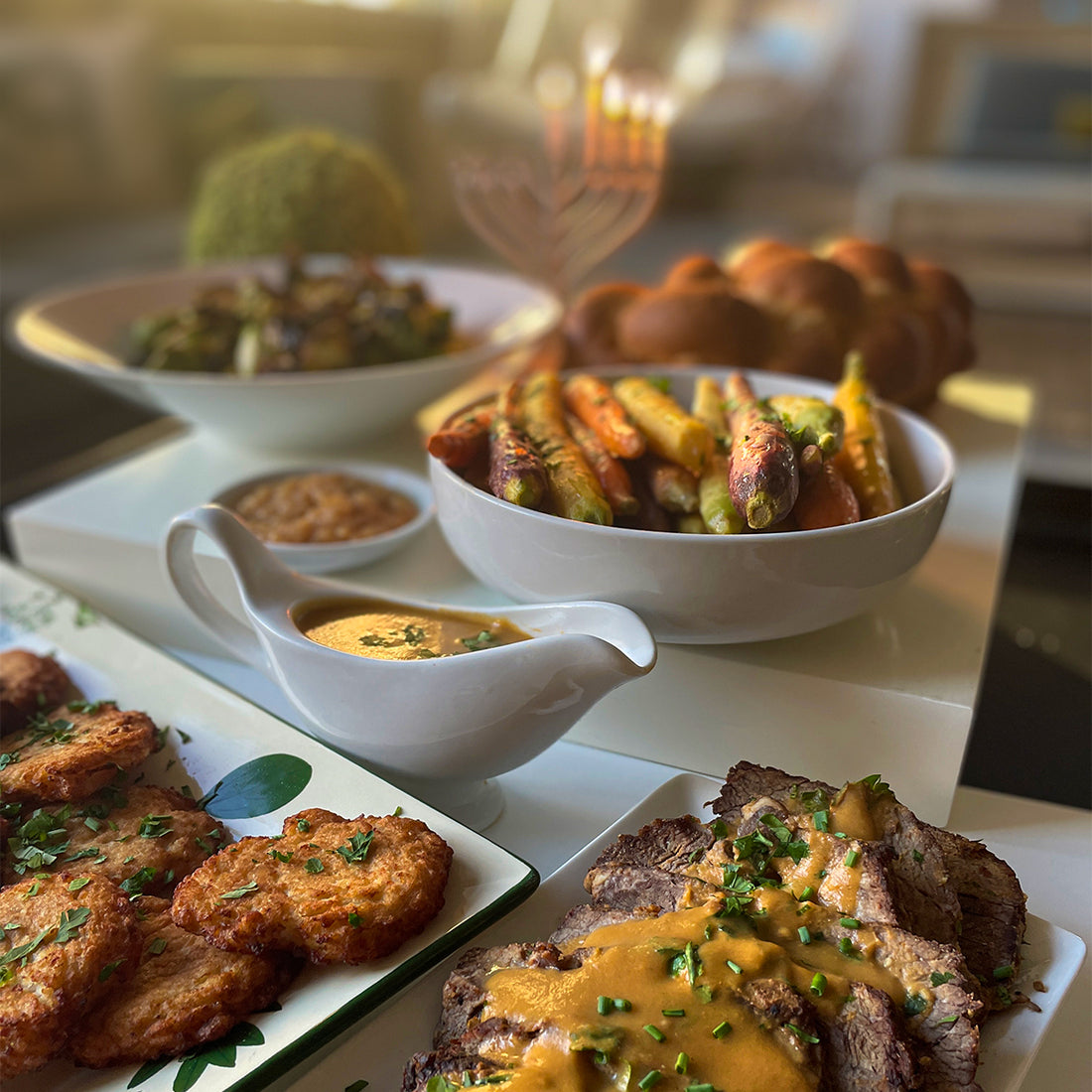 Create a Hanukkah Dinner with Pre Chuck Roast "Brisket Style"
For Hanukkah dinner this season try our "Brisket Style" Chuck Roast. Pre chuck roast is cut from just above the brisket and is very similar in flavor and texture, with a bit more tenderness and juiciness than brisket.

It is soul warming and satisfying and this recipe requires minimal prep! Let the oven do the work while you prepare simple yet elegant traditional Hanukkah sides. We chose glazed carrots, herbed Latkes and lastly roasted Brussels sprouts to complete our Holiday table.
Here is our perfect Hanukkah dinner menu using 100% grass fed beef.
Hanukkah Dinner Pre Chuck Roast "Brisket Style" with Vegetable Pan Sauce

If you follow a Keto eating plan you can easily modify this recipe, simply remove non-complaint ingredients, the recipe will still work. If you follow Whole 30 and choose to not include potatoes in your recipes you can omit them here as well.

Also, this dish can be made 2 days ahead and reheated.
Hanukkah Dinner Glazed Carrots
Add a pop of color to your Holiday table with these easy glazed carrots. This traditional Hanukkah favorite can be prepared up to 2 hours in advance and reheated in a low oven also in the microwave.
Hanukkah Dinner Herbed Latkes
Save this Latkes recipe, you'll want to come back to it over and over again! Pair it with our chuck roast for a meal that will please the entire family.
Hanukkah Roasted Brussels Sprouts
Simple and delicious. Use a parchment or foil lined baking tray to caramelize the Brussels sprouts and make for easy clean up. Place the sprouts cut side down and don't disrupt during roasting. Plan your timing for the sprouts to come out of the oven when you are ready to serve. Lastly, this dish is best served immediately.
Want more Recipes?
We love these recipes! Let us know what you think. For more recipes specifically with our Chuck roast, click here.
Interested in learning more about why Pre provides the best beef from grass fed cattle? Here are some more resources you can check out!