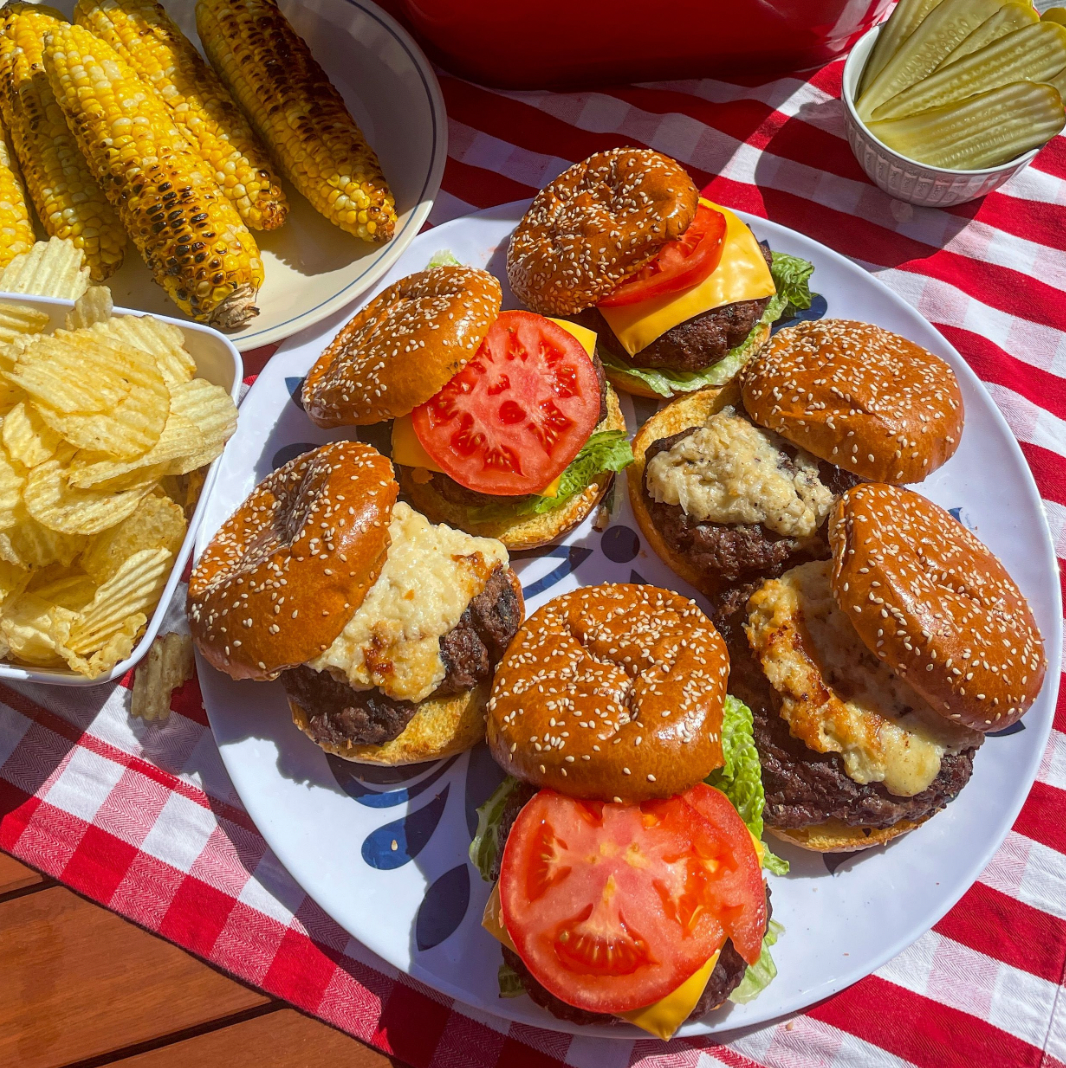 Pre's Top 6 Blended Burgers
Who doesn't love a flavorful,
juicy burger?
Blended burgers are ground beef mixed with various ingredients to create delicious burgers. We have been experimenting with our grass-fed and finished ground beef to make the most delicious blended burgers.
Conventional burger wisdom recommends not overworking the ground beef before forming into patties, however,
 we're going to pause that direction for our blended burgers. Since you're using about half beef and half other ingredients, you want to pack your patties tightly so they hold together when you cook them. Before you make these burgers, make time in your prep for chilling the patties before cooking. This helps avoid the burgers crumbling into pieces. Lastly, here are our top 6 blended burger recipes!
Our favorite

 
blended burger recipe is the Kimchi Blended Burger With Gochujang Scallion Aioli. This burger has the perfect amount of spice from the gochujang and kimchi. If you like spicy mayo, you will love this gochujang scallion aioli. This aioli is incredibly simple to make as it only contains gochujang, scallions, mayo, and salt, but it takes this burger to the next level! For the burger itself, mix ground beef with salt, garlic, sesame oil, soy sauce, kimchi, and gochujang paste for a flavor-packed blended burger! Get the full mouth-watering recipe

 
here
! 
The

 
Southwestern Blended Burger with Cilantro Lime Aioli
 

has everything you want from a blended burger and more. To create this incredible burger, combine black beans, garlic, salt, jicama, and cilantro into a food processor and blend them to make your blended burger. Then you can add some corn to the burger, for that nice texture to bring everything together. The cilantro lime aioli adds a light and refreshing taste to this burger. For the aioli, blend mayo, cilantro, lime juice, hot sauce, and salt for the perfect burger sauce. Learn more about this recipe

 
here. 
This colorful burger is right at home at any pub or dining table. The tangy mustard mixed with the sweet potato flavor blends perfectly with our 92% lean ground beef. This veggie-packed blended burger is simple to make and packed with vitamins and nutrients from sweet potato and spinach. Simply place ground beef into a mixing bowl and add sweet potato, garlic, salt, cayenne, spinach, mushrooms, and red peppers. Then pulse the ingredients until they are blended but do not let it get to a paste-like consistency. After cooking the burger, top it with grain mustard! Our

 
absolute favorite
 

grain mustard is
 

Maille Old Style Whole Grain Dijon Mustard
, but feel free to use any grain mustard. 
To make this burger, blend Pre's 85% lean ground beef patties with shaved carrot, zucchini, and adobo chili for a delightful and spicy combination. The adobo chilis provide the spice offset by shaved carrots and zucchini, creating an excellent taste sensation. Add lettuce and your choice of cheese to complete the burger. The sweet and spicy blended burger is an easy recipe to serve to your family any night of the week, especially when looking for a new take on a classic like the cheeseburger. This burger only takes 25 minutes to make; get the

 
recipe here!
A Pre-team favorite, this burger is a mouthful of cheesy goodness. The sharp and salty blue cheese stuffed inside Pre's 85% Lean Ground Beef is complimented nicely by maple bacon, and the onions add some slightly spicy notes. Add your favorite barbecue sauce, and you've got a delectable burger. Making your own barbecue sauce is a fun and creative way to elevate any burger; check out our favorite

 
barbecue sauce recipes here! 
This burger is very different from the traditional burger because we use pita bread instead of burger buns. This burger is loaded with veggies and ground beef sending your taste buds to the mediterranean! The roasted red pepper aioli offers a light and creamy flavor that pulls this whole recipe together. 
Lastly, the trick to creating the most delectable and craveable burgers is to use high-quality beef. At Pre, we offer grass-fed and finished ground beef with no added hormones or added antibiotics. We offer three different options for ground beef. Pre's 85% lean ground beef has 15% fat and 85% lean meat; this option works for any of our burgers! Whereas Pre's 92% Lean Ground Beef has less fat but still carries the same big taste. It's possible to trim fat from ground beef without foregoing flavor—case in point, our 92% and 95% lean ground beef. We use 100% Pre® beef, so it doesn't taste like anything is missing.