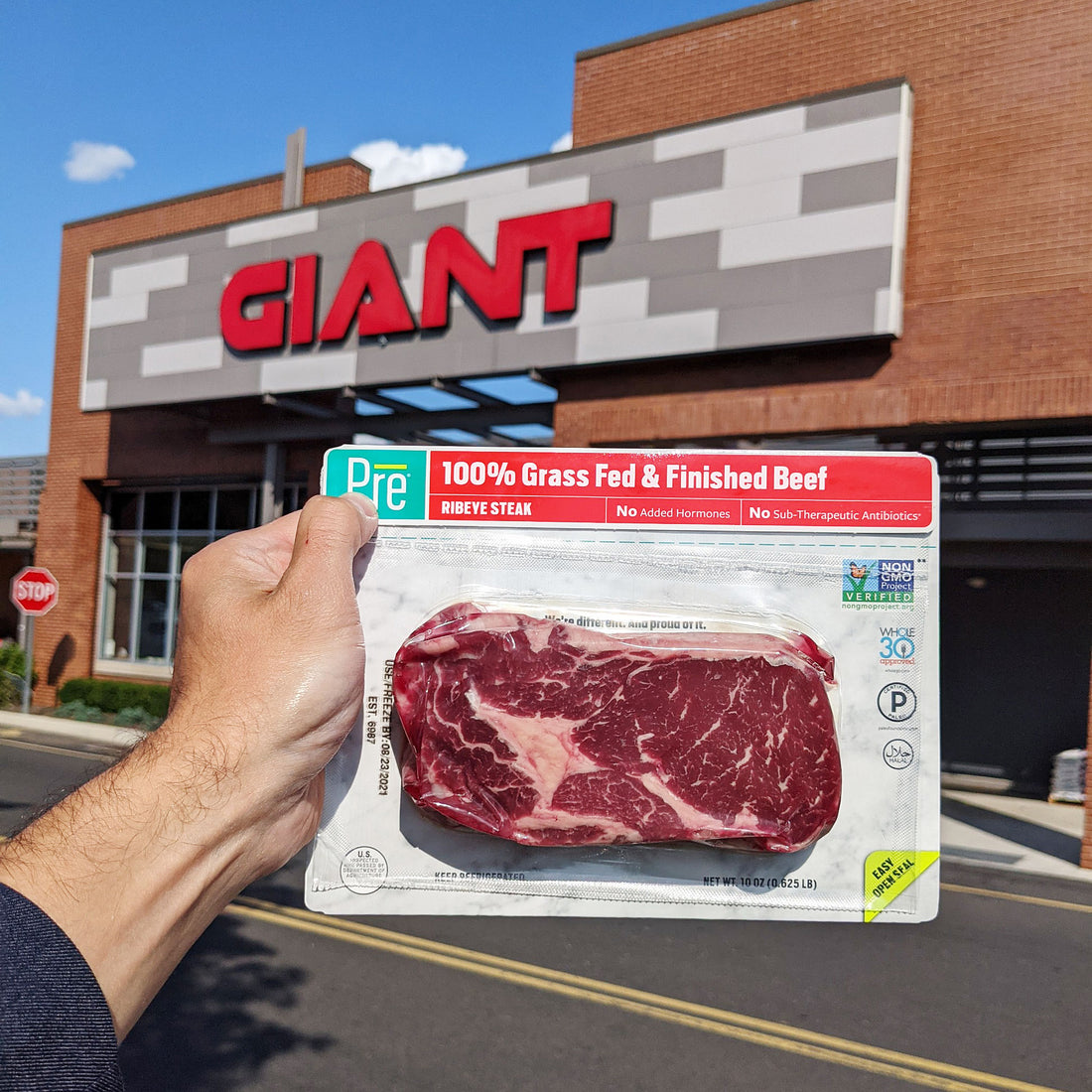 Pre® Brands Brings Healthy Options to the Table at the Giant Company
100% Grass-Fed and Grass-Finished Beef Now Available for Labor Day Weekend
Chicago, Ill. – August 31, 2021 – Pre® Brands, a leading provider of 100% grass-fed and grass finished beef and the leading brand of steak in the better-for-you beef category, continues expansion in the east with The GIANT Company.
"Clean eating is accelerating across all of grocery, and that includes the fresh meat aisle," stated Nicole Schumacher, Chief Marketing Officer of Pre Brands. "Pre's 100% grass-fed beef line delivers on this trend without compromising taste. Pre's nutrient dense beef is higher in omega fatty acids, CLAs, beta carotene as well as other vitamins and nutrients."
Pre's steaks are Non-GMO  Project Verified, Whole30 Approved, Keto, and Paleo Certified. They offer high-quality 100% grass-fed and finished beef which comes from animals raised ethically and sustainably on pasture year-round with no added antibiotics or hormones. Pre's grass-fed beef up to 62% leaner and 37% fewer calories than USDA Choice.
"At the GIANT Company, we're committed to simplifying shopping, inspiring fresh ideas and creating healthier communities to make life a little bit easier for our customers to come together, share a meal, and make memories," said Patrick Sanagursky, Category Manager Meat, The GIANT Company. "We're excited to make Pre's 100% grass-fed and finished steaks available to our customers in stores and online and know they will appreciate this option for their families."
"We've proven our success across all of grocery +58% according to latest Nielsen data," explained Dave Meltzer, Chief Sales Officer, Pre Brands. "This success is driven by investing in the consumers with an omni-channel approach reaching them where they work, play and shop."
Pre takes great pride in the quality of our products. If customers are not completely satisfied with Pre products, they can get their money back. For more information, visit eatpre.com/tasteguarantee.
About Pre® Brands
Pre thinks about beef differently, so they approach beef differently. Pre believes in respecting your taste, your health, and your time. They founded a company to deliver just that – offering the best-tasting, highest-quality beef in the world – with absolute transparency from pasture to package to plate.
Pre is 100% grass-fed and finished beef never adds hormones or antibiotics and is Non-GMO Project Verified. Pasture-raised year-round with respect for the animals. The 100% transparent packaging is free of synthetic chemicals and 100% BPA-free. Pre is available nationally in retail and online. Learn more at eatpre.com.