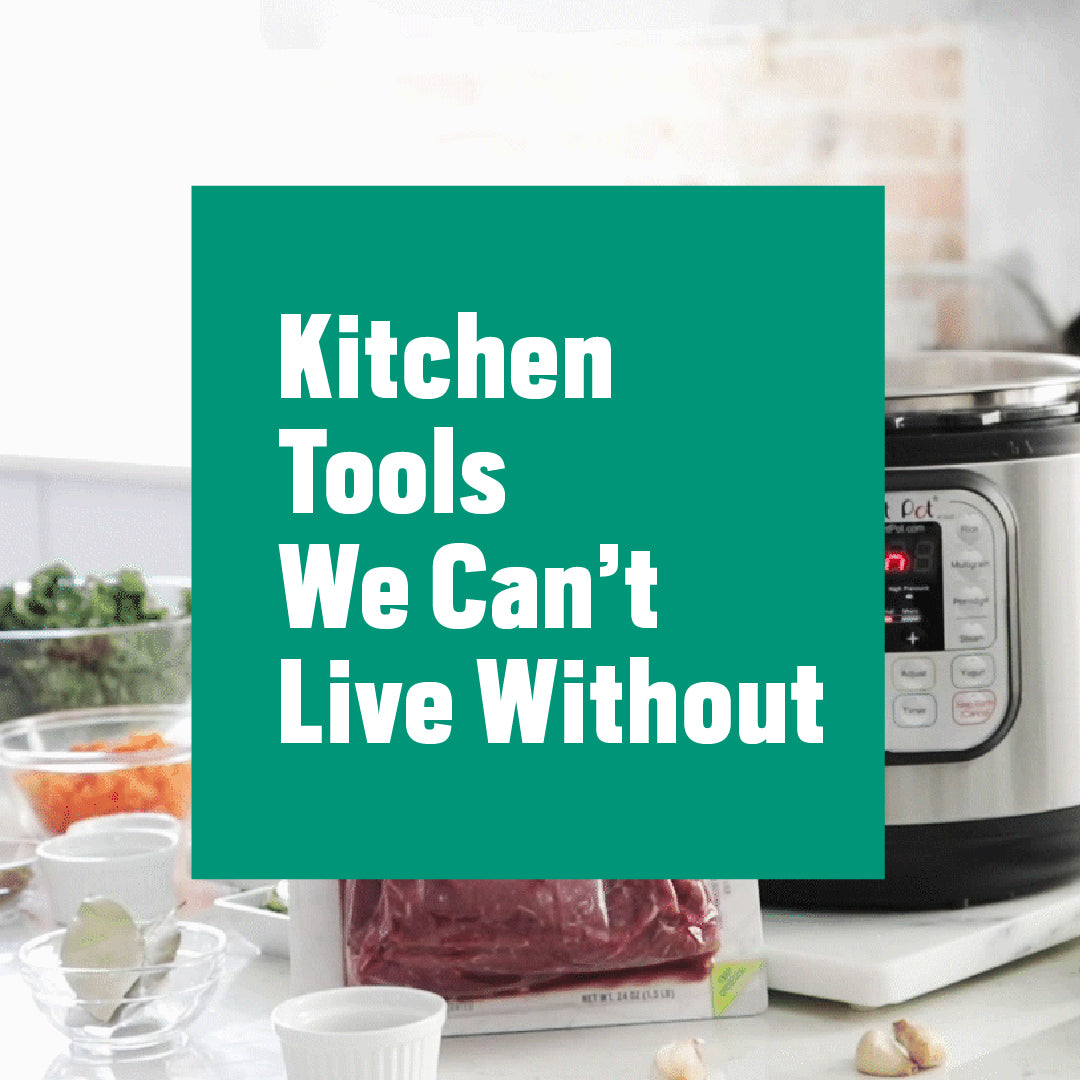 Kitchen Tools We Can't Live Without
The holidays are coming up, and we are betting you've already gotten some Friendsgiving invites and are dusting off the snowmen and wreaths for the house decorations. With the holidays inevitably comes the cooking, cleaning, and entertaining, but along with all those extra dishes, we've got some recommendations for tools and gadgets that might actually save your life this year(and the years to come). The team came up with their list of can't-live-without kitchen items — and it's a really good one. Read on to fall in love with your next kitchen gadget or two. These are the kitchen tools we can't live without.
Take Nicole's Advice on Kitchen Tools She Can't Live Without
There are so many features to love with this kitchen star. First and foremost, it's convenience. It can be used remotely from smoker to grill to oven— from your phone! You can choose the protein, internal temperature and/or doneness based on the cooking method you prefer. It is a true assist specifically when smoking low & slow or reverse seared on the grill. Nicole's favorite part is seeing the temp while cooking without having to disrupt the cooking cycle — so it allows her to get the perfect cook every single time.
This bad boy is used regularly at Nicole's household(especially one-pot meals.) The non-stick is great for braising vegetables and meat, but deep enough to also create delicious soups, chili and pastas dishes. Plus it is DISHWASHER SAFE. Whoa.
Nicole uses this bucket to compost while living in the city. There are two great perks to this bucket— the odorless(charcoal filters) and the compact size. There is a bi-weekly pick up service, called Healthy Soil Compost, which provides a bucket, but it's too large and stinky to keep in the house. This is great for daily use and can easily fit on your counter while cooking, but discreetly store under the sink when you are not actively using it.
Jon Knows All the Best Things for Kitchen Tools He Can't Live Without
This is a game changer for WFH and making smoothies for lunch. Your routine just got smoother(pun intended).
This is great for parties and after dinner cocktails. Fancy, very handy, need we say more?
For the coffee lovers, this is the gadget you'll never regret purchasing. Get one for the gatherings in the kitchen or for serving all your cousins their very own macchiato or just a good ol' drip brew.
Chantz's 3 Favorite Tools for You 
The Theremapen MK4 is also a staple in the Pre kitchen. We all adore this food thermometer, and rightly so. It has every feature you could dream of. It's waterproof and instant-read, and it's digital. No more waiting for that temperature to load(and then overcooking).
A sharp knife like this one is also a necessity in the kitchen. Chantz refuses to cut carrots or slice steak without it.
This is an inexpensive and heavenly addition to your baking tools. It's perfect for clean up or making pasta, it even works as a knife to section dough.
Liz's Favorite Zester
A good zester is imperative, you can use it for cheese, fruit rinds, garlic, etc. It's very versatile and easy to use, and Liz utilizes it for baking, cooking main courses, snacks, and cocktails. One of her favorite snacks is parmesan popcorn, so she uses this tool for that on a weekly basis. 
Dave's Two Must-Have Kitchen Tools
Dave can't live without two tools: a sharp knife for chopping / slicing / cutting – he is a firm believer that there are some things we can't go cheap on and one of them is knives! His favorite is the 7" Cutco Petite Chef knife as he literally uses it for everything from chopping up vegetables to slicing steaks!
Dave uses this for cooking"anything" meats and its easily transferable from the stove to the oven to the grill.
Kevin's Precision Food Thermometer
Kevin received this as a gift from his kids, and his life hasn't been the same since. This is a great thermometer that he relies on weekly while cooking Pre steaks in the kitchen or on the grill. It is super-reliable and makes cooking much more enjoyable. 
Paula's Top 3
This will be your new best friend whether cooking, grilling, or anything inbetween.
Having a good electric bottle opener makes tasting great wine even quicker.
Get this for your apple pies this holiday, you won't regret it.
Joe's Legit Favorites
Extremely sharp. That's what you need. Keep it sharpened.
This is the most legit thermometer, in Joe's own words. You have to have this one, if you are going to use one at all.
The"most legit thing for making stews and bread" says Joe, and we agree. No kitchen is complete without it.
Julie's One and Only
Julie's"must-have,""favorite,""Can't-live-without" kitchen gadget is ALSO a food thermometer. The same one that everyone has mentioned, actually. She uses it almost every day, it's a staple. It is on the pricier side but worth every penny because it is instant read, waterproof, and motion sensing. No need to stick it in the meat and wait a minute for the reading… because by then it will be over cooked! It is the perfect tool for any home cook. She also uses it for heating leftovers, baking cakes or bread to ensure doneness, and even to read the temperature of her very hot kitchen after cooking!
Jen's Best Blender
It's great for fast and easy pureeing, salad dressings, sauce making, soups just to name a few. Plus it's a breeze to clean.
Jessi's Go-to Gadgets
She uses this weekly and can't live without it for one-pot meals, soups and stews.
Jessi got this at the grocery store for a couple bucks and now uses it almost every day. It's quick, easy, and gets every ounce of juice out of your lemons and limes.
Jessi's favorite way to drink coffee is from a French Press, she says it is also great for watching your caffeine intake since you can make as much as you allocate, and then clean it and put it away for the day. It's also great for loose leaf teas as well!
Interested in learning more about why Pre provides the best beef from grass fed cattle? Here are some more resources you can check out!