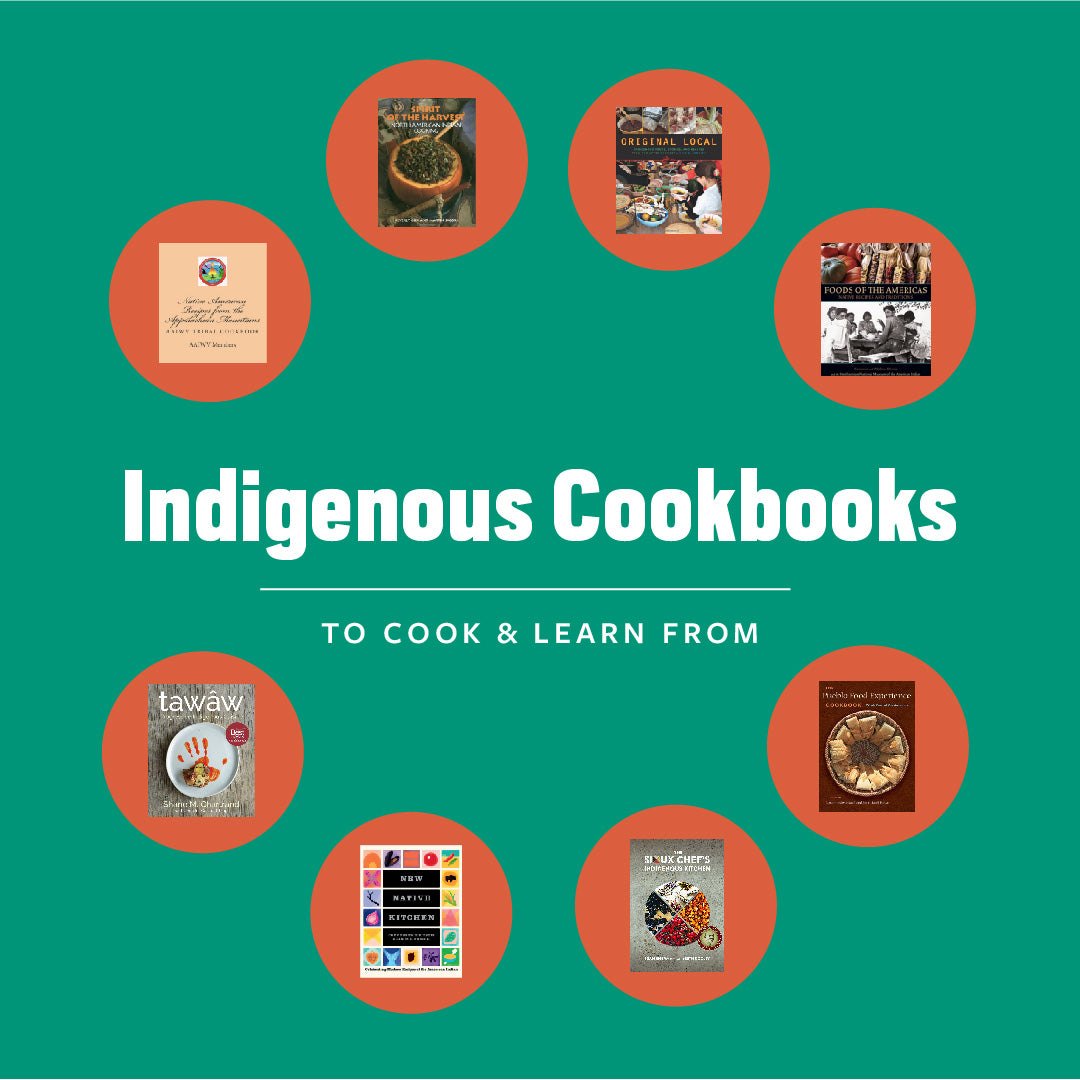 Indigenous Cookbooks to Learn and Cook From
What did you eat today? Did you eat foods such as tomatoes, corn, beans, sweet potatoes, pumpkin  (spiced lattes do not count) squash or wild rice? These foods were cultivated by Indigenous peoples in the Americas. Furthermore, Indigenous farming has cultivated many staples in our diets. We have collected some incredible Indigenous cookbooks to learn and cook from!
Our hometown is Chicago, and we want to acknowledge that this area is the traditional unceded homelands of indigenous tribes, such as the Council of the Three Fires—comprised of the Ojibwe, Odawa, and Potawatomi Nations. Many other tribes such as the Miami, Ho-Chunk, Menominee, Sac, Fox, Kickapoo, and Illinois Nations also called this area home. Chicago is named from the Algonquian people, who called the river on which it sits "Checagou," this refers to the leeks around the shore of the river that were very smelly.
Furthermore, we've collected a list of cookbooks that encompass traditional recipes, some of which have illustrated essays that provide their perspective on a variety of indigenous food traditions as well as the cultural practices around preparing and serving food.
Please read on to view this list and add these to your bookshelf to learn and cook from. Lastly, please be sensitive and respectful to any cultural practices that are called for in these recipes, and observe them if you are able.
The Sioux Chef's Indigenous Kitchen by Sean Sherman, Beth Dooley
Sherman is an Oglala Lakota man called Sioux Chef.  There are no European ingredients in this cookbook. He has removed the flour, sugar and dairy ingredients. He highlights food from the Dakotas and Minnesota regions. For example, some recipes include smoked white bean paste, cedar braised bison, and roasted corn sorbet. Take a closer look here.
Foods of the Americas: Native Recipes and Traditions by Fernando Divina, Marlene Divina
This is more than just a cookbook, it is an encyclopedia of indigenous culinary knowledge we are so thankful exists. This cookbook features rich history and traditions of the native peoples of the Americas. It is produced by the Smithsonian National Museum of the American Indian. It includes essays and illustrations as well as 140 traditional recipes by native people from North and South America.
2005 James Beard Cookbook of the Year Reviews
"This very important book will open the reader's mind to the culinary wisdom and ingenuity of the Native peoples of the Americas. Then it will open the reader's mouth to an enticing world of new flavors, which are in fact ancient and indigenous."

—Deborah

Madison, author of Local Flavors: Cooking and Eating from America's Farmers' Markets
This cookbook brings Native American recipes into your kitchen. It celebrates the traditions around indigenous ingredients and has 150 recipes from across the United States from the Cherokee, Chippewa, Navajo, Sioux, Mohegan, Iroquois, Comanche, Hopi, and many other North American tribes. Furthermore, each chapter is introduced by a regional expert and explains the cultures of each tribe, their diets, their ceremonial use of food, and the historic dishes they developed. Check it out here.

N
ew Native Kitchen: Celebrating Modern Recipes of the American Indian by Chef Freddie Bitsoie, James O. Fraioli, Quentin Bacon
This cookbook is an explosion of flavor and culinary history of indigeonous peoples from coast to coast. Additionally, it even has rich illustrations from Gabriella Trujillo to compliment the recipes. For example, some highlights include: Chocolate Bison Chili, Sumac Seared Trout with Onion and Bacon. The 100 recipes have been interpreted for a more modern take. Take a look here.
The Pueblo Food Experience Cookbook: Whole Food of Our Ancestors by Roxanne Swentzell, Patricia M. Perea
This cookbook features recipes from the Pueblo peoples of New Mexico. Therefore, it stays true to the original foods of the Pueblo peoples. Additionally, It is based around meat, fowl, fish and a wide variety of whole grains, nuts, seeds, fruits, and vegetables. There are also 5 essays included that will help you learn more of the Pueblo history and culture. Read more here.
Original Local: Indigenous Foods, Stories, and Recipes from the Upper Midwest by Heid E. Erdrich
This cookbook brings recipes from Erdrich's  Ojibwe heritage as well as from other Native peoples from the Upper Midwest, such as Ho-Chunk, Menominee, Potawatomi, and Mandan. To illustrate, recipe highlights include Ramp Kimchi, Manoomin Lasagna, and Venison Mole Chili! Grab the book here.
Native American Recipes from the Appalachian Mountains: AAIWV Tribal Cookbook by Tribal Members
There are over 350 tasty recipes in this book from the Indigenous Peoples of the Appalachian Mountains.There are also essays about the history as well as poetry and education on everything from preserving wild game, to traditional cooking techniques. These recipes are traditional but include substitutions for more modern variations if needed. As a result, the recipe highlights include Three Sisters Casserole, Southern Style Squirrel and Stuffed Sweet Potatoes. Additionally, there is even a very hefty dessert section included! Take a look here.
Tawaw Progressive Indigenous Cuisine
Lastly, Shane M. Chartrand has compiled an impressive cookbook celebrating the history, knowledge and stories of First Nation's peoples. Furthermore, Chartrand has Cree parents and was raised by a Métis father and Mi'kmaw-Irish mother and he has spent ten years writing this cookbook. It features delicious Indigenous recipes that are progressive and features writings about how he learned to raise livestock as well as his upbringing. Grab a copy here.
Interested in learning more about why Pre provides the best beef from grass fed cattle? Here are some more resources you can check out!