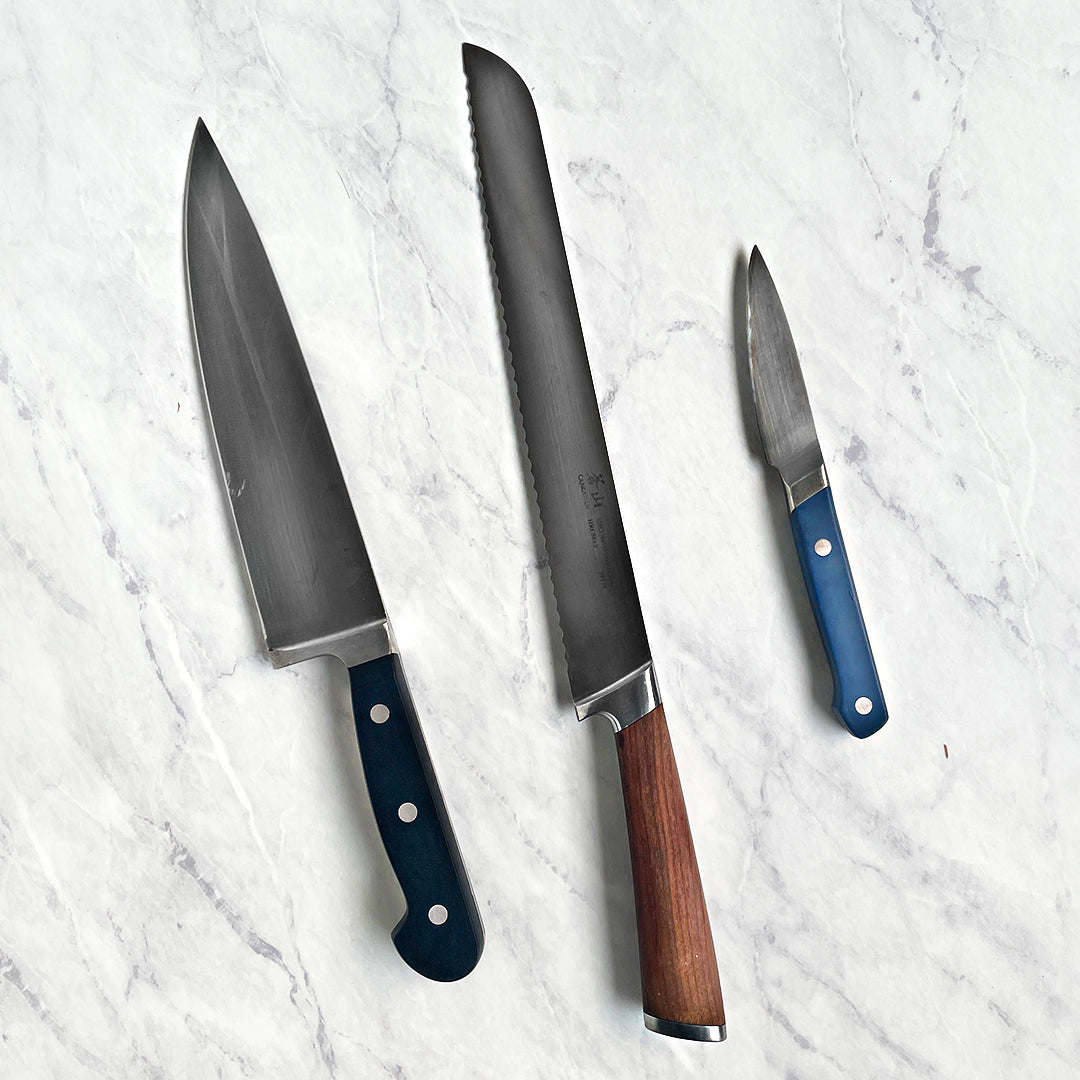 How Many Knives Do You Need?
Different knife brands may vary in quality, longevity, and price, and all that really matters is that a knife feels comfortable in your hand, especially the Chef's knife, it's the one you're going to use the most! Having said that, we asked @christinewilliamscooks, who has some of the best knife skills in town, what kits she would recommend for each level of home cook. She came up with 3 great sets!
The Basic Set: Chef's knife, Bread knife, and paring knife.

The Chef's knife is a well-rounded and "great for almost anything" knife. You can chop, dice, and cut many ingredients, including meat, fish, herbs, veggies, and poultry. The Bread knife is just like it sounds, great for cutting those loaves of bread! And lastly, The Paring knife is good for detail work, peeling and julienning small vegetables.


The Enhanced Set: All of the above, plus a Utility knife.


The utility knife is similar to a Chef's knife, but it is smaller and allows more control with vegetables like limes or chunks of cheese.

The Advanced Set: All of the above, plus a Santoku knife & bench scraper.
This set includes the Santoku knife which is perfect for mincing, dicing, and slicing. It has a thinner blade than the Chef's knife for thinly slicing at a quicker pace. (more to come on the differences between these 2 knives). The Bench scraper is a beast when it comes to moving items around your cutting board or cleaning up quickly by swiping items into the trash. Lastly, it can also remove sticky items leftover on a pastry board or move your dough around easily!
Learn more about cooking!
Choose Pre for Your Grass-Fed Beef
With this assortment of knives, you'll bring cutting-edge flavor to your week with a vengeance. Just remember to pick up your high-quality grass-fed beef from Pre at your local grocery store. As always, we go above and beyond to make sure our beef is 100% grass-fed, grass-finished, and raised with care.