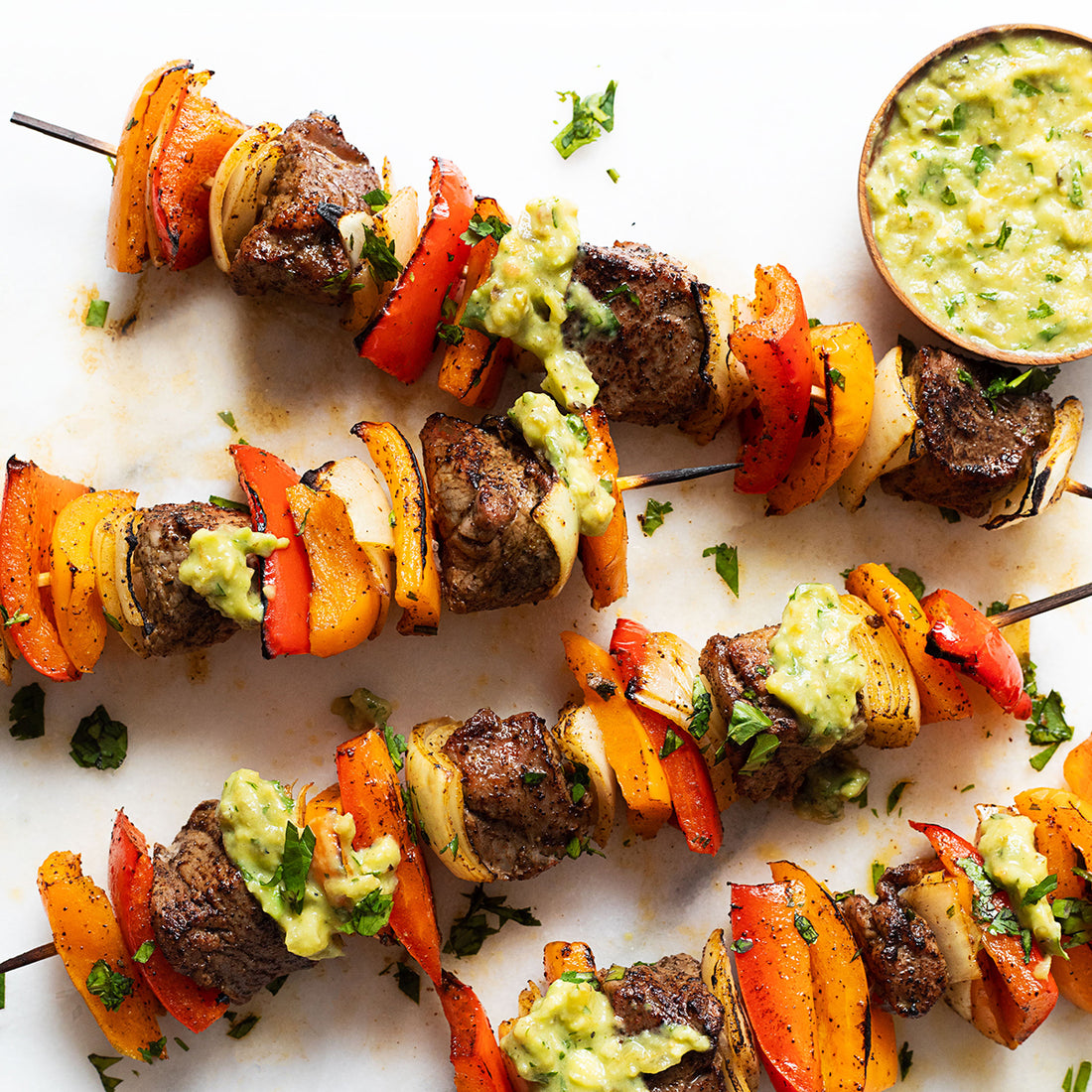 Fire up your grill; we want to talk about grilling kabobs! Kabobs are pieces of meat and sometimes vegetables on a skewer that you can toss on the grill for an easy dinner. Keep reading to learn how to grill the best kabobs, and try our most delicious kabob recipes!
4
Tips for Grilling
Kabobs
1. What Meat is Best for Kabobs?
Top Sirloin and New York Strip Steak are the best meat for grilling kabobs. The Top Sirloin is a great option as it blends well with every flavor as it's very lean. You can add a rub to the meat before cubing it and mixing it with veggies, or you can have it plain! Top Sirloin is also a budget-friendly option. If you want your Kabob to have a fattier and juicier flavor, then the New York Strip steak is the best option. Its signature fat cap produces a flavorful grilled kabob and is versatile like the Top Sirloin. Lastly, no matter what steak you choose for your grilled kabobs get the highest quality beef!
Pre knows a thing or two about grass-fed beef. We've been at the top of the grass-fed beef game for years. From pasture to package to the plate, we consistently source only grass-fed & finished beef that has been raised and finished without the addition of hormones, antibiotics, or GMOs.
2. How Long Do You Grill Kabobs For?
The amount of time that you grill your kabobs for depends on the size of your cubes of steak.
Cut
your steak into 3/4 cubes and add those cubes and vegetables to a skewer. Place your skewers on a grill that's at 400
°
for
eight to ten minutes
. Make sure to flip them halfway through! If you have larger meat cubes, keep them on for a few minutes longer.
3. How Do You Grill Kabobs without Burning the Skewer?
Firstly, we recommend using bamboo
skewers
as they don't burn like wood skewers. Also, metal skewers work perfectly well and are a more sustainable option! If you have wood skewers on hand, don't worry; just make sure to soak them in
water
for at least thirty minutes before putting food on them. When grilling, cover as much of the skewer as possible with food leaving barely any wood showing.
4.
Evenly
Alternate
Between
Meat and Vegetables on Your Skewers
Lastly, alternating your meat and vegetables is incredibly important. Not only does alternating your meat and vegetables for your kabob look great, but it also allows for a more consistent cooking time! Grilling kabobs can be tricky if you have one with more meat or vegetables, so keep it even.
Here are Some of our Favorite Grilled Kabob Recipes
Despite being ridiculously easy to throw together, this is NOT your average steak & potatoes dinner. String baby potatoes, red pepper & onion on skewers with Pre's top sirloin, grill them up for a few minutes & top it all off with homemade
chimichurri.
The trick to making these grilled steak kabobs is to marinate them beforehand! We used Italian dressing to marinate the steak, which makes the meat incredibly tender. Cherry tomatoes, red onion, sweet peppers, and Pre's Ribeye makes these skewers delectable.
Feel free to switch out the Ribeye for a different Pre® cut!
Summer is incomplete without these juicy skewers
.
They
are quick and fun for the entire family to prepare
together. G
rill
them for a cookout
or cook with the broiler
for a fun family dinner night.
This Moroccan-inspired dish with za'atar spiced yogurt will please even the pickiest of guests. Lastly, this recipe only takes 25 minutes to make from start to finish and can be multiplied for parties!
Interested in learning more about why Pre provides the best beef from grass fed
cattle
for your summer grilling? Here are some more resources you can check out!