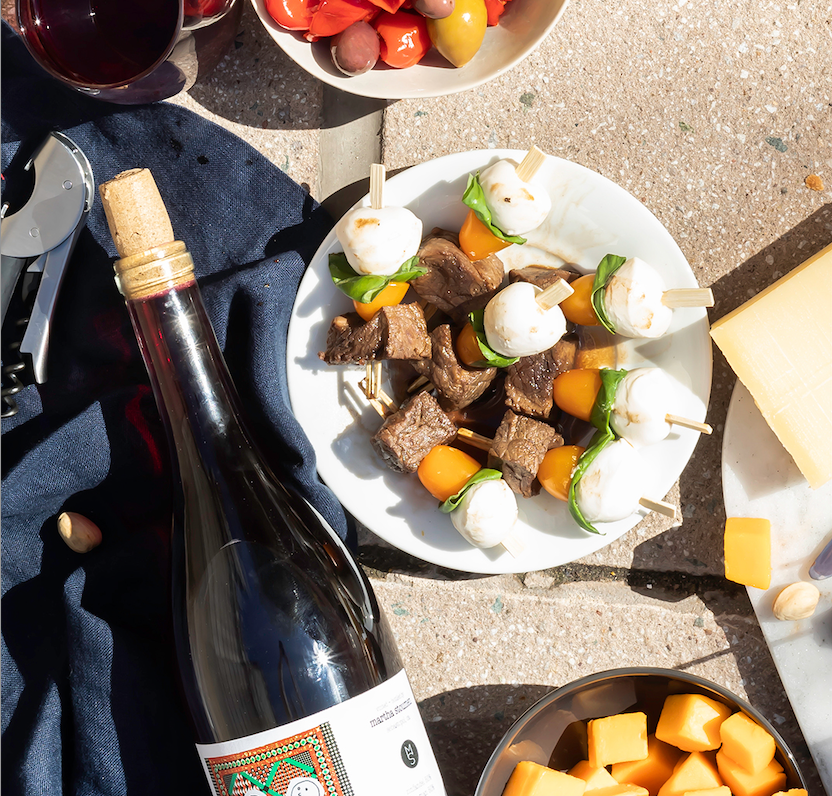 Celebrating Mother's Day with Wine, Steak, Cheese, and Love
Wine, Steak, Cheese, And Mom 
Mother's Day is a time to celebrate the extraordinary women in our lives, and what better way to do that than with a delicious meal and a glass of wine? Whether you're cooking for your mom or treating her to a special dinner, these wine, steak, and cheese pairings will impress.
First up, the wine for Mother's Day 
For a special occasion like Mother's Day, it's worth splurging on a nice bottle. Consider a full-bodied red like a Cabernet Sauvignon or a Bordeaux. These wines have a complex flavor profile that pairs well with steak and cheese. 
We also recommend the Martha Stoumen Wines 2018 Post Flirtation Red bottle of wine with our Balsamic Caprese Steak Bite
s
recipe
.
William Whelan, Certified Somm, VP of Wine at Winestyr, paired this delicious wine with our recipe. He said,
"So
much is going on here with the creamy texture of the cheese, the seasoning, and heartiness of the beef, and the acidity of the tomatoes. For that, I chose a 50-50 blend of Zinfandel and Carignan because of the wine's bright fruit profile, freshly cracked black pepper aromas, and the mouthwatering acidity to ensure the wine refreshes your palate and cuts through the richness and texture of the food."
Let's Talk About the Star of the Show: The Steak
We recommend choosing a high-quality grass-fed and finished beef for this occasion, such as any of Pre's delicious steaks. Try our Balsamic Caprese Steak Bites recipe for a twist on the classic steak dinner. The creamy mozzarella, sweet tomatoes, and tangy balsamic glaze perfectly complement the rich, juicy steak. If you want to impress
mom, try our Filet Mignon with Green Olive Caper Butter, Asparagus, and Poached Egg
! Make this fresh and elegant recipe for Mother's Day brunch or dinner. The anchovy paste adds a salty and flavorful kick without any fishiness. Asparagus is a spring vegetable typically available around Mother's Day, making it easy to find.
Pre's Filet Mignon pairs perfectly with a poached egg, a meal mom will never forget!
Now, let's talk cheese
A cheese board is a perfect way to start or end a meal and a great way to show off your knowledge of different cheese styles. For a classic cheese board, choose a variety of cheeses with different textures and flavors. Consider a creamy brie, a nutty aged cheddar, and a tangy blue cheese. Serve them with crackers, bread, and fresh fruit.
Lastly, don't forget the love!
Mother's Day is about showing appreciation for the amazing women in our lives, and there's no better way to do that than with a heartfelt gesture. Whether it's a handwritten card, a bouquet of flowers, or a box of steak, take the time to show Mom just how much she means to you. Treat Mom to a steak dinner, a cheese board, and a nice bottle of wine. And remember to show her some love and appreciation for everything she does. Happy Mother's Day!
Interested in learning more about why Pre provides the best beef for mom
? Here are some more resources you can check out!