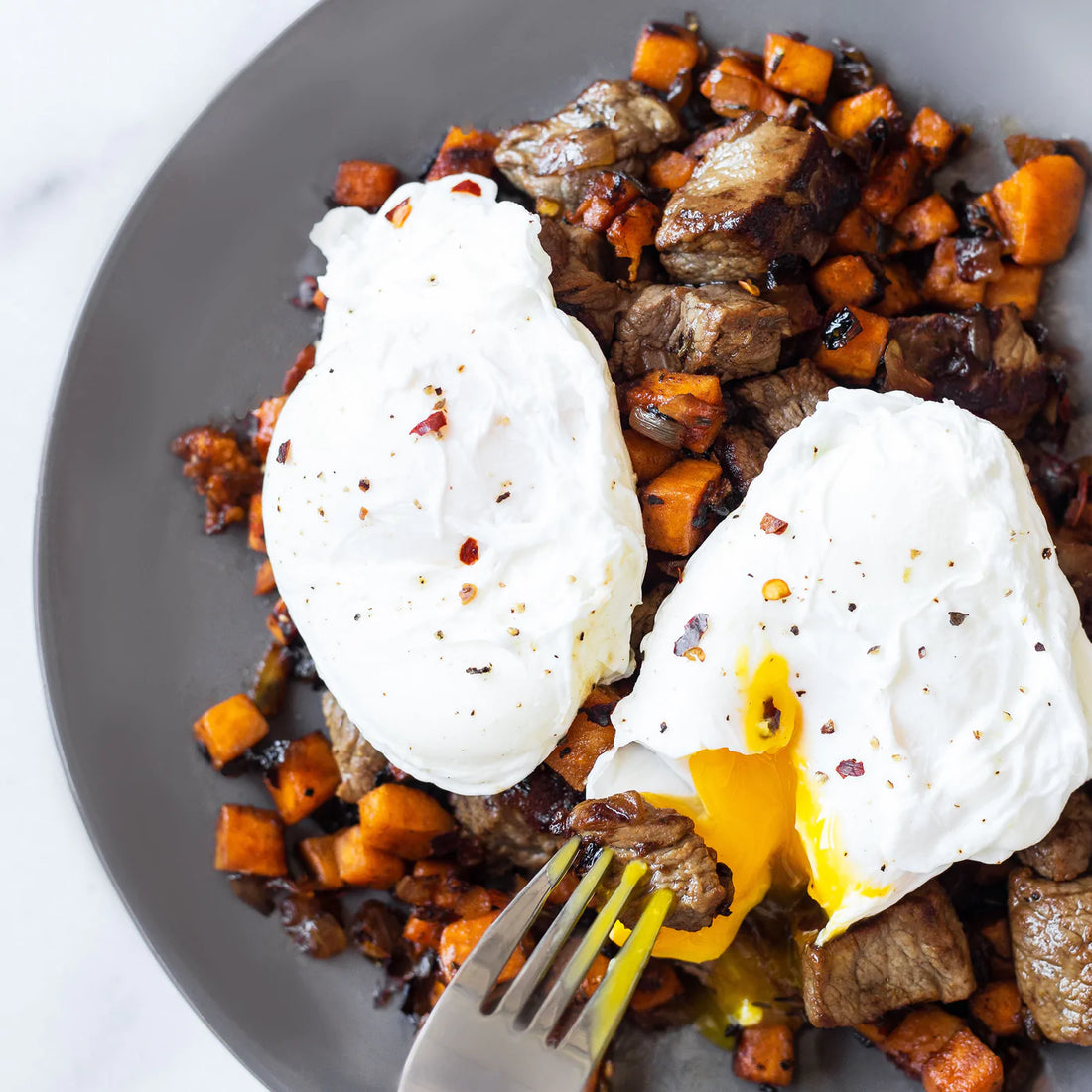 Whole 30 is a nutritional reset and something that we strongly support and encourage as it shows you how your body reacts to certain foods. You eliminate foods from your diet that can be causing you to feel bloated, tired, or out of it and problematic in one of four areas; 
cravings and habits

blood sugar regulation and hormones

digestion

the immune system, and inflammation
During this reset, you are narrowing down what foods make you feel best. We have countless customers email or call to tell us after they switched to eating high-quality, grass-fed, and finished beef, their energy levels and bodies felt better. You are already changing the way you eat drastically for 30 days to find out what makes you feel your best; why not find out which ground beef, burger patty, or steak does that for you too? 
Although we support trying out the Whole 30 diet, you might get bored with what you're eating, so we created a small guide with some Whole 30 breakfast ideas! Click here for a complete list of what you should and should not eat during Whole 30.
Have you tried Shakshuka? Shakshuka is made by gently poaching eggs in a chunky tomato and pepper sauce. The best part about Shakshuka is that it is easy to make a lot of, so you can save it for the rest of the week or serve it at brunch! At Pre, we add our 85% grass-fed and finished Lean Ground Beef for extra protein to keep you fuller for longer.
This bowl can be eaten for any meal of the day, but it is the perfect way to start your day! This breakfast bowl is full of veggies like cauliflower and protein like eggs, ground beef, and bacon that will keep you energized all day! Feel free to add more vegetables to this bowl, like broccoli, spinach, or whatever else you want.
This recipe comes from our Whole 30 cookbook. We combine eggs, ground beef, and vegetables to create the most delicious frittata that will leave you feeling satisfied and full. We top it with a fresh salad to make each bite even more delicious. This recipe takes about ten minutes to prep and one hour to cook, so prepare accordingly!
Sweet potatoes are incredibly healthy for you. Just one sweet potato contains 400% of the vitamin A you need in one day and has many antioxidants. Fill up with healthy food in the morning to fuel your day! Starting your day with sweet potato, Pre's New York Strip steak, and poached eggs is a recipe for a successful day.
Why is eating grass-fed and finished beef on Whole30® important?
Whole30® is all about eating quality, whole foods. For the 30-day reset, eating quality proteins is essential. You are building healthy habits, so that should not stop with the meat you choose at the grocery store. But we would be remiss if we did not acknowledge that choosing the best quality meat for your body is confusing, and you may not be sold on spending the extra dollar on better-for-you beef. This is where Pre comes in. We will tell you that Pre is the best choice for Whole30®. It is grass-fed and finished, has no added hormones, antibiotics, or GMOs, is pasture raised year round, and is humanely raised.