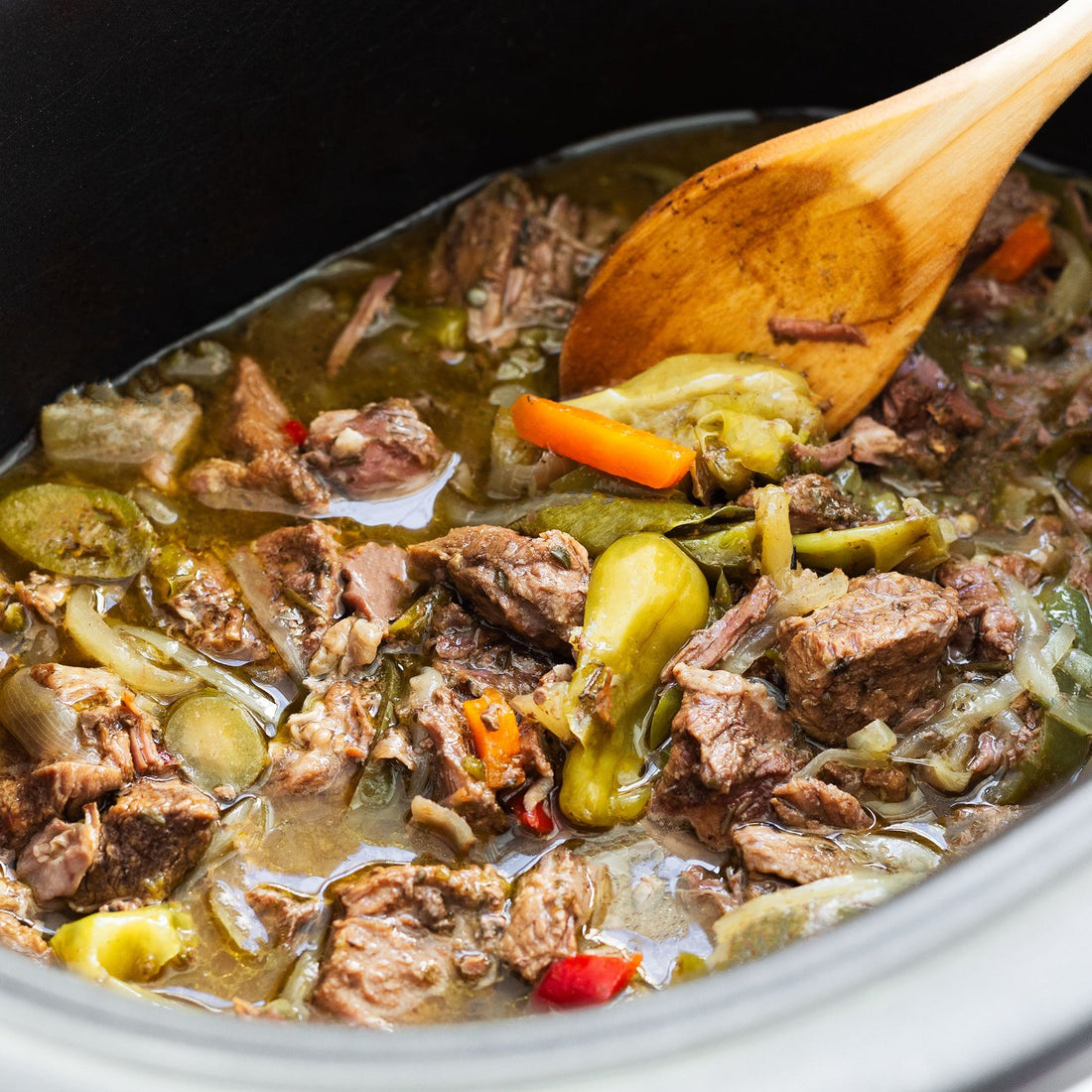 Cold Weather Slow-Cooker Recipes
As the weather gets colder, nothing could be more inviting than the smell of savory beef wafting from a simmering slow cooker. At Pre, we believe that healthy eating should still be enjoyable, and we have six Whole30 chuck roast recipes that are guaranteed to hit the spot. Using a slow cooker enables you to get the most flavor from your beef, and we think that's important. Our beef is Whole30 Approved®, Paleo Certified and Keto Certified,* as well as Halal. So, pull your slow cooker out of that corner cabinet, because this is beef will warm your belly and give you all the comfort you can stand this season. Try these cold weather slow-cooker recipes!


Heavenly Cold Weather Slow-Cooker Recipes

Winter calls for hot, satisfying meals, and let's be honest – the heartiest, most flavorful meals are spooned sloppily out of a slow cooker. These cold weather slow-cooker recipes will offer more than just easy prep and scrumptious eats, though. With more people at home these days, you'll get to enjoy the savory smells of delicious Pre beef simmering away all day long. You can probably smell it already...we sure can! We picked these recipes because they make meal planning easy and don't compromise on flavor. From easy-peasy freezy meals that you can pull out for any lunch or dinner to chili packed with tender Pre beef, you and your family can enjoy delicious healthy eating all winter long. For more recipes, sign up for our newsletter, so you can get the best recipes delivered to your inbox!




Featured Pre® Beef Cold Weather Slow-Cooker Recipes
Believe it or not, you don't need beans to make a mouth-watering pot of chili. This is at the top of our chuck roast recipes for a reason, and that reason is bacon.
Chuck, tomato, peppers, chipotle, avocado and lime. This colorful salad is unforgettable, and the pico de gallo brings with it a wonderful element of freshness. Lettuce begin!
Load your slow cooker with a Pre chuck roast accompanied by potatoes, onion, spices, and hot sauce. You can even freeze it for another night, no poblano (actually, it does call for a poblano pepper), and voilà, a no-prep meal.


Grass fed beef recipes done in the slow cooker are just...better. This succulent delight uses Pre chuck roast, pepperoncini peppers, and Italian spices to procure the perfect flavor for tonight's meal – or, zip it up and freeze it for another night. Ah, Italia.


Okay, the name is enticing enough. Just imagine the blend of tender chuck roast and hot buffalo sauce paired with a soupçon of cashew cream sauce. Oh yeah. You read that correctly. Make this cold weather slow-cooker recipe.
Fall Beef Harvest Bowl Cold Weather Slow-Cooker Recipe
We hope you love cinnamon, because this is one of our favorite fall chuck roast recipes. It's a;sp Whole30 approved! With roasted brussels sprouts, acorn squash, a full tablespoon of cinnamon, and more, this fall-inspired bowl will have your kitchen smelling like a dream.
Make these cold weather slow-cooker recipes to warm up this winter.