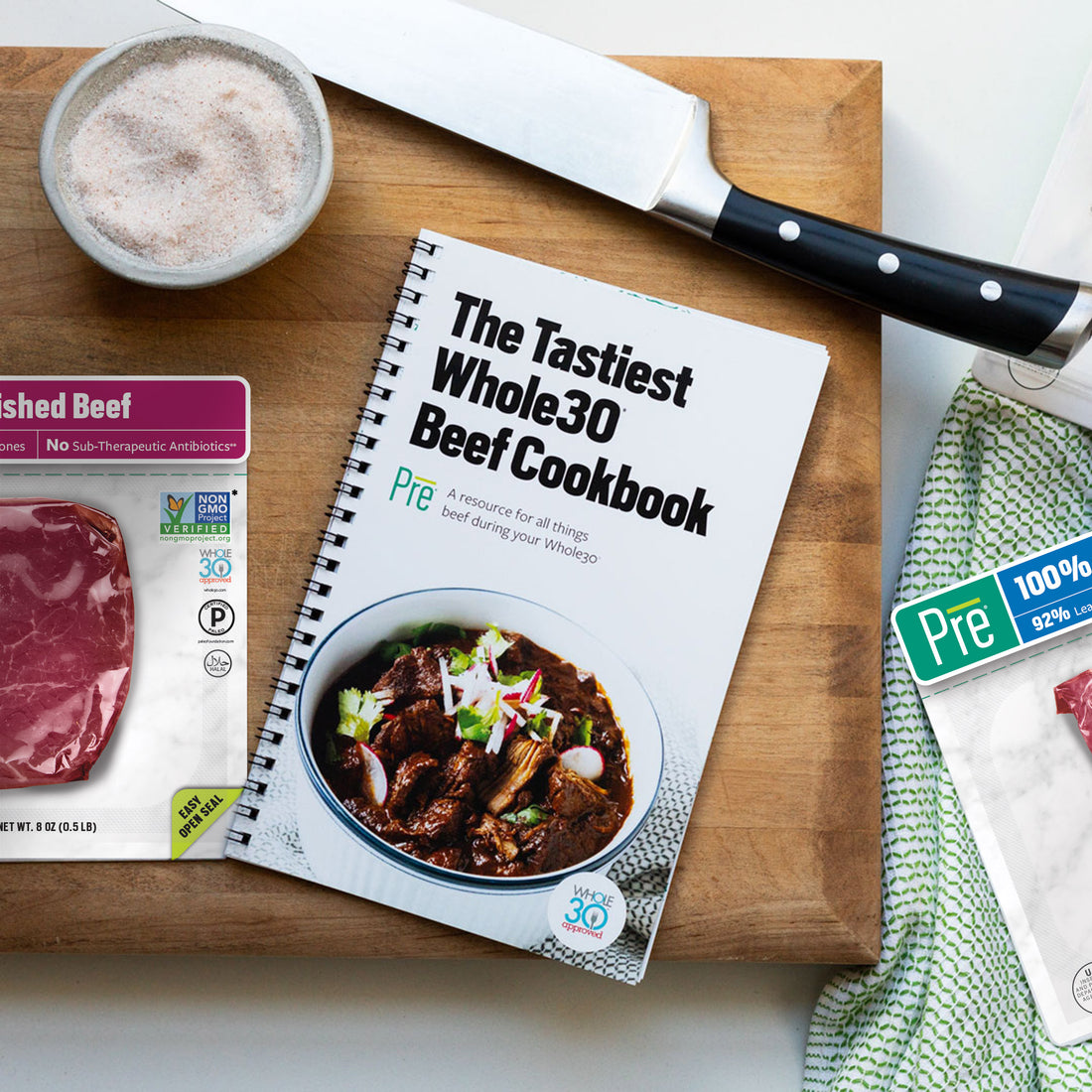 Diets can be a bit...blugh...and there are way too many out there that promise one outcome or the other. 
Whole30, on the other hand, isn't a diet at all. Or a cleanse. It's a change of pace that helps you to eat better and gives your body a nutrition reset over the course of 30 days. Don't worry, it doesn't mean you have to eat birdseed and drool over pictures of chocolate cake. Whole30 involves cutting out certain foods, but you'll be surprised with what you can and can't have. Let's focus on the CAN, such as canned fish (or regular fish, as long as it isn't breaded). Follow Pre's Guide to Whole30 to succeed!
The nutritional benefits of fish will make a big splash when it comes to your dietary intake. Beef is also approved, as long as it is grass fed and finished, and wouldn't you know... Pre is the perfect match for that. Chicken is another for the CAN column, along with an endless list of delicious fruits and vegetables and sooo many avocados.
Seriously, you can start buying those netted bags of avocados and not worry about having to toss them out before you can use them. You CAN even eat hamburgers - just skip the bun...and maybe use a fork. Most importantly (we didn't forget), you CAN still drink your morning coffee! You can also go on a scavenging mission to your local grocery store to find Pre beef and other foods that are Whole30 approved. 
Read more: Pre Beef is Whole30 Approved®
What Can and Can't You Eat During Whole30?

The purpose of Whole30 recipes is to eliminate foods that can cause cravings, disrupt blood sugar, and cause inflammation. It isn't about weight loss, but instead, it focuses on removing negative food habits from your life and helping you make healthy choices without feeling like you have to give everything up. Speaking of which, though, here's a list of things you CAN'T eat or do while on your Whole30 journey:


Sugar. Maple syrup. Natural or artificial sweeteners of any kind.
Alcohol. Stick to kombucha instead - your liver will thank you.
Smoke. No tobacco, and no cannabis.
Grains. Quinoa. Rice.
Beans. Peanut butter. Chickpeas.
Soy. Tofu. Soy milk.
Junk food. With or without "approved" ingredients.
Dairy. Milk. Cheese. I know, that one hurts.
Weigh yourself. This isn't about weight loss! No peeking through your fingers to read the numbers at your toes. The point of Whole30 is to FEEL better. The potential weight loss is just an attractive side effect.
Pre's Guide to Whole30
That's why we've put together this Pre's Guide Whole30! Whole30 doesn't have to be filled with boring recipes that make you scrunch your face up in disgust while eyeing up that bowl of M&Ms on your coffee table. Those are for guests. When we source meats and other foods for our Whole30 recipes, we make sure that they are delicious. We use Whole30 Approved beef in all of the recipes that you'll find on our site, and while we aren't a diet, our Whole30 beef actually aligns with many popular real food diet regimens. Check out some of our recipes and be sure to download our cookbook that will make meal planning a breeze for the next 30 days! Trust us, Pre's Guide to Whole30 will make it a breeze!

 
Pre's Guide to Whole30: Featured Whole30 Recipes
Ghee (back of the throat.."ngheeee") gives this dish the mouth-watering taste that will make you forget that those aren't potatoes sitting beside the perfectly cooked ribeye. This is an easy meal that won't take all night to prepare yet gives you the staunch satisfaction of mowing down a good steak.
Toast for dinner? You'd better believe it, buddy. This toast is topped with scrumptious sirloin, roasted red pepper, and alluring almonds. Who needs peanut butter and jam? Say goodbye to toast sweat on your plate with the satisfying crunch of sweet potato instead.
Maybe this one should have been first? We use Pre® Whole30 beef paired with faraway spices atop Boston lettuce cups and sprinkle a mixture of pico de gallo, avocado, red onion and cilantro to complete the ensemble (you don't have to do the cilantro if you're one of those people who think it tastes like soap).
These aren't your grandma's deviled eggs! Enjoy this familiar mouthful with a spiral of sirloin to add a juicy, salt & pepper flavor to an all-time favorite appetizer. Nobody will know if you sneak a few from the fridge before you put them out for all to enjoy. We certainly won't tell!