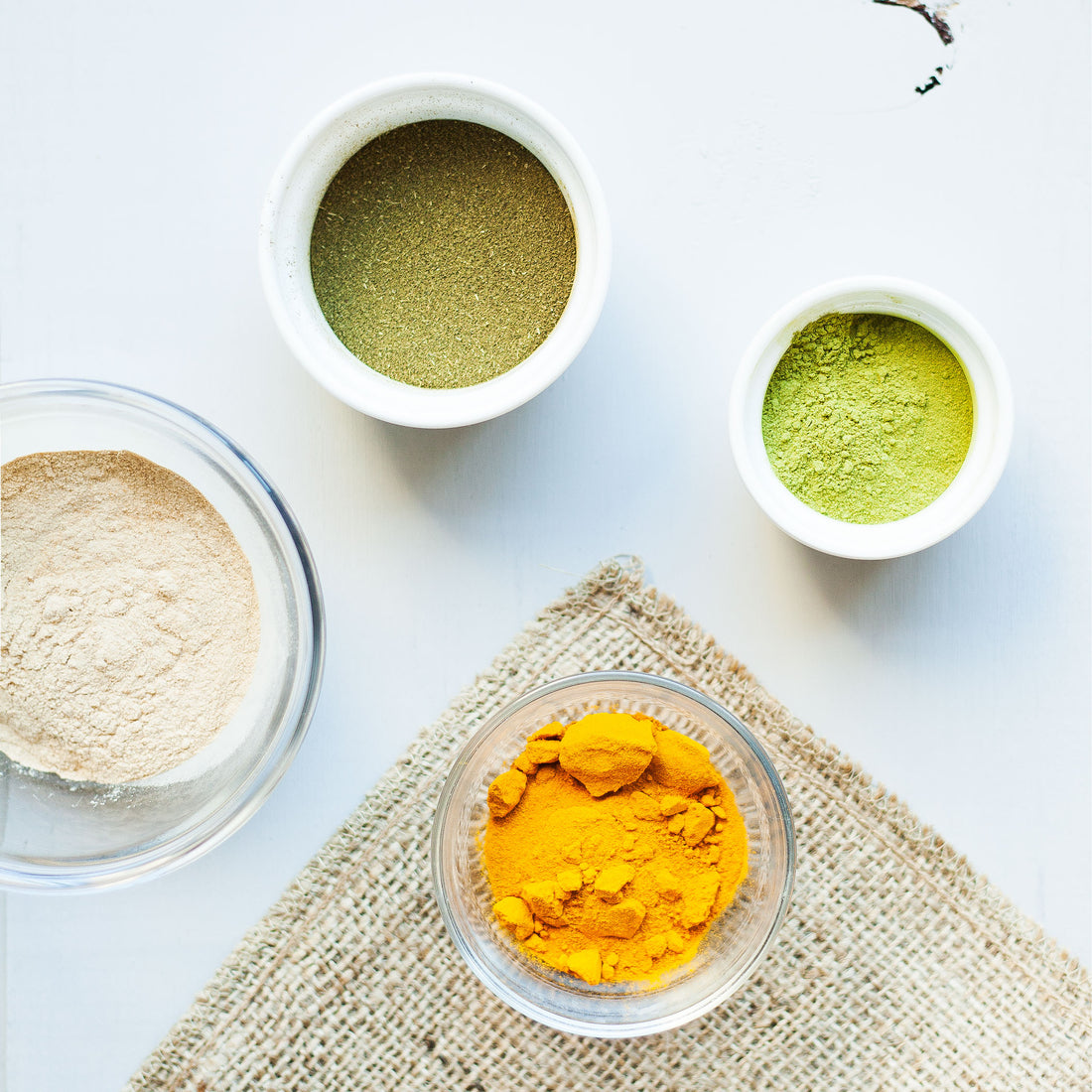 4 Super Foods to Add Into Your Diet
Super food powders are having a heyday.
Research supports that these super food powders have a powerful effect on helping our bodies fight off bacteria and reduce inflammation.  Some may also help to lower cholesterol, fight infection, regulate hormones, act as a mood stabilizer, and even improve our quality of sleep.
Incorporating these super powders into your diet is easy and beneficial. You can use them in elixirs, sauces, smoothies, spice blends, or your morning latte.
4 Super Food Powders You Have to Have:
Maca
What is it? A root vegetable powder.
Why should I have it? High in protein and low in calories. Rich nutty flavor. Very high in nutrients. Helps to balance hormones in men and women. Improves mood and reduces depression/anxiety. May improve activities requiring high endurance.
How should I use it? Can be used in any powder sense: smoothies, cereals, even rubs….for steak. Balance the nutty flavor with something sweet (like brown sugar, or cinnamon) and something savory (like cumin or chili powder). Drop a little high-heat oil and salt into this mixture to make a super powder rubbed steak.
Moringa
What is it? Tree leaves. 
Why should I have it? Very rich in antioxidants! May lead to reduce blood sugar levels. This super food has been shown to have anti-inflammatory effects. Lowers cholesterol levels, which in return lowers risk of heart disease. Highly nutritious, plentiful in many nutrients. 
How should I use it? Can be used in salad dressing or sauces that have a lot of greens already like pesto or chimichurri! That's right, add moringa to your chimichurri sauce. Fight off heart disease…and eat your steak too!
Matcha
What is it? The whole green tea leaf with stems removed and ground into powder. 
Why should I have it? High in antioxidants, Improves liver health, increases brain function, improves heart health, promotes weight loss. Matcha really is the ultimate super food.
How should I use it? Super easy to incorporate into your diet! Prepare as a tea, iced or hot, make into a latte, or mix into your steak rub or sauce to add some added flavor and nutrition. I love this green tea leaf as a flavor component to my green tea salad dressing.
Turmeric
What is it?
Why should I have it? Antioxidant rich powder has been being used for thousands of years because of its anti-bacterial and anti-microbial properties. It neutralizes free radicals on its own and stimulates the body's antioxidant enzymes. It is plentiful in curcumin levels which increase the growth of new neurons that fight degenerative processes in the brain. Lowers the risk of heart disease. 
How should I use it? Golden, nutty, and strong powder made from the turmeric root. I LOVE this powder on my Golden Steak rub or sautéed with garlic for a warm steak dressing. 
Do you love these super powders too? Tell us how you use them in the comments below.