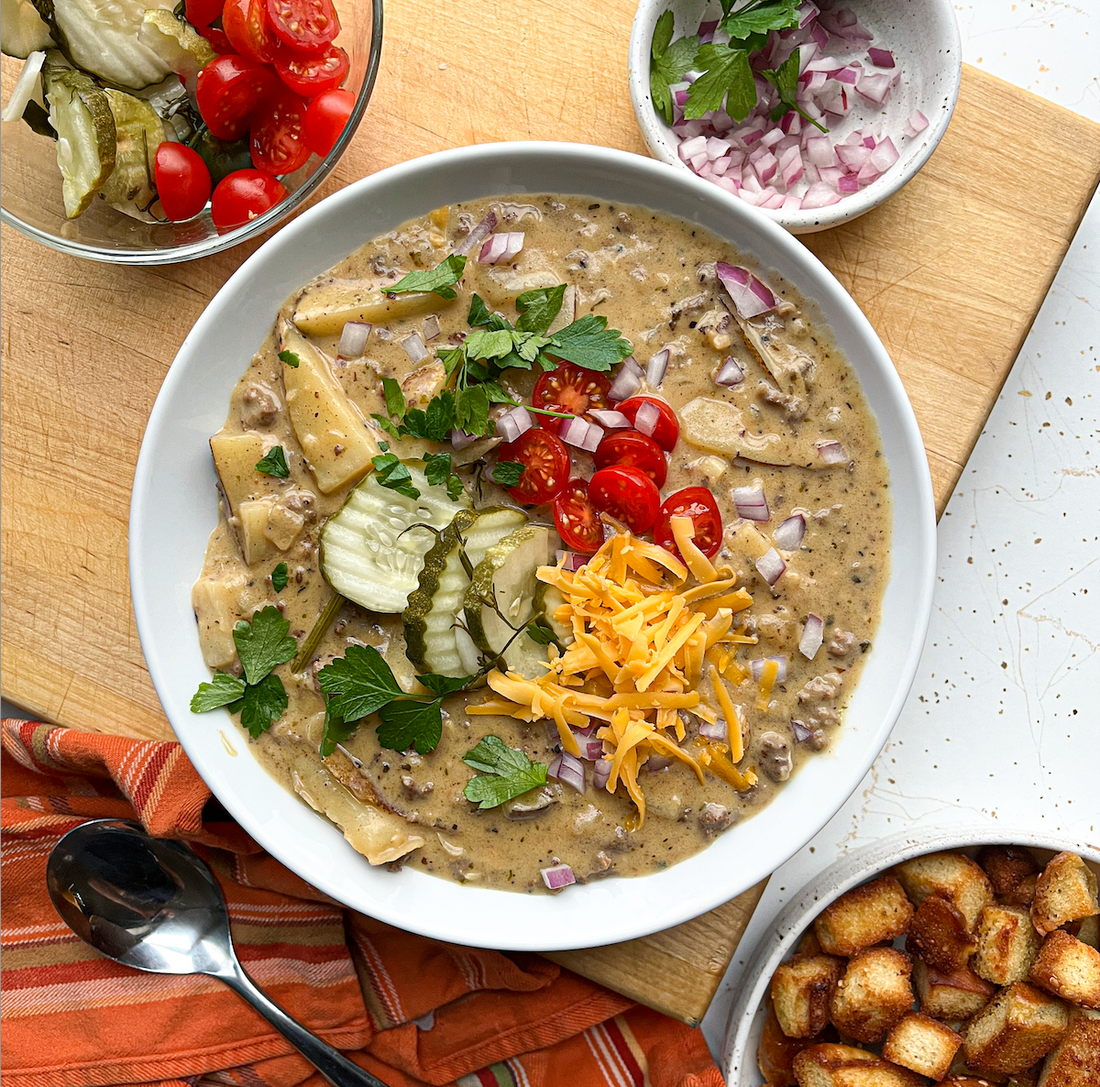 Fall is coming to an end, and winter is approaching, so you know what that means! It's soup season. Here are our top 7 favorite soup recipes to make this winter.
A cheeseburger
,
but different. This dish perfectly emulates a cheeseburger but is much warmer and heartier than a traditional burger. Garnish this soup with your favorite cheeseburger toppings like sesame seed bun croutons, chopped dill pickles, chopped
red
onions, cherry tomatoes, and cheddar cheese! It might sound strange, but we guarantee this dish will fill your cheeseburger cravings
and provide you the cozy comfort that an actual cheeseburger would.
This recipe is a guideline for a taco soup that can be made with items you have in your pantry, refrigerator, or freezer. This recipe is great because you can add many ingredients not listed; if you don't have a specific ingredient, it will still turn out delicious! The taco-seasoned ground beef makes this meal addicting and show-stopping. 
From the veggies to the meatballs, this soup is so satisfying and healthy. Use frozen, canned, or fresh vegetables for this recipe. This is the perfect recipe to use up that last bag of cauliflower rice or one zucchini in your refrigerator. Made
it
hearty with bite-sized meatballs made with our 85% lean ground beef. Additionally, this dish is Whole30 compliant so eat
(slurp?)
your heart out.
Sometimes sticking to tradition is good, and this soup is the perfect example. With warm broth, carrots, potatoes, and peas, this traditional beef stew is the ideal pick-me-up after a long day.
We know that traditional french onion soup doesn't have beef
—
but doesn't beef make everything better? We sure think so. You'll never go back to making traditional french onion soup after seeing how delicious and easy this recipe is
!
This is the perfect meal to make ahead and enjoy all week. We recommend meal prepping and making this on a Sunday, so you have a delicious and healthy dish to enjoy all week! The juicy meatballs in a flavorful Italian broth with vegetables will warm you this winter season. 
This recipe is absolutely addicting—the traditional goulash recipe made with potatoes, red pepper, and caraway. But we replace the sour cream topping with greek yogurt. The combination of bacon, potatoes, and chuck roast in this recipe makes for the perfect wintertime meal. We can't forget to mention that this recipe is made in an
Instant Pot
so it's incredibly easy to make!
Best Beef from Pre
Get high quality grass-fed and finished beef from Pre. Soups and stews taste better with better beef, so try Pre beef the next time you want to make a delicious meal!