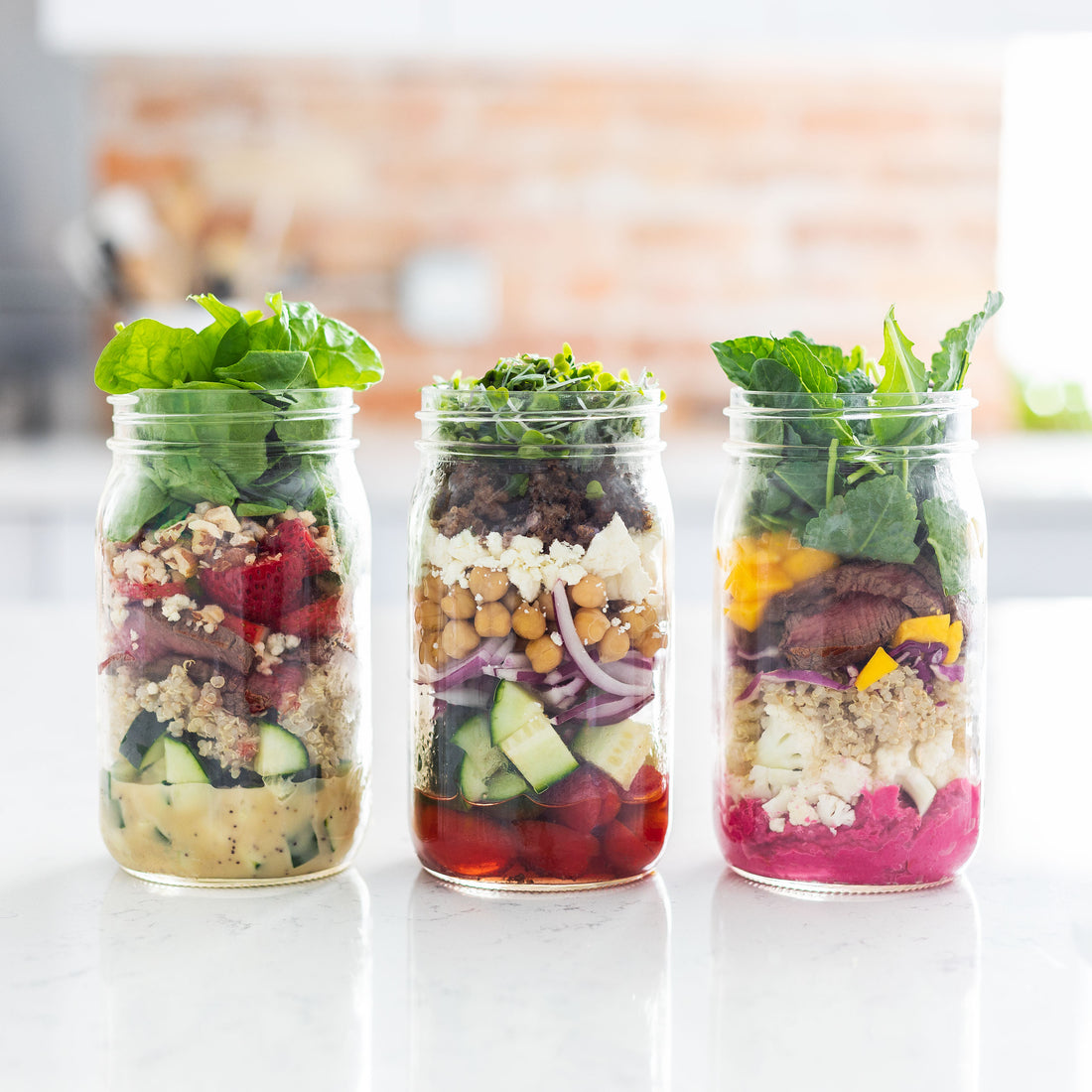 Healthy & Delicious Salads for the Beach
Planning healthy meals for the day during your summer vacation is way easier when you've got the basics down. One of our all-time favorite beach snacks is a mason jar salad. The key to building it is layering homemade dressing on the bottom and building so that the last layer on top is the leafy greens. 
Follow these simple steps below and you'll be all set for lunchtime at the beach. Want to steal our favorite mason jar recipes?  Grab our top three here. 
P.S. Don't forget to wear sunscreen!
Layer 1: fresh dressing
Whenever possible make it yourself. The store-bought stuff has a lot of junk, and that healthy salad can quickly become unhealthy. Make sure your dressing has flavors you love and always these elements: oil(fat), sea salt, vinegar (acid), red pepper flakes (heat), and citrus (brightness).
Layer 2: add some texture
Add some texture! No wonder people like croutons on their salad. Sometimes a variance in texture is all we need to be wowed by our salad. Perhaps some no-sugar-added dried fruits? You could also add pomegranate seeds or crunchy green apple.
Layer 3: full flavor protein
Rotisserie chicken, marinated steak, herbed fish, or leftover proteins from other meals. You can also boost the protein with nuts and seeds. Hemp is a great source of protein and provides a nice crunch.
Layer 4: fats
Add some sliced avocado to your salad or perhaps, grilled veggies that have some oil on them. Cashews are another great source of
Layer 5: mixture of vegetables and fruit
Like bell pepper, cucumber, broccoli, berries, and oranges.
Layer 6: bed of hearty greens
Kale, chard, romaine, cabbage, etc. Or a mix of baby greens
like arugula, spinach, microgreens, etc.