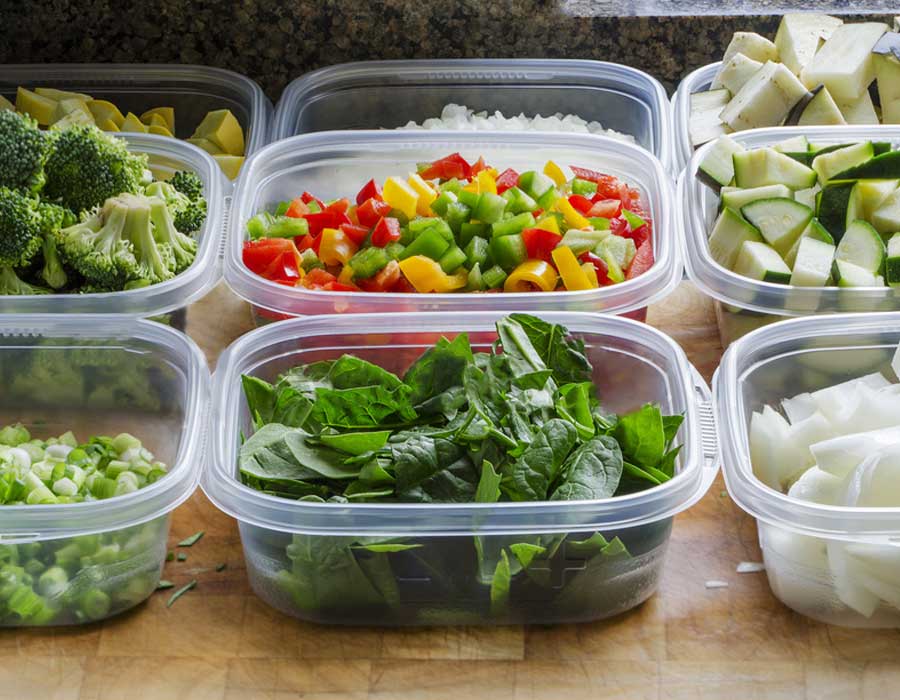 8 Meal Prep Hacks You Need to Know
Who wants to give up hours of their weekend to meal prep? Not me! In this blog I will show you how to make meal prep easier with a few tips:
1. Hacks to get your meal prep done in no time!
2. How to pull off a successful grocery shopping trip to set you up for a productive week (including a grocery list!)
3. How to make 5 meals out of 1 Pre chuck roast (watch the video at the bottom)
What Is Meal Prep?
For those that may not know, meal prep is simply taking the time to cut veggies, cook meat, make grains ahead of time, etc. This makes for an easy week of fresh and healthy meals. For me, meal prep is VITAL to eat healthy during the week while keeping up with my busy schedule. Does it sound like it takes a lot of time? It very well could! But, meal prepping can be quick if you pick up a few of these kitchen hacks.
8 Meal Prep Hacks:
Dedicate time to get it done.


If you try to fit a shopping trip and meal prep in between other plans, it usually goes south. Decide on a time that will allow up to a 3-hour window for shopping, meal prep, and clean up.

Choose recipes and food items that last a while in your fridge.

For example, crunchy vegetables, starchy vegetables, whole grains, lean meats, sliced snacking veggies, hummus, etc.

Tip: Pre-peel your garlic cloves and keep them in a small airtight container. This makes it easy to throw garlic into any skillet dish, protein, or dressing!

Make a grocery list and stick to it.


Buy the things you need for grocery prep and don't get distracted by packaged items like snacks and desserts. Keep your eye on the prize. See below for an example shopping list.

Make a list of anything in your recipe that could be prepped ahead of time.


Aka: vegetables that need chopping, dicing, peeling, or washing. Following a list to keep track of your meal prep to-dos will keep you on task and efficient. Consider timing as well, if you have a vegetable, grain, or meat that needs longer to cook, do that first. While it cooks, you can prep everything else. See my meal prep cheat sheet below as an example. Timing is everything.

Tip: Clean the kitchen as you go. I know it seems like you are starting and stopping a lot to wash between tasks, but upon completion, you will thank yourself for not having a chaotic kitchen to clean.

 

Slow Cooking is your friend.


This method takes longer, but it's passive cooking. Meaning, you can go to work or do other things while it cooks. Toss vegetables, broth, and meat into a crock pot for a deep slow-cooked flavor. This is my favorite way to cook Pre Chuck Roast. Don't have a crockpot? You can also get the slow-cooked flavor from a Dutch oven. Just cook it low and slow. Another option that shaves a lot of time is the Instant Pot. Cook your roast for 45 minutes…and it's done! It tastes like it cooked for hours!

Pack all your food items in clear containers. Label with name and date.


This step might seem unnecessary, but don't skip it! Upon opening my fridge, I am able to clearly identify the containers' contents and read the dates on the labels for freshness. Easy to see, easy to use, easy to eat!

Tip: Combine some of the pre-cut items together so you use fewer containers. For instance, if a soup has you combining celery, onion, and carrots, combine in one container.

Cook fresh if possible.


Once all your ingredients are prepped, you can make a dinner in 10 minutes or less. This is also a great way to make a hearty breakfast without much time. One of my favorites is in the menu plan below, root veggie hash. It has sweet potatoes, red beets, slow-cooked Pre Chuck Roast, onions, and sunny side up eggs. Everything gets sautéed in a skillet and topped with fresh eggs….easy peasy!

Create good habits.


It takes at least 21 days to create a habit (or so they say..). So, create good habits around meal prep. Try this 3 weeks in a row and see how much your healthy eating habits improve and productivity increases. You'll never go back.
Ready to give it a go? Watch this video to walk you through a full week of meal prep –five meals made with one chuck roast! After watching, click here to download our Guide to Meal Prep for the full grocery list, recipes, and step-by-step instructions.