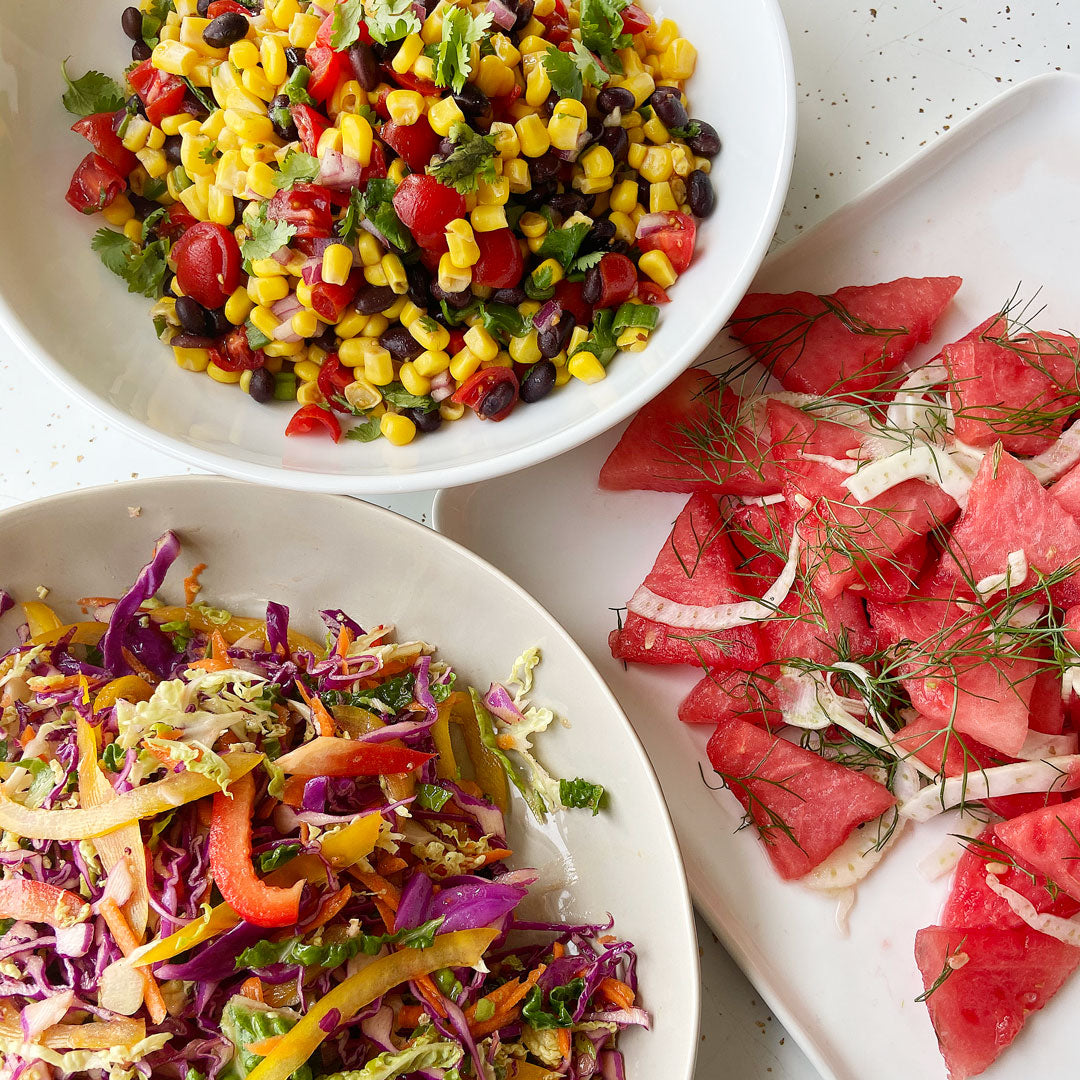 These three sides, created by Chef Sarah Beth, are what you need to bring some color to your cookout spread. 
Make the Simple Watermelon Fennel Salad or the Tangy Rainbow Slaw for two Whole30 options. The summer corn salad is one of our seasonal favorites. Make it with fresh corn off the cob all summer long. You can aslo use frozen kernels as they are a close second. Additionally, you can use the canned ones and drain them. 
3 Healthy Cookout Sides for Your Family 
Simple Watermelon Fennel Salad Cookout Side
Ingredients:
Appx 4 pounds watermelon, seeded and rind removed, cut into thin triangles
½ large fennel bulb, thinly shaved or sliced
Green fennel fronds from one whole fennel bulb
1/2 tsp kosher salt
Instructions: 
Toss all ingredients together and serve immediately. 

Keeps well in the fridge for up to 3 days. 

Summer Corn Salad
Ingredients:
3-4 cups corn kernels
1 pint cherry tomatoes, quartered
1 small red onion, finely diced
1 green bell pepper, finely diced
1 can black beans, drained and rinsed
1 jalapeno pepper, seeds removed and finely diced
Appx 1/2 cup cilantro leaves and tender stems
Juice of two limes, zest of one lime
2 Tbsp olive oil
1 tsp Kosher salt (or to taste)
½ tsp black pepper (or to taste)

Instructions: 
Add all veggies to a large bowl. Pour oil and vinegar over and stir to coat. 

Add salt and pepper and adjust to taste. 

Refrigerate for 30 minutes to allow flavors to combine. Corn Salad will keep in the refrigerator for up to 4 days.
Tangy Rainbow Slaw Cookout Side
Ingredients:
½ head purple cabbage, thinly sliced or shaved (or one bag pre-shredded)
½ head green or savoy cabbage, thinly sliced of shaved (or one bag pre-shredded)
1 carrot, grated (or 1 cup of precut matchstick carrots)
½ red pepper, thinly sliced
½ yellow pepper, thinly sliced

For vinaigrette: 
3 Tbsp olive oil
3 Tbsp vinegar (white or red wine vinegar works best)
1 tsp dijon mustard
1 tsp honey (optional- omit for Whole30)
1 tsp kosher salt
Appx ½ tsp freshly ground black pepper
Instructions: 
Prep all veggies and toss in a large bowl to combine. 

Vigorously whisk together vinaigrette ingredients for 15 seconds. 

Pour ¾ of dressing over veggies and toss to coat. Taste and add more dressing as desired. 

Slaw can keep in the refrigerator for up to 3 days. 

More Recipes for your Grill-Out Feasts:
Want to learn how to grill?
Where can I get the best ground beef and steaks for grilling?
Say no more, we've got you covered there. Buy Pre grass fed & finished beef with no added antibiotics or hormones online or on AmazonFresh. You can also find a store near you with our store finder.