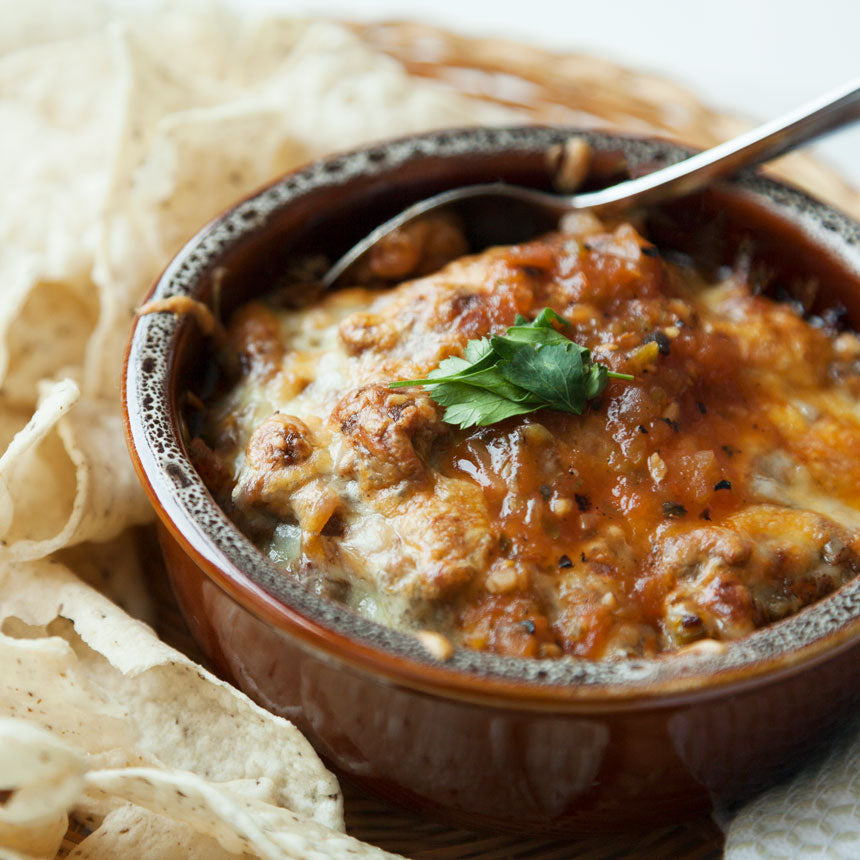 Top 5 Recipes for National Tortilla Chip Day
February 24th is National Tortilla Chip day. This crunchy, salty snack is loved by millions and we fully support the creation of this marvelous day honoring the tortilla all on its own.
However, tortilla chips are great for dipping and acting as a base for cheese as well as or all on their own. We picked our top 5 recipes to pair or make with tortilla chips. Make sure to serve each recipe as an appetizer or as a full meal. Eat some barbacoa nachos for breakfast, Queso Fundido for lunch and some buffalo beef dip for dinner. Tortilla chips for every meal. Why not? We're celebrating, right?
5 Delicious Tortilla Chip Recipes
Slow cook your Pre chuck roast the night before. Then, in the morning, put all the ingredients on one sheet tray to finish baking. Trust us, this meal will make getting out of bed way easier… but we'd still recommend setting an alarm. Top with sliced avocado, chopped cilantro, pickled red onions, and sliced Jalapeño.
Too busy for this breakfast? Check out Breakfast Meal Prep for Busy People.
This spicy, cheesy dip will satisfy even the pickiest eater. The ground beef is made with a chorizo spice blend which also acts as a great seasoning for eggs or tacos. Hint: make an extra batch. Enjoy the dip with extra crunchy, salty tortilla chips.
Invite your friends and family over for this dish, chilaquiles equipped with scrambled eggs, Pre Ground Beef and marinated red onions. Just make sure to cook this dish 24 hours ahead of time to make serving stress-free.
Skip the chicken and make this Whole30 Approved® dip with Pre ground beef.
This is made with The New Primal's delicious Whole30 Approved hot buffalo sauce.
Are you participating in Whole30 right now? Did you know we have the Tastiest Whole30 Beef Cookbook?
The Tex-Mex spiced beef from this recipe is perfect for weeknight nachos. Spread a layer of tortilla chips on a sheet tray. Top with cooked grass-fed beef, cheese, and salsa. Bake in the oven or under the broiler for 5 minutes to melt the cheese and heat through. Top with some avocado and cilantro. Dinner is served.