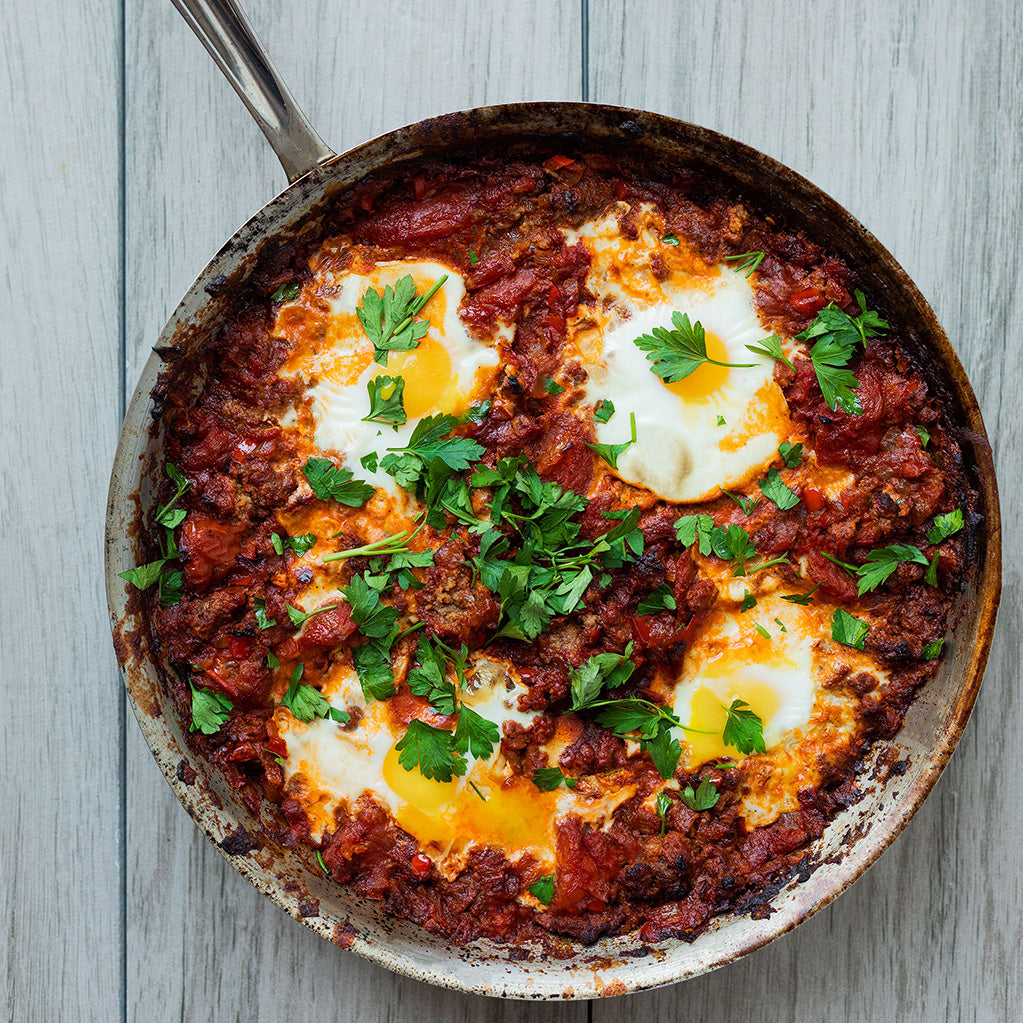 Top 10 Ground Beef Recipes for Whole30
Who among us doesn't love enjoying a big helping of breakfast Shakshuka or homemade meatballs? The savory flavor, the tender texture, ground beef recipes are a favorite for many meat lovers, and our Top 10 Ground Beef Recipes for Whole30 is going to show you how to enjoy them to the fullest extent. Our selection of Whole30 beef recipes offers the flavors you want without having to worry if they are compliant with you 30-day reset. 
 
What is Whole30?
Whole30 is NOT a diet. Not at all. Whole30® is a 30-day eating plan with the purpose being to heal and refresh the body and mind. This includes resetting a person's relationship with food, by removing foods that Whole30® has identified as potential craving inducers, blood sugar disruptors, gut damagers and inflammation causers. The goal of Whole30® is not weight loss (but it can happen) but to replace negative food habits with a consistent routine of great food choices that change a person's health and wellness for the better. Read our Whole30 guide for recipes, how to read food labels during Whole30® and more.
 
As mentioned, there are some foods that are off limits, and it might seem a little difficult at first. Firstly, sugar, alcohol, grains, beans, soy, and dairy are no-gos during your Whole30 journey. We are here to help you look at what you are able to eat instead of focusing on what you are eliminating. Whole30 enables you to eat delicious foods that will help you develop healthier eating patterns for life, and we're going to prove it to you.
Pre's Whole30 Guide
Pre's Whole30 guide has been designed to show you that healthy eating doesn't equal bland, boring recipes, and it definitely does equal lots of delicious ground beef recipes. Our goal is to show you what beef used to taste like before industrial farming practices, before feedlots and corn-fed cattle became a thing. We're talking about pre-industrial beef here, from farmers who practice Non-GMO cattle raising. All Pre® beef is Whole30 approved has no added hormones or antibiotics, is pasture-raised year-round and is Non-GMO Project Verified. We have tons of ground beef recipes as well as a cookbook just waiting to be downloaded.
Read more: Our Sourcing
Featured Whole30 Beef Recipes 
We've selected 10 of our favorite Whole30 beef recipes that are sure to make your mouth water, and you can enjoy them guilt-free knowing that you've made a choice to eat healthy food without compromising on flavor. Try our top 10 ground beef recipes for Whole30
 
Warm up with this perfect fall soup recipe packed with onion, celery, carrots, zucchini, bell peppers, cauliflower rice, and hearty bite-sized meatballs.
People go crazy for tacos, and we're no different! Load up those lettuce cups for a fun twist on a Mexican classic.
The flavor of egg rolls, but in a meatball – who wouldn't love that? Pair it with cabbage slaw for a well-rounded autumn meal.
Make breakfast on the go a thing of beauty with these beef egg bites. You'll need an immersion circulator to get this one done, but it's sooo worth it! This recipe is by @lessphiling.
These Whole30 beef burgers pack a flavorful punch with cajun seasoning. Throw them on some lettuce and load up on your favorite toppings.
Another delicious burger variation. Add grilled pineapple, fresh cilantro, red onion, and tomatoes to create a medley of Hawaiian flavor. Recipe created and photographed by @cookathomemom
Don't think of this as a pasta replacement, but a big bowl of deliciousness. Enjoy this hearty bowl of spaghetti squash noodles smothered in Bolognese sauce on a crisp autumn day.
Grab your closest skillet and pack it full of ground beef, tomatoes, spices, and eggs for a dish that is great for any meal. You'll want to eat right out of the skillet – it won't make it to your plate!
These tangy little meatballs of deliciousness are full of pineapple and BBQ flavor. Furthermore, you can make them in an air fryer in 20 minutes and you've got lunch!
Lastly, our classic burger bites. These mini burgers have been disguised as meatballs. But you will satisfy all your burger cravings with these easy and delicious burger bites.