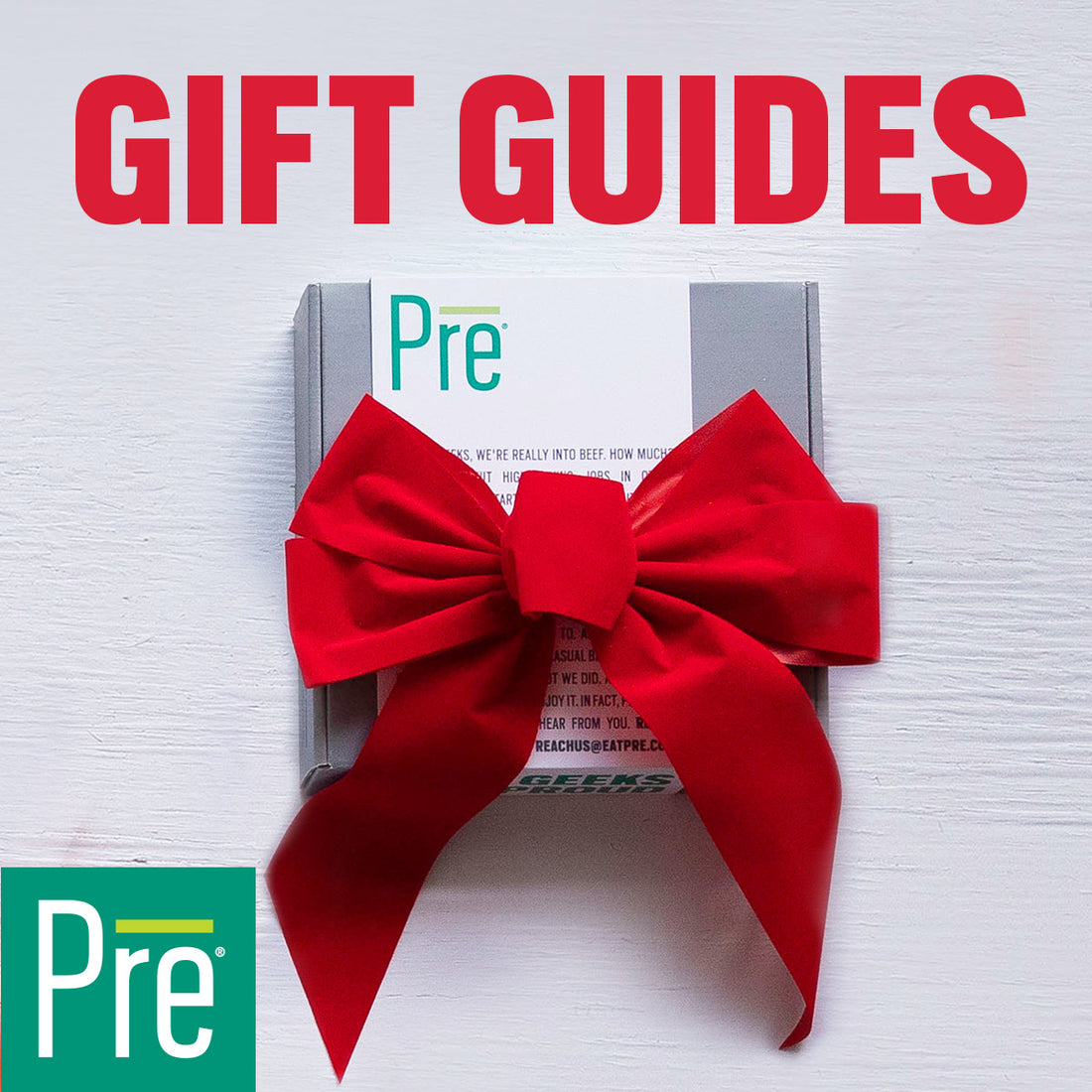 This year, the holiday presents will be easy.
Okay, fine. They might not be easy. You'll probably encounter most of the joys and stresses and crunched time that always accompany this special time of year.
But this year, we're making the holidays a little bit easier by giving you the playbook – holiday
gift guides with everything to get for the folks on your list, especially:
THE HOST OR ENTERTAINER,
THE BEGINNER COOK, and
THE PERSON WHO HAS EVERYTHING.
Don't worry – we've got everyone else on your list covered too, with:
HOLIDAY GIFTS THAT KEEP ON GIVING and
STOCKING STUFFERS.
Get your holiday present inspiration here, and then shop Pre collections for everyone on your list.
HOST OR ENTERTAINER
Here's the guide for that special person in your life who's the life of the party. Loves nothing more than a stylish (or cozy and casual) gathering with good friends and great food and drink.
The host or entertainer needs:
Pre Chuck Roast, for party dishes that:

you can make ahead,
shine with just minutes of prep, and
taste amazing as people graze at a buffet table all night.
Real Salt, which now comes with mouthwatering subtle seasoning additions. Pre beef's best friend is a high-quality kosher sea salt, like Real Salt.
Stemless wine glasses and stylish tumblers, for fancy-looking drinks with simple, dishwasher-friendly cleanup.
Your favorite entertainer's cookbook. We love The Adventures of Fat Rice: Recipes from the Chicago Restaurant Inspired by Macau, by Abraham Conlon, Adrienne Lo, and Hugh Amano. Unique, amazing recipes from one of our favorite hometown Chicago restaurants.
Beverage accoutrements, such as a wine opener, aerator or cocktail shaker, as well as Food and Wine's Cocktails. We also love these eco-friendly, go-with everything cork coasters. Get them what they need to step up their beverage game.
A solid card game, like Cards Against Humanity, that needs no board and no prior experience to get everyone involved, laughing and having fun.
Subscription to Architectural Digest, because you know they want their space looking tip top for having people over again and again.
BEGINNER COOK
These are the essentials. The necessities. The best gifts for the beginner cook, so whether it's attempting Béarnaise sauce or learning to use a cast iron skillet, your favorite beginner (and you) have it under control.
The beginner cook needs:
Pre's Chef's Selection Box. The cuts in this curated box are the chef's favorite because they're versatile, they allow you to explore steaks, ground beef AND seasonal cuts, and each one brings flavor, consistency and overall eating experience that make a newbie chef's job easy.
Real Salt. Again, because Pre beef's best friend is a high-quality kosher sea salt, like Real Salt.
High-heat oil, such as Spectrum's Organic Sunflower Oil. The cook is going to need it, to nail the sear on the ribeye and top sirloin steaks coming in their Chef's Selection Box.
A cast iron skillet. Perfect for steaks and useful for so much more.
A great chef's knife. Every chef will tell you if you need one thing in the kitchen, it's a high-quality, sharp knife. One good one will send the beginner chef off to the races.
Cookbooks with the basics, like Bar Tartine Techniques & Recipes, Cook it in Cast Iron and The Food Lab, a fun cookbook with science-backed explanations for why you probably shouldn't skip that recipe step.
A stylish apron because looking good is half the battle in the kitchen! Okay not really, but let the beginner chef rise to the occasion by looking the part.
PERSON WHO HAS EVERYTHING
Everyone knows that guy or gal who has everything. No, seriously – every single thing. We made shopping for them easier on you.
The person who has everything needs:
Pre beef subscription. Now the person who has everything will never run out of the best beef in the world. You're welcome.
Real Salt and high-heat oil, for their incoming Pre beef.
Digital meat thermometer for the most accurate, consistently delicious beef, every time.
Joule Sous Vide by ChefSteps. Even if they have it all, they probably don't have sous vide yet. Let them try it on the steaks coming in their Pre subscriptions.
Ultimate Bar Book: The Comprehensive Guide to Over 1,000 Cocktails.  Even the person who has everything doesn't have that many cocktail recipes. (Right?)
Cast iron grill pan.  They have a cast iron and a grill, but do they have the combo? Didn't think so. At least not yet.
Air fryer, the hot new kitchen implement that cooks just about anything but requires little to no oil, resulting in a lower-fat but still oh-so-tender and juicy finish. We even cooked Pre ribeye in an air fryer. (Yes, you read that right.)
Custom bold text hat or tank because they can't have it already if you haven't designed it yet. Get those creative juices flowing.
GIFTS THAT KEEP ON GIVING
These gifts give and give, all year long. We made this list for you because we know how important it is to remind loved ones how great you are.
These gifts keep on giving:
Pre beef subscription. Like wine club but better. You might want this gift for yourself.
Real Salt pouches and shaker refills, because nothing's worse than running out of the only seasoning you really need for your latest Pre beef purchase.
Instant Pot. This was the hottest kitchen gift last season, and it's on track to do it again this year. Given the Instant Pot's game changing abilities in the kitchen, we don't see it going anywhere soon. Plus, your gift recipient can cook amazing and amazingly simple Pre beef Instant Pot recipes all year long.
Slow cooker, for cooking satisfying meals that are great the first time and arguably even better for leftovers the next day. That's the gift of meals that keep on giving.
Sectioned tupper ware for bringing those tasty leftovers for lunch the next day.
Clean, eco-friendly reusable water bottle for portable hydration without the waste, day in and day out.
STOCKING STUFFERS
Here as some tiny gift ideas that make a huge impression.
Stuff those stockings with:
Pre gift cards. Big things come in small packages. Perfect especially if you're not sure which cuts are their favorite.
Pocket-sized Real Salt shakers! Don't let your loved ones head into a table salt-serving restaurant, unarmed with portable trace mineral-packed Real Salt, ever again. Plus, these teeny little shakers are just plain adorable.
Koozies with a favorite sports team or kitschy phrase. Because everyone likes cold drinks, but no one likes cold hands.
Digital meat thermometer, small in size but critical for the perfect steak.
Magazine subscriptions. We like Bon Appetit and Food and Wine, but you know your gift recipients better than we do.
Wine sweater + matching hat. Yes, this is real. Whether or not your wine gets chilly in the winter, every wine is better when it's decked out for the season.
Salt crock, that pretty wooden container in the bottom right. This is the classiest way to store salt in the kitchen, perfect for adding just a pinch.
Giant ice cube molds, an inexpensive way to elevate any tumbler.
Yeti portable thermos for a dependably warming drink or soup on the go.
Mugs, shot glasses and bottle openers with logos and sayings that they know came from you.
Shop Pre collections now, to check one gift after another off your list. And when you're done, don't be afraid to add in a little something for yourself.

And that's how your holidays just got a little bit easier.
Happy gifting!