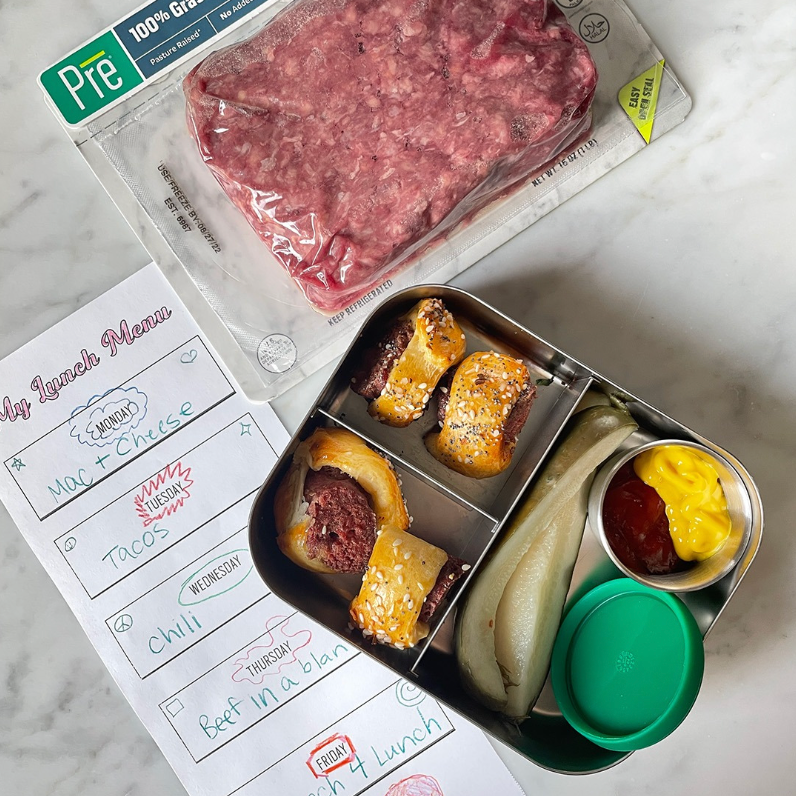 Ideas for School Lunchboxes For Kids
Ideas for School Lunchboxes for Kids

Let's be honest – although sandwiches are the go-to for school lunch, they can be a bit boring and, well... a bit repetitive. Slapping the same things between two slices of bread day in and day out becomes rather mundane for both parties involved. Getting creative with your kid's lunches might be as easy as repurposing leftovers.
Get Creative and Switch Things Up
Make this school season lunch-making process a little more fun by ditching the classic sandwich and spicing things up with some new soon-to-be-favorites lunchtime meals. Use what you have in the fridge. Whether your whip it up fresh or use last night's leftovers, the possibilities are seemingly endless, but we get it – day after day, it's hard to be creative. We've curated a list of five of our favorites to get you started!
Be Thoughtful and
Add
a
Note, c
lick here to download lunchbox notes for your kiddo! 
We made our own version of pigs in a blanket that will elevate your kid's lunch! Roll the meat into hotdog-shaped rolls and bake. The seasoning makes these bite-sized
"hotdogs"
kid-friendly and fun for the entire family to make together. 
Beef Skewers
Isn't everything more fun on a stick? Even if you don't think so, kids definitely seem to enjoy it! Pack up their lunches this year with leftover steak or beef sausage on skewers
(or
keep it mini with toothpicks). Pair it with an assortment of sides, and you'll have one happy kid! Sides like roasted vegetables,
coleslaw,
or a
Thai noodle salad.
Chili
Chili is an easy way to satisfy the whole family. Try our
Whole30 cowboy
chili for dinner, and send your kid to school with leftovers that will leave their friends envious! Although it's pretty common for school cafeterias to have microwaves on hand, it's not always the case. Confirm with your child before sending them to school with a hearty bowl of chili that'll warm them to the bone on a cold day. Just don't forget a buttered dinner roll for dipping!
Sloppy Joes
As we remember, sloppy joes were a kid's favorite growing up, and we'd like to believe that still rings true today. Serve sloppy joes for dinner with the intention of setting some aside for tomorrow's lunch. Pro tip: keep the sloppy portion separate from the bread for transport, so it doesn't go soggy. You can also repurpose your sloppy joe meat in a
sloppy joe grilled cheese!
What kid doesn't love grilled cheese? Or adult…!
Anything placed in or on a tortilla tends to be okay with kids; in this case, you get to put more leftovers to good use. Is that unfinished steak sitting in the fridge? Slice it up, and sandwich it in a tortilla, sliced green peppers
(maybe
some onion), and freshly grated cheese. Serve with chips and guacamole, and keep the Mexican theme going strong!
Meatball Sandwich
Meatballs. Such an odd food if you think about it, but absolutely delicious. If you've had spaghetti and meatballs recently, you may have some leftover meatballs ready to go. Toss several of these onto a small sub bun with some extra cheese, and you're done. You can also make a
Mediterranean Meatball Pita!
Make a batch of meatballs and set out the pita and fixings for a great serve-yourself lunch or casual dinner. The bonus? Your kids will love you.
Regardless of your choice when preparing your kids' lunchboxes this school year, we always recommend cooking all things meat with Pre beef. Pre offers high-quality meat sourced from farmers who raise cattle on pasture year-round. Boasting a superior flavor, all our beef products are 100% grass-fed, grass-finished, and raised with care. If you're ready to experience the unique taste and benefits of Pre beef for yourself,
place an order today!