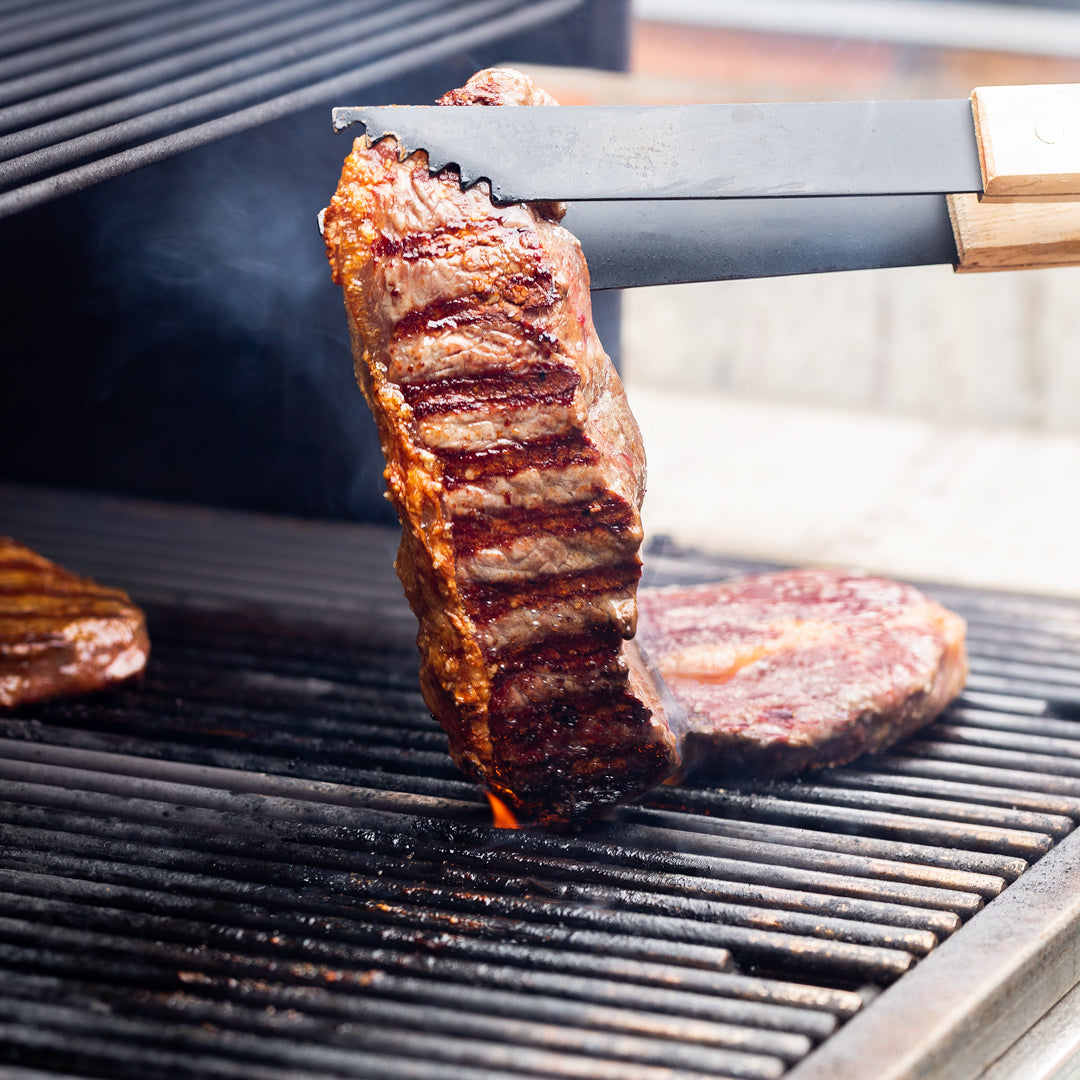 How Do You Pick the Right Cut of Steak for Your Meal?
Summer is officially in full swing and the smells of the grill are in the air. The outdoor cookout invites are flying into your inbox and you are tasked with bringing the meat. How do you pick the right cut of steak for your meal? Juicy burgers with cheese? Buttery filet mignon steaks? Tender grass-fed ribeyes? 
Possibilities are endless and really, you can't go wrong with any choice. So, grab a cocktail (or mocktail) and let's deep dive into your beef choices.  
How Do You Pick the Right Cut of Steak for Your Meal?
Pre, has four cuts that are perfect for grilling: ribeye, top sirloin, filet mignon, and New York strip. Our grass fed & finished beef is the top choice to make all your beef-based meals more delicious and nutritious. Throw them on the grill with a bit of seasoning to enjoy a nice summer day outside. Some cuts will work better in certain recipes, so let's break down when to reach for a ribeye versus a top sirloin steak.
Ribeye: How Do You Pick the Right Cut of Steak for Your Meal?
Ribeye steaks have great marbling, making them superior on the grill. They are made for each other. Ribeye has a bold taste thanks to the intramuscular fat which runs all the way through and gathers near the middle of the cut.
The extra fat of this cut carries flavor, so it's a perfect choice for a bit of seasoning from a dry rub or as is seasoned with kosher salt and pepper. However, it's easier to overcook the ribeye, so we'd recommend using a meat thermometer to check doneness while cooking at a high heat. Don't rely on a timed cook. Pay attention to the cut to achieve your preferred  temp.
Top Sirloin: How Do You Pick the Right Cut of Steak for Your Meal?
Top Sirloin is truly one of the most versatile cuts we carry. While it may be leaner than the other cuts on this list (the Ribeye, in particular), it does have one of the best flavors, which is why you'll find loads of recipes on our site which use the Top Sirloin as the main star.
If you like its natural flavor, you can keep this cut simple for grilling purposes: just a bit of salt and maybe some fresh garlic will do the trick. Because this steak is lean, and lacks fat for flavor, don't be afraid to add your own! A chimichurri marinade or a spicy dry rub pair beautifully with this steak. You can also slice it thinly and top it on salads or sandwiches after grilling. As always, don't forget to let it rest 5 minutes first.
Pro tip: tap your steak dry from the marinade before you put it on the grill, especially if the marinade contains sugar, to prevent it from burning.
Filet Mignon: How Do You Pick the Right Cut of Steak for Your Meal?
The filet mignon is our top-selling cut, and for very good reason. It's tender, full of flavor, and simple enough that it pretty much fits into any dish, with any side. It's a top choice for grilling, though it's more commonly cooked in a skillet.
But we challenge anyone to try a grilled filet mignon and not fall in love with this amazing cut. Because it's also more expensive than the other cuts, we recommend enjoying its natural flavors this time, adding just a sprinkle of salt and an herb based compound butter. With some grilled veggies next to it or a salad, you'll get a well-balanced and delicious meal with a tasty charred sear from the grill.
New York Strip: How Do You Pick the Right Cut of Steak for Your Meal?
Lastly, we have the New York strip, an amazing cut popular for its signature fat cap that brings so much flavor and tenderness to the table/grill. 
And for grilling? It's one of our top choices because it needs little preparation beforehand. Add some salt and minimal seasoning and it's ready to go on the grill for 3-4 minutes on each side until it's perfect. You can also slice it into thin strips to use on top of a crostini as an appetizer!
Over to You
Ready to try one of the best grass-fed beef brands to make your barbecues the talk of the town? Then check out our steak categories or our collections to discover even more quality beef products that are guaranteed to make all your meals much more delicious!