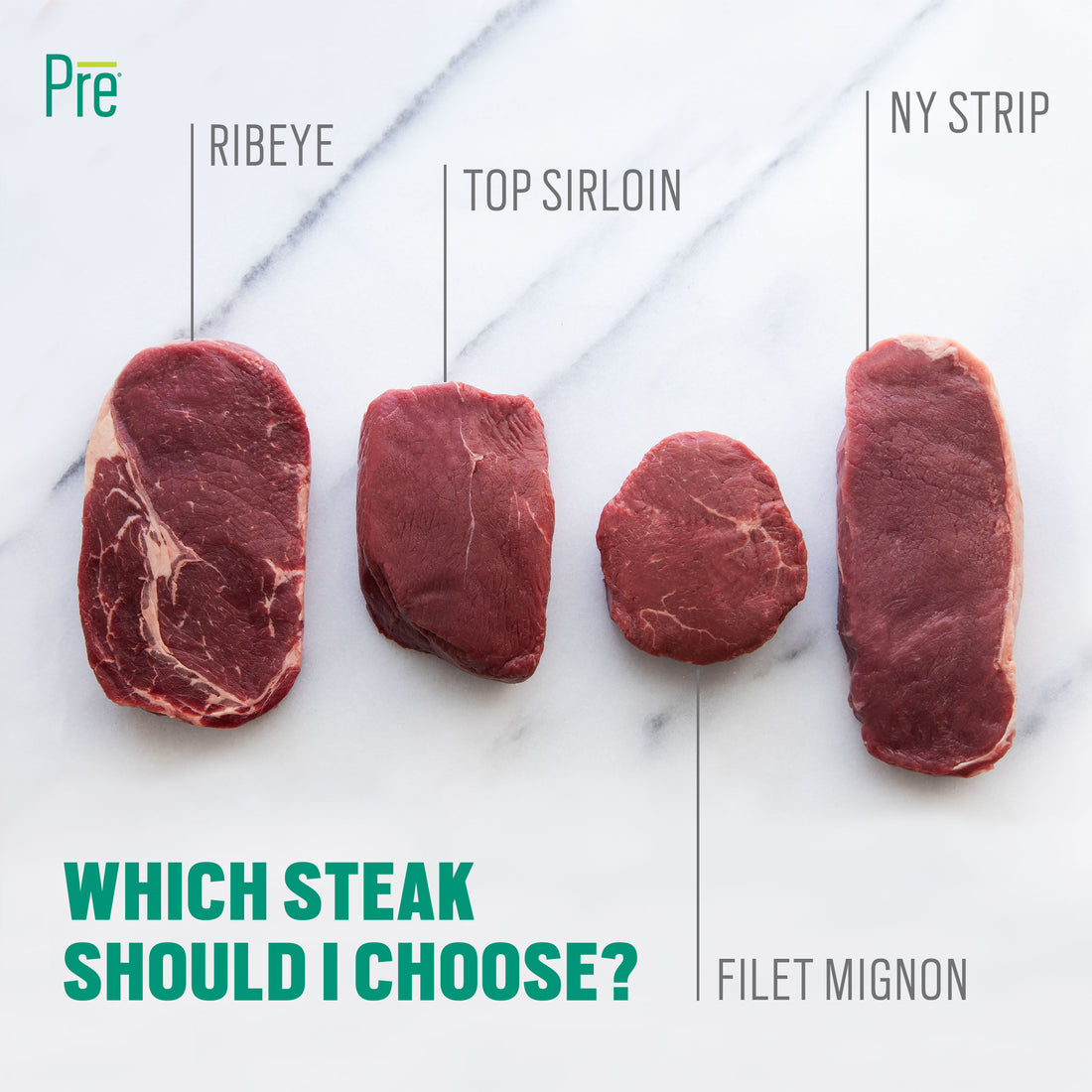 Which Steak Should I Choose?
At Pre, we carry four cuts of steak: ribeye, top sirloin, filet mignon, and New York strip. 
Even though we think all steaks are equally delicious, there are unique qualities that make each cut perfect for certain occasions. Here is a quick overview of how we would use each cut, but as always, make it your own! 
This is a bold tasting steak that is connected with the most intramuscular fat of all the cuts. The signature fat that runs through and gathers in the near the middle of the steak, sections of a very flavorful part of the cut. It's the long finger looking piece that seems to be connected with only fat. It is called the "spinalis." As always, fat carries flavor so our favorite use for this one is rubbed, marinated, or plain with just a bit of salt. Since there is a lot of fat throughout, it isn't ideal for recipes that need sliced steak: salad, tacos, etc. It is also not the best choice for recipes that need tenderizing, like carne asada, or rolled steak recipes. 
What should you use it for?  
Eating it on its own.
Rub with herbs/spices or marinate it for 1-6 hours
Top Sirloin is our most versatile cut of steak. You will see many recipes when you search our database that includes sirloin for that reason. Sirloin is lean like the filet mignon, but it has a sturdier chew like the New York Strip. It's very easy to use this delicately in an appetizer, or you can marinate it for longer periods of time. 
What should you use it for? 
Strips for Tacos, Salads, or Sandwiches
With Eggs
And of course, in a stir-fry
Filet Mignon is one of our best sellers. And it's no surprise why. It is so simple, tender, and flavorful that it can be enjoyed on its own or in a recipe. Since it's an expensive cut, we hope that you make it the star of a recipe instead of covering up its natural flavor. 
What should you use it for?
Top of a salad
Topping an appetizer
Eaten on its own with a light sauce and veggies
This is a great cut and not only because of its signature fat cap. It is a classic steak that is not too tough and not too buttery. It's a little difficult to eat without a knife and fork though. Imagine, picking up a taco, and you take a bite, and then you have to tear the piece of steak in half with your fingers because your teeth aren't doing the job. NO FUN! However, if you want to get more use out of this steak beyond the "eating-on-its-own method, slice very thin and pound into the sized strips that you want. 
What should you use it for? 
Eat on its own
Pounded thin and used for rolled meat recipes
Sliced into thin strips and tenderized for tacos or salads