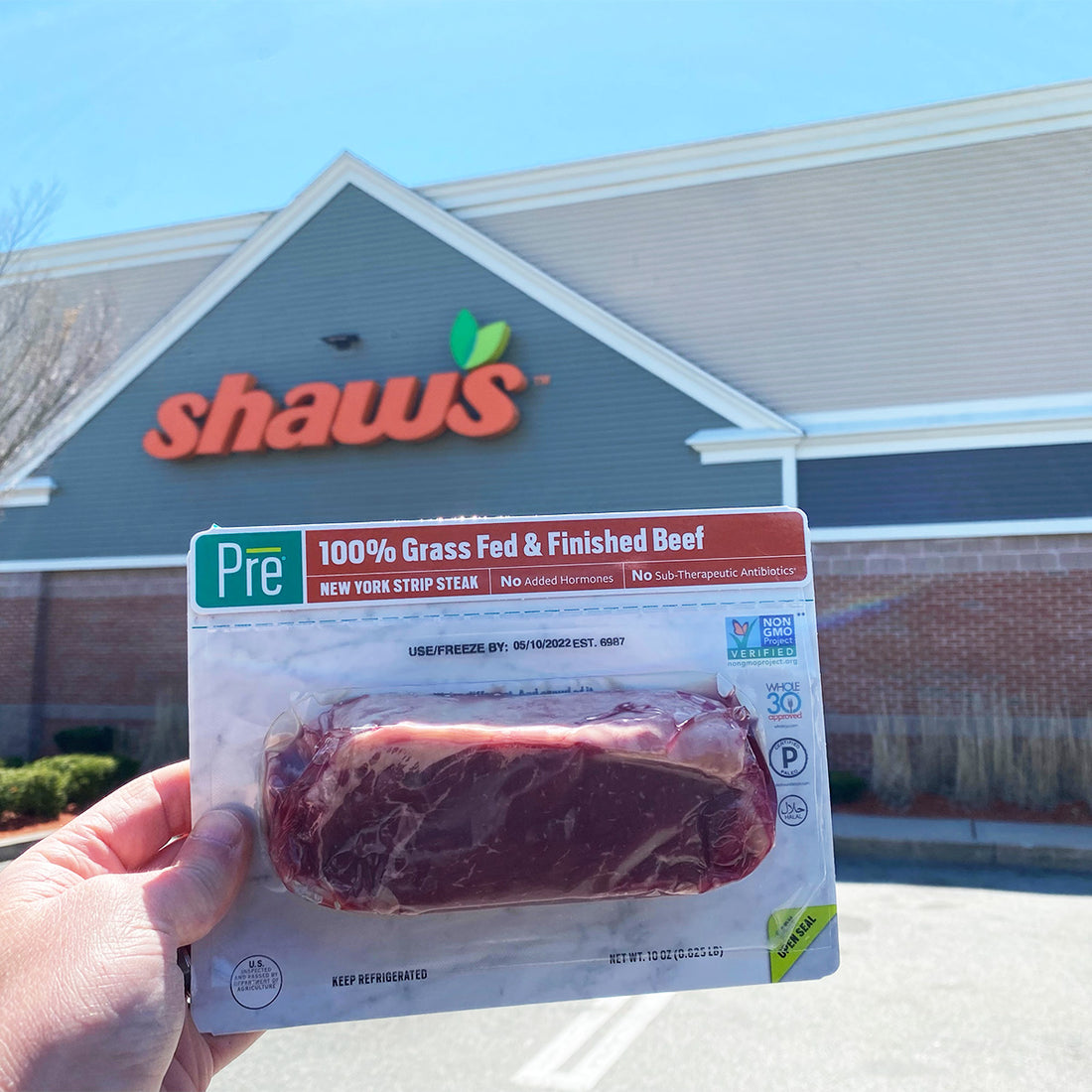 Shaw's Launch Pre Brands to New England for Grilling Season
Chicago, Ill. – April 28, 2022 – Pre® Brands, a leading provider of 100% grass-fed and grass-finished beef and the leading brand of steak in the better-for-you beef category, launches into all 149 Shaw's and Star Markets just in time for summer grilling season.
"Grilling season and entertaining are gearing back up," states Kevin Ponticelli, CEO of Pre Brands. "Consumers are eager to fire up their grills and are looking for delicious, healthy protein offerings for their guests. Adding Pre 100% grass-fed and finished steaks to the menu allows them to bring restaurant quality to their backyard barbeque."
Pre's steaks are Non-GMO Project Verified, Halal, Whole30 Approved, Keto, and Paleo Certified. They offer high-quality 100% grass-fed and finished beef which comes from animals raised ethically and sustainably on pasture year-round with no added antibiotics or hormones. Pre's industry leading, patent approved, case ready 360 degree transparent packaging gives shoppers 100% product visibility and easy peel open makes product preparation easy and clean.
"We are excited to further expand Pre steak distribution to New England," explained Dave Meltzer, Chief Sales Officer, Pre Brands. Pre Brands will be available in all Shaw's/Star markets across Maine, Massachusetts, New Hampshire, Rhode Island, and Vermont.
Pre takes great pride in the quality of our products. If customers are not completely satisfied with Pre products, they can get their money back. For more information, visit eatpre.com/tasteguarantee.
About Pre® Brands
Pre thinks about beef differently, so they approach beef differently. Pre believes in respecting your taste, your health, and your time. They founded a company to deliver just that – offering the best-tasting, highest-quality beef in the world – with absolute transparency from pasture to package to plate.
Pre is 100% grass-fed and finished beef never adds hormones or antibiotics and is Non-GMO Project Verified. Pasture-raised year-round with respect for the animals. The 100% transparent packaging is free of synthetic chemicals and 100% BPA-free. Pre is available nationally in retail and online. Learn more at eatpre.com.
About Shaw's Supermarkets
Shaw's operates 149 stores throughout New England, which is part of a 2,200+ store operation that employs approximately 265,000 people nationwide. In 2013, our parent company, AB Acquisition LLC, acquired Shaw's from SUPERVALU, a transaction bringing all Albertsons stores under singular ownership again. This merger added Jewel-Osco, ACME Markets, and Star Markets to the growing food and drug retailer.