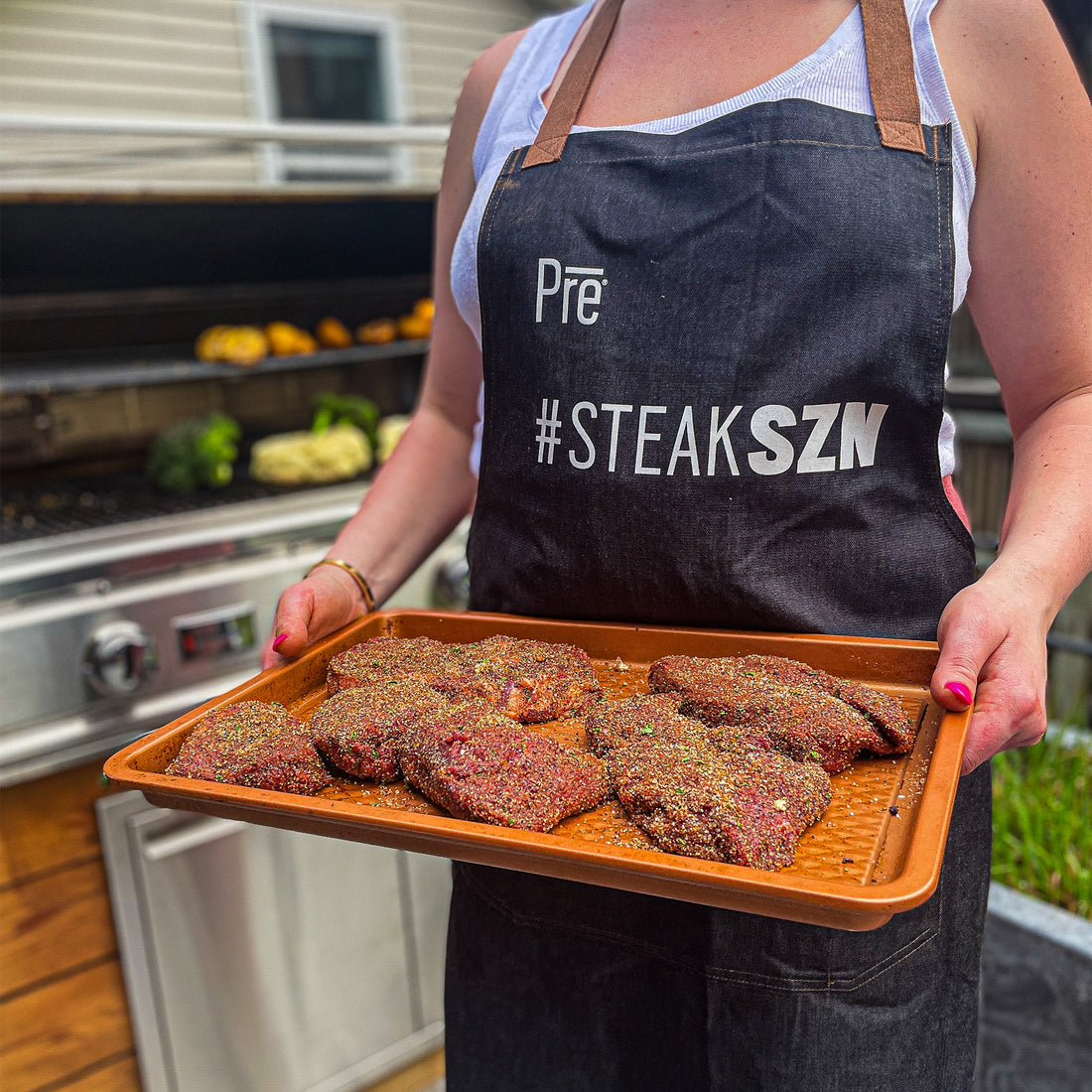 PRE 'BEEFS UP' SUMMER GRILLING AND KICKS OFF #STEAKSZN WITH A CHANCE TO WIN A YEAR'S SUPPLY OF GRASS-FED, GRASS-FINISHED STEAKS, BURGERS AND OTHER LEAN BEEF PROTEINS
Beef Lovers Can Visit EatPre.com All Summer Long For #SteakSZN Offers, Tips and Recipes
6.13.2023 - Chicago, IL - Summer is synonymous with grilling season and nothing elevates a weeknight dinner, special occasion, or family BBQ like a steak. Pre® Brands, the leading provider of 100 percent grass-fed and grass-finished steaks and lean beef proteins, is celebrating the start of #SteakSZN by helping beef lovers plan sizzling, summertime meals they can feel good about. Now through August 31st, fans can visit @EatPre_ on Instagram or EatPre.com for grilling inspiration, preparation tips, recipes, serving suggestions and the chance to win a year's worth of grass-fed and grass-finished Pre products.
"Whether it's used in easy weeknight meals or chosen to mark a special occasion, grilling season means steak season. We're excited to sponsor steak moments all summer long and inspire beef lovers to make the most of our favorite time of year with our 100 percent grass-fed, grass-finished products," said Kevin Ponticelli, Chief Executive Officer, Pre Brands.
Pre beef is one of the  leading grass-fed and grass-finished premium lean beef proteins available nationwide at retail and online grocers. Cattle graze year round on nutrient-rich grasses in Australia and New Zealand, which delivers multiple nutritional benefits including 62% leaner and 37% fewer calories vs. USDA Choice beef. Plus, in these areas they have some of the strictest standards  and offer the best climates and regions that contribute to superior flavor development and an unmatched eating experience. Each product passes Pre's strict 15-point curation process before it is cut, trimmed/ground, and packaged in airtight, completely transparent, vacuum-sealed package that is 100 percent nitrate and BPA free for nationwide distribution in Chicago.
Now through August 31st,  steak seekers can enter for a chance to be one of two winners of a year's worth of Pre products (ARV: $2,000)) by visiting  EatPre.com or by following @EatPre_on Instagram and following the #SteakSZN prompts. Full rules here. Limit 1 entry per household.
Pre beef's extensive portfolio of lean red-meat includes steaks (ribeye, filet mignon, New York strip and sirloins), ground beef (95%-5%, 92%-8% and 85%-15% mixes), burger patties (85%-15%, 92%-8%), and seasonal items (chuck roasts, etc.). Pre is available nationwide at grocers, specialty markets, club stores and via e-commerce channels such as Instacart and Amazon Fresh. All Pre beef products are 100 percent grass-fed and finished, with no added hormones, antibiotics, or GMOs.
For more information on Pre beef, including consumer tips for preparation, serving suggestions and recipe ideas, please visit www.EatPre.com.
About Pre® Brands
Pre offers great-tasting, high-quality beef with absolute transparency from pasture to package to plate. Farmed in the lush pastures of Australia and New Zealand, Pre beef is 100% grass-fed and grass finished in accordance with the strictest standards in the world. For more information, visit www.eatpre.com or follow @eatpre on Facebook and Instagram.
Media Contact: 
Junipr Public Relations