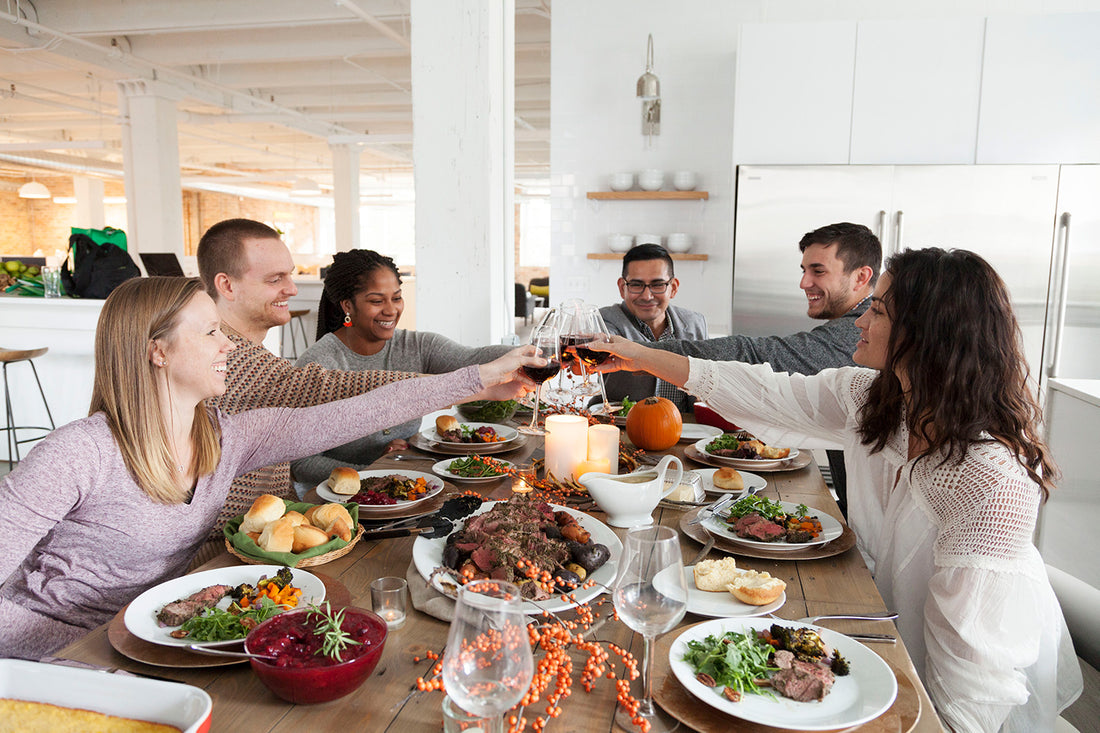 What Our Friendsgiving Says About Us
Hi there, we are Pre Brands. That's because a company isn't just a company –it's its people.
This Friendsgiving, we got to know each other a little bit more. And it was a lot like spending time with our families on the holidays.
The holiday season does a great job teaching us about one another. It's where we learn things like: Liz makes the best homemade dessert or Is this Instacart order Erayna's last-minute potluck dish, again?
Regardless of how well (or poorly) you prepare for the holidays, chances are your family, friends, and teammates have been able to find out because of –you guessed it –the holidays.
So, why not use this crazy season to reveal more about who we are to you? Here's what our Friendsgiving celebration says about us:
Food is the Centerpiece at Pre
Gathered around the table are a bunch of food-loving Chicagoans spending time together. Sure, we're huddled around the table because there's food in the center, but that's the beauty of it. Food brings us together. That's a core belief of everyone on the Pre team. We love food culture and the way food can help us learn more about the person that prepared it.
Pre Brands Supports Our Community
We've teamed up with some better-for-you brands like Tin Star Ghee, 4505 Meats, Vital Proteins, Simple Mills, and Urban Accents over the years. And, guess what? It's because we truly love what they're doing! The ingredients in the Pre kitchen are always high quality –even on Thanksgiving. For example:
Liz made homemade whipped cream
Sarah made dairy-free gravy
Ed brought oven-roasted beets (or, as we now call them, Beets by Ed)
Erayna flavored the cider with fresh mulling spices
Pat brought salad with goat cheese from a local farm
We all devoured Pre chuck roast and saved a turkey
We're Idea people
Friendsgiving was supposed to start at 12:30 pm. The food was set out, and we were ready to dig in… But it looked so good that we had to take pictures. And then we needed to get a boomerang of everyone cheers-ing their wine glasses. And then we wanted a time-lapse of the buffet table –but there wasn't a tripod that could fit on the shelf, so we shoved a phone in a bread roll…
You get the point.
What happens, happens. That's what it's like working at a startup: one idea leads to another. The ideas just keep on rollin' (queue music let the good times roll).
So, just like a family, we walked away from the holiday feast with full bellies and lots learned about one another. We learned that we all love food and the opportunity it gives us to connect. We learned that half the fun of the feast is making the meal and the messes that come along with it. And, most importantly, we learned that we're not just colleagues, teammates, and friends. We're the Pre family.