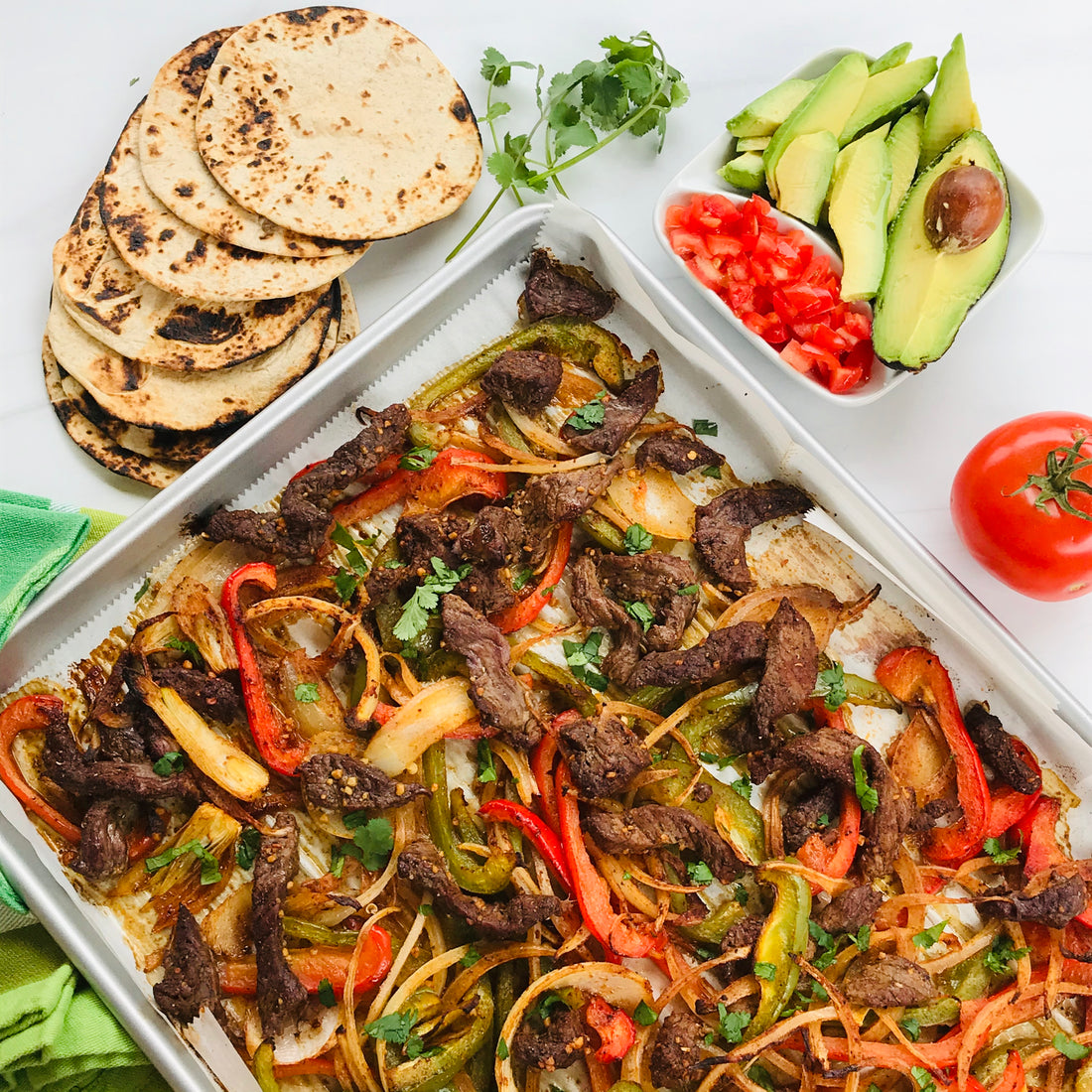 Weeknight Meals with Elaine Magee
Recipes for easy weeknight meals are a necessity to have in your back pocket. Elaine Magee, MPH, RD, is the author of 25 books, including the best-selling Tell Me What To Eat If I Have Diabetes and the revolutionary book, Food Synergy.
In 2020, Elaine was named one of 10 dietitians "Making a Difference" by Today's Dietitian Magazine and in 2019 was named one of 11 "All-Stars in the Diabetes World" by Diabetes Forecast Magazine. 
Elaine developed two recipes that are fast, easily prepped, and include equal amounts of nutritious vegetables and Pre's 100% grass-fed beef. They make the perfect weeknight meals. First up, are her sheet-pan fajitas made with Pre Top Sirloin. She pairs the steak with bell pepper and onion that can be made into a fajita bowl or tacos with tortillas.
The second recipes is a blended meatball that is also half vegetables and half 100% grass-fed beef. Elaine used Pre 95% ground beef for this recipe to add some lean protein and tosses the meatballs with marinara or serves with rice and more vegetables. 
Sheet Pan Beef Fajitas Weeknight Meal
This recipe is designed so that you can add the "heat" on your own fajitas with crushed red pepper, hot sauce or similar!

Seasoning Ingredients:
Firstly, blend these ingredients together in small dish: 2 teaspoon chili powder, 1 teaspoon ground cumin, 1 teaspoon ground smoked paprika, 1/2 teaspoon coriander, 1/2 teaspoon smoked salt, 1/2 teaspoon black pepper
Filling Ingredients:
2 teaspoons minced garlic
2 tablespoons canola oil (or other vegetable oils)
at least 1 pound Pre top sirloin steak, cut into 1/4-inch thick strips
2 large or 3 medium bell peppers, cored and sliced into strips 1/4-inch thick
1 medium onion (yellow, white or sweet), outer layer removed, cut in half then cut into strips
Serving Suggestions:
8 taco size corn tortillas or whole grain flour tortillas
2 tablespoons lime juice
3 tablespoons chopped fresh cilantro
Toppings: avocado slices, diced tomatoes, plain Greek yogurt, cheese of choice
Directions:
Firstly, preheat oven to 400º. Line a jelly roll or half sheet pan with parchment paper or foil.
Secondly, place garlic and canola oil in a 12-cup bowl (or similar) and stir. Place the beef strips, bell pepper and onion strips to the bowl with the oil mixture and stir well to coat everything. Sprinkle the seasoning blend over the top of the beef mixture and toss to blend everything well.
Spread evenly over the prepared sheet pan and bake for about 20 minutes (make sure larger beef pieces are cooked through and 165-degrees in center.) If desired, wrap your tortillas of choice in foil and warm them up in the oven the last 5 minutes of the fajita mixture cooking.
Finally, remove pan from oven and drizzle lime juice and chopped cilantro over the top and toss in the pan to blend. Serve filling with your toppings of choice.
*Makes approximately 4 servings
Per serving (not including tortillas or toppings): Calories 243, Protein 27 g, Carbohydrate 6.7 g, Fiber 2 g, Fat 12 g, Saturated Fat 2 g, Monounsaturated Fat 6 g, Polyunsaturated Fat 2.2 g (Omega-3s .7 g), Cholesterol 77 mg, Sodium 287 mg
Blended Italian Meatballs Weeknight Meal

Ingredients:
3 cups sliced mushrooms, finely chopped by hand or with a food processor
1 pound Pre grass-fed ground beef (about 7% fat)
10-ounce box frozen chopped spinach, thawed and gently squeezed of water
1/2 cup grated or shredded Parmesan cheese
1 large beaten egg or 1/4 cup egg white or egg substitute
1 1/2 teaspoons Italian seasoning
1 1/2 teaspoons parsley flakes or 2 tablespoons finely chopped fresh parsley
1 teaspoon garlic powder
1/2 teaspoon salt or smoked salt
1/4 cup plain panko crumbs or breadcrumbs
Directions:
Firstly, preheat oven to 400º if baking the meatballs.
Secondly, in a large mixing bowl, combine the mushrooms, beef, spinach, Parmesan cheese, egg, Italian seasoning, parsley, garlic powder, salt and panko crumbs. Using your hands or a standing mixer, mix all ingredients together until nicely blended.
Finally, shape meatballs using a cookie scoop to measure 2 tablespoons. If baking the meatballs, place them, flat side down, on a parchment-lined jelly-roll pan. Making sure they are 1 inch apart. Lastly, bake until the meatballs are cooked throughout and nicely brown on the outside (about 20-25 minutes).
If pan frying the meatballs, place them in a large nonstick frying pan coated generously with canola cooking spray or brushed with extra virgin olive oil. Over medium heat, let them cook, turning often, until cooked throughout and nicely brown on the outside (about 8-10 minutes or 5 minutes for mini sized 1 tablespoon meatballs).
Serving Options:
Serve as an appetizer with sweet and sour, barbeque or pizza sauce.
Serve as an entrée with marinara or pesto sauce or gravy.
Serve as a meatball sandwich on a whole grain bread drizzled with marinara or barbeque sauce.
Serve as a topping on pizza or flatbread with pizza or pesto sauce.
*Makes 8 servings (if 5 meatballs each or 10 mini meatballs each)
Per serving: Calories 143, Protein 17.5 g, Carbohydrates 4.5 g, Fiber 1.5 g, Fat 6 g, Saturated Fat 2.7 g, Monounsaturated Fat 2.3 g, Polyunsaturated Fat .3 g, Cholesterol 69 mg, Sodium 268 mg


Recipes developed and photographed by Elaine Magee, @therecipedoctor.