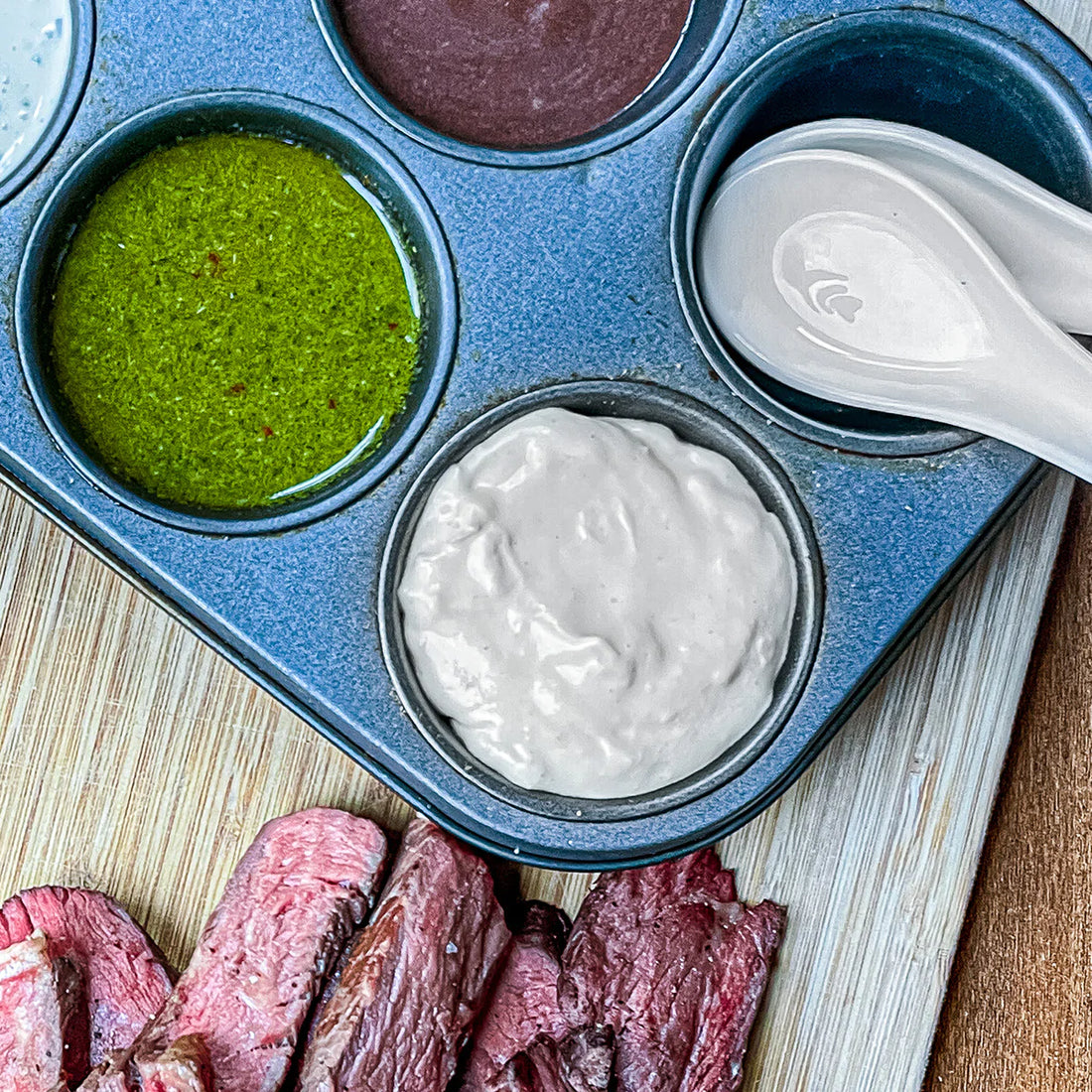 Pre's grass-fed and finished steak tastes delicious with just some salt and pepper, but get creative and make one of these delightful steak sauces! We have you covered, from a homemade version of the classic A.1. steak sauce to Chimichurri. 
Ah, the classic steak sauce that tastes even better when you make it at home.
Make your own

 

"A.1."

 

steak sauce with just a few simple ingredients. A.1. will taste good on any of Pre's steaks and comes together in sixty seconds. Stir Worcestershire sauce, ketchup, soy sauce, and salt to make this addicting steak sauce.
Steak and blue cheese go together like bread and butter. This is one of our favorite combinations, and we believe this sauce tastes particularly good on our grass fed and finished ribeye steak. You can serve this sauce on the side or directly on top of the steak. Blue cheese has a strong and salty flavor, yet not all blue cheeses are the same. For this recipe, we recommend using Gorgonzola, which is super creamy and not as intense as other blue cheeses. Feel free to switch that out with your favorite blue cheese; it will still taste delicious.
This sauce is rich and delicious. It gets its flavor from red wine and shallots and is phenomenal on any cut of steak. This sauce originates from the Bordeaux region in Southwest France and is traditionally made using wine from this region. Any dry red wine will suffice, but the higher quality your wine is, the higher quality your sauce will be. 
White BBQ sauce is the perfect dip for steaks or to smear on your burger. This barbecue sauce is lighter than traditional barbecue sauce because it uses mayonnaise as its base. This sauce comes together in fifteen minutes and is a delicious sidefor any cut of Pre grass-fed and finished steak.
Chimichurri is good on anything, but it tastes best drizzled on top of Pre steak. This sauce is most common in Argentinian and Uruguayan cuisines but is made worldwide. Parsley, citrus, and cilantro come together to make an addicting sauce you'll want to dunk your steak in. You'll want to chop everything by hand to make this sauce herby and full of texture versus placing all the ingredients into a food processor, making it more paste-like.  
Béarnaise can be intimidating for many home cooks to make on their own. Lucky for you, we have a fail-proof version that is sure to please, delivering on flavor and ease of preparation. Our methods might not be traditional, but don't let anyone tell you that you can't use a blender or that Bearnaise can't be made ahead of time. Béarnaise tastes incredibly delicious over a grilled steak.
No matter how deliciously well you prepare these sauces, you need a great piece of meat to eat them with! Check out our store locator to find where you can buy Pre near you, or purchase from our online store and get Pre beef sent right to your door! Order your high-quality grass-fed beef from Pre today and take full advantage of our grass-fed beef's many nutritional qualities.