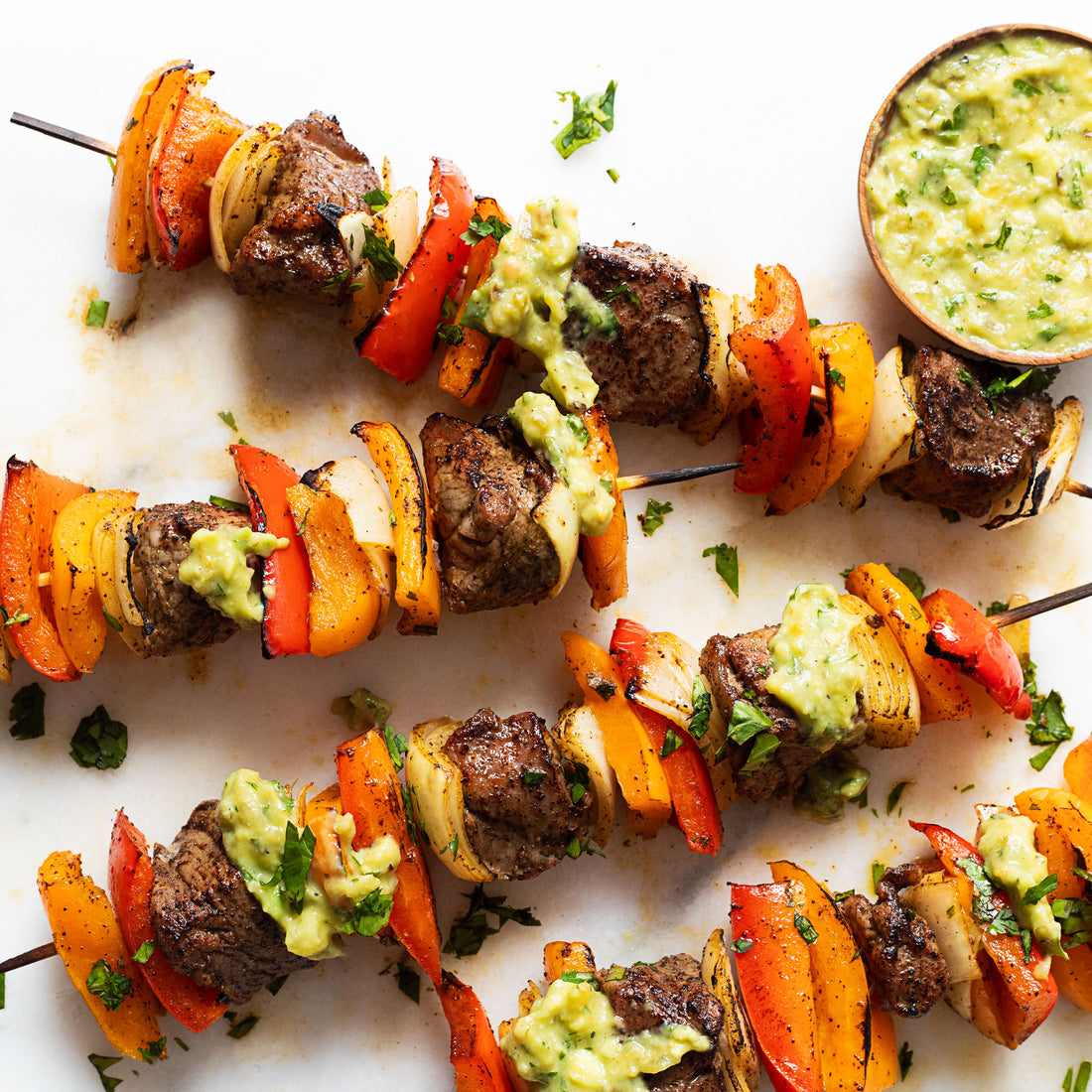 One Steak Skewer Recipe, Three Ways
Everyone has a different way of meal prepping. Some people will prep by baking five chicken breasts, roast a sheet pan full of broccoli and cauliflower and then load it into containers with different compartments. Other people will pick up the $5 mixed greens tub from the local grocery store along with an assortment of veggies and lean protein. Then pick a dressing and have salad lunches for the week. The ambitious meal-preppers make an assortment of sauces, proteins, veggies, and grains for the week to mix and match. We believe steak should be apart of every meal prepping session, particularly steak skewers
There is not an end-all-be-all way to meal prep but we do believe that doing it allows for a smoother, and in the long run, healthier week. If you're like most of the staff at Pre, you're somewhere in the middle of the above meal-prep categories. Some weeks, Sundays are dedicated to meal prepping for the week and some Sundays we would rather take our dogs to the park and then drink manhattans while watching Handmaid's Tale. 
We have the perfect meal-prep solution for the Sundays you only have two hours to dedicate to the task. We created one recipe and turned it into 3 different meals to eat throughout the week. Let us introduce to you, the Mexi-Cali Steak Skewers. These skewers are made with Pre's New York Strip Steak. Our Top Sirloin would also work well for these!
First, cut the steaks into 1" pieces along with the onion and peppers. Then, toss the steak and veggies in a simple chili and cumin rub. Third, slide onto pre-soaked skewers and top with a homemade avocado dipping sauce. Throughout the week, eat as skewers or take apart and eat in a salad, pasta dish or grain bowl.
To make a simple pasta lunch or dinner, cook the pasta in well-salted water. Once the pasta is al dente, drain, and reserve about 1/2 cup of pasta water. Chop up some fresh tomatoes or use a can of diced tomatoes. Add into a skillet with the pasta, veggies, and steak from the skewers, and 1/2 of the pasta water. Once the water has evaporated, remove from the skillet. Top with cilantro or parsley. 
Salads are a go-to in the summer for "take to work" lunches. Pick your favorite green, chop some extra cilantro and top with the homemade avocado dipping sauce. Add in any extra vegetables and pack in a leak-proof container.
Building a grain bowl is a great option when it gets to the end of the week and there are odds and ends in the refrigerator. Throw the veggies and steak from the skewer on top of some white or brown rice with the dipping sauce. Add some salsa or hot sauce for a little extra flavor. If you are seeking a little more variety by Thursday or Friday, try making our Chimichurri and topping the grain bowl with that instead of the avocado dipping sauce.
For more meal prepping tips and suggestions, read our  "Meal Prep Hero - A Few Tips to Make Cooking a Breeze!".
  
Click here for the full recipe: Mexi-Cali Steak Skewers