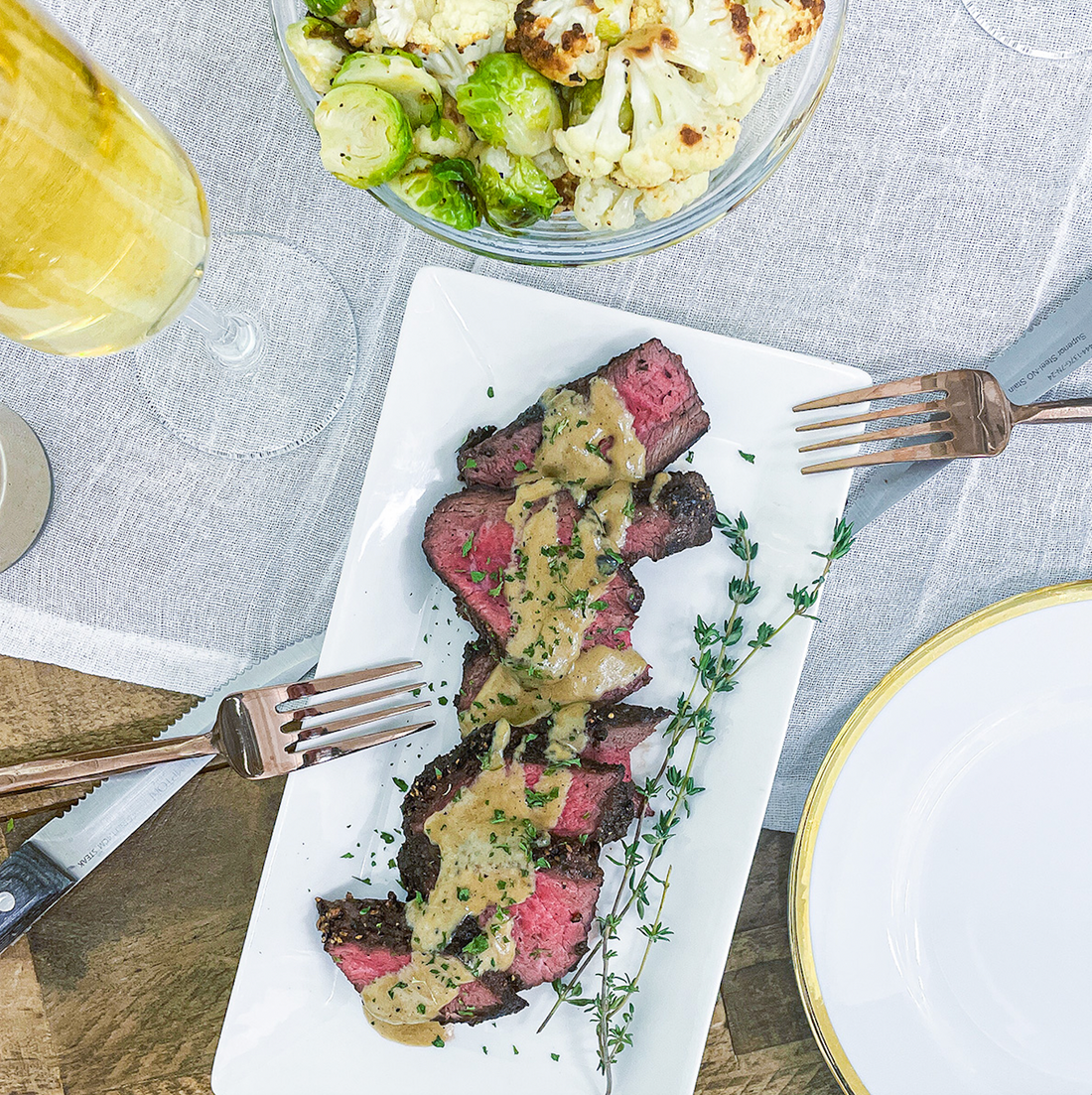 Whether you're ringing in the new year with your significant other, friends, or family, these new years eve dinner recipes will surely please everyone. 
New Year's Eve Appetizer
Start your new year dinner off strong with mini Beef Wellington Bites. These bites are delectable and only take thirty minutes to make! Get the recipe here.
Seared Filet Bites with Horseradish Sauce
We guarantee you will not be able to stop eating these! Skewers of thinly sliced, rare, all-natural filet mignon are topped with a dollop of fresh homemade horseradish sauce. These skewers are light, refreshing, and so tasty. 
New Year's Eve Entree
Steak au Poivre A.K.A Steak with Pepper Sauce
Pre's two-pack of petite sirloin steak makes this dish the perfect pairing for a date night new years dinner! But, make sure to have all of your prep ready to go, the recipe isn't too hard, but it does come together quickly, so timing counts. Don't be tempted to use pre ground pepper (trust us, we tried cheating, and it was a fail). Use freshly cracked whole black peppercorns, and you'll transform your dinner table into a charming Paris Bistro.
5 Ingredient Rigatoni with Tomato Cream Sauce and Peas
Try this pasta recipe if you are throwing a New Year's Eve party and want to make enough food to serve a party! This crave-worthy dish comes together in the time it takes to cook the pasta. Toss everything together in the pan that you cook the sauce in, serve from the pan and make clean up a breeze. This recipe is kid friendly (unless they don't like pees).
New Year's Eve Side
Roasted Sweet Potatoes with Sage, Sweet Onions
Buttery, smooth, healthy… need we say more? This sweet potato dish will elevate any new years eve meal and only take 40 minutes to prepare!
Smashed potatoes are incredibly easy to make and cook up to be perfectly crispy. These would complement the Steak au Poivre perfectly. 
New Year's Eve Drink
Red wine is best with red meat, so any of these recipes would go great with red wine, especially the Pre Filet Mignon steak. Filet is lean and tender with minimal fat, and the tannins in this blend perfectly match the steak.
New Year's Eve Dessert
Brownie Cookie Skillet with Vanilla Ice Cream
End your delicious meal with a warm and gooey brownie skillet! It's just warm brownies mashed with cookies and vanilla ice cream.
Happy New Year from your friends at Pre Brands. We hope your new year is full of happiness and grass-fed and finished beef.