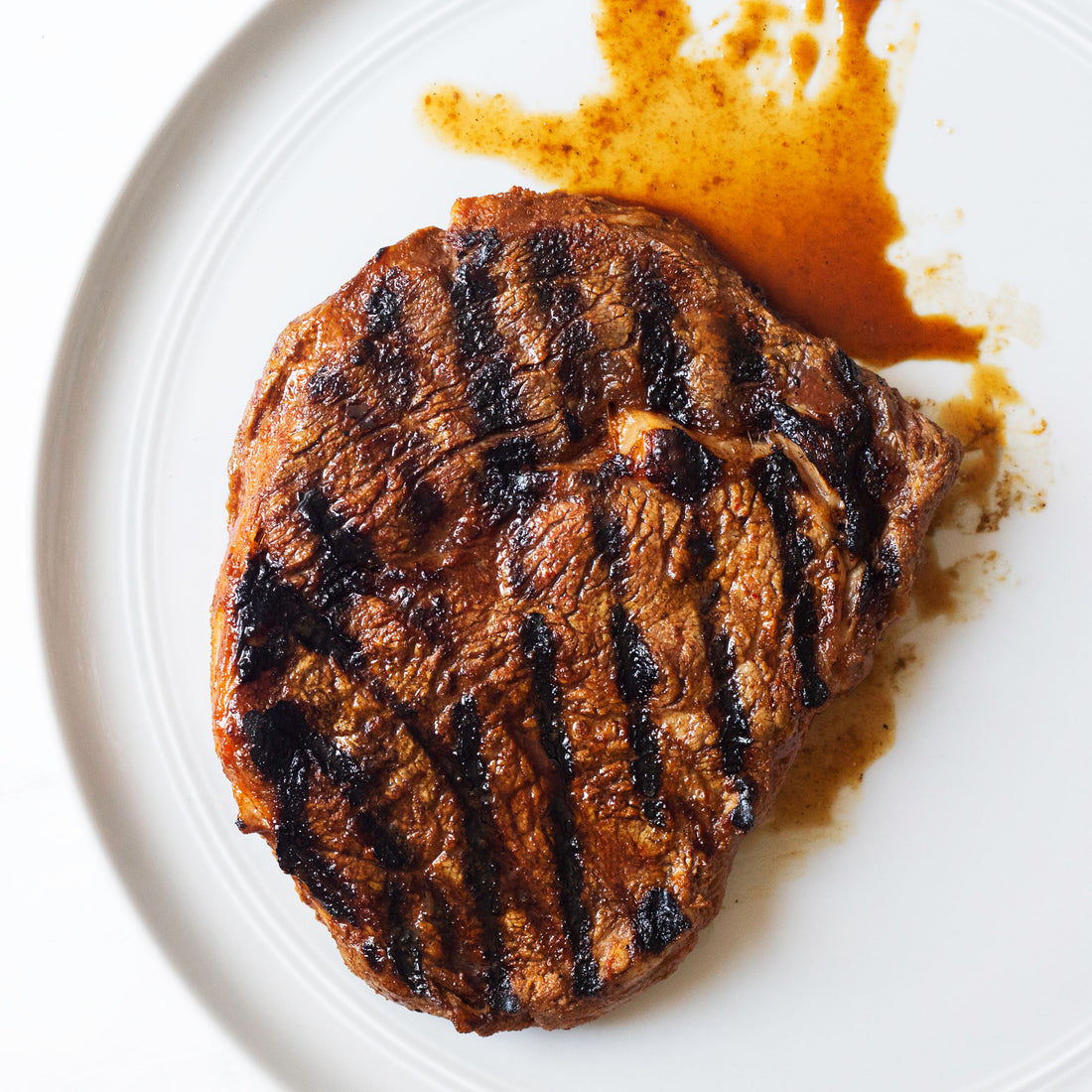 Memorial Day Rubs & Marinades For Your Cookout
The smell of grilling is in the air! We love a good steak rub or marinade, and it's even better at this time of the year. These are simple, easy, and perfect for Memorial Day cookouts. Let's dig into these memorial day rubs & marinades for your cookout!
Grilled Sriracha Marinated New York Strip Steak
Impress your Memorial Day guests with this delicious grilled sriracha marinated new york strip. This memorial day marinade is a little spicy and a little sweet from the honey. It's perfect to grill up with some veggies at your Memorial Day cookout.

1 Pre New York Strip Steak
1 tbsp Honey
2 tbsp Sriracha Hot Sauce
1 tbsp Avocado or Grapeseed oil
1/2 tbsp Soy Sauce
1/2 tsp Ground Cumin
1/2 tsp Sea Salt
1 Resealable Plastic or Silicone Bag
Firstly, place the steak in a bag with all the other ingredients.
Gently massage the bag until the marinade is well mixed and the steak is coated.
Place the bag onto a plate and refrigerate for a minimum of 1 hour and a maximum of 4 hours.
Preheat grill or skillet to medium-high heat.
Take the steak out of the fridge 15 minutes before cooking.
Once the grill is hot, remove the steak from the bag with tongs and place right onto the grill or skillet.
Cook for about 3 1/2 minutes on the first side and then 2 minutes on the second side (for medium rare). Follow these cooking instructions to get your preferred doneness.
Remove from grill and let rest for 6-7 minutes.
Lastly, slice against the grain and enjoy! 
Korean Spice Rub for Your 

Memorial Day Cookout

This dry rub gives your steak a Korean BBQ taste that is absolutely addicting. You memorial day cookout will certainly be elevated with this dish as it gives Pre's grass fed and finished steak a completely different taste. 
2 tbsp. Korean chili flakes

1 tbsp. Sesame seeds

1 tsp. Coriander

1/2 tsp. Black pepper

1/2 tsp. Salt
Firstly, mix all rub ingredients in a bowl.
Use your hands to coat your steaks with the rub.
Coat the rubbed steak with high heat oil.
Use the two-zone grilling method to grill steak. Heat one side of you grill to medium high and the other to low.
When you grill is pre-heated, place your steak on the medium high side.

Cook to your desired doneness and then move to the low side.

Remove from the grill and let rest for 7 minutes.

Lastly, slice the steak against the grain and enjoy!
Mexican Burger Rub Recipe
A burger rub? You heard that right. Mix together all of the rub ingredients in a bowl and coat the burgers with the rub. We guarentee your memorial day cookout guests will not see this one coming!
1 tbsp. Chipotle powder

1 tbsp. Oregano, dried

1/2 tsp. Cayenne

1 tsp. Garlic powder

2 tbsp. Chili powder

1 tbsp. Ground cumin

1 tsp. Ground coriander

1/2 tsp. Salt
Firstly, mix all rub ingredients in a bowl.

Secondly, Use your hands to coat your burgers with the rub.

Coat the rubbed burgers with high heat oil.

Heat your grill to medium high.

When your grill is pre-heated add you burgers.

Lastly, cook until the internal temperature reaches 160º. (Cook a little longer if you like your burgers well done.)

Remove from the grill and let rest for 7 minutes.

Finally, top burger with avocado, cilantro, red onion and salsa!
Pre Beef for Your
Memorial Day Cookout
Your memorial day cookout is only as good as the quality of your beef. We've been at the top of the grass fed beef game for years. We're a meat brand built around a shared commitment and passion for doing things as nature intended, delivering healthy and sustainable food that tastes delicious every time. From pasture to package to the plate, we consistently source only grass-fed & finished beef that has been raised and finished without the addition of hormones, antibiotics, or GMOs. Check out our store locator to find where to buy Pre near you!