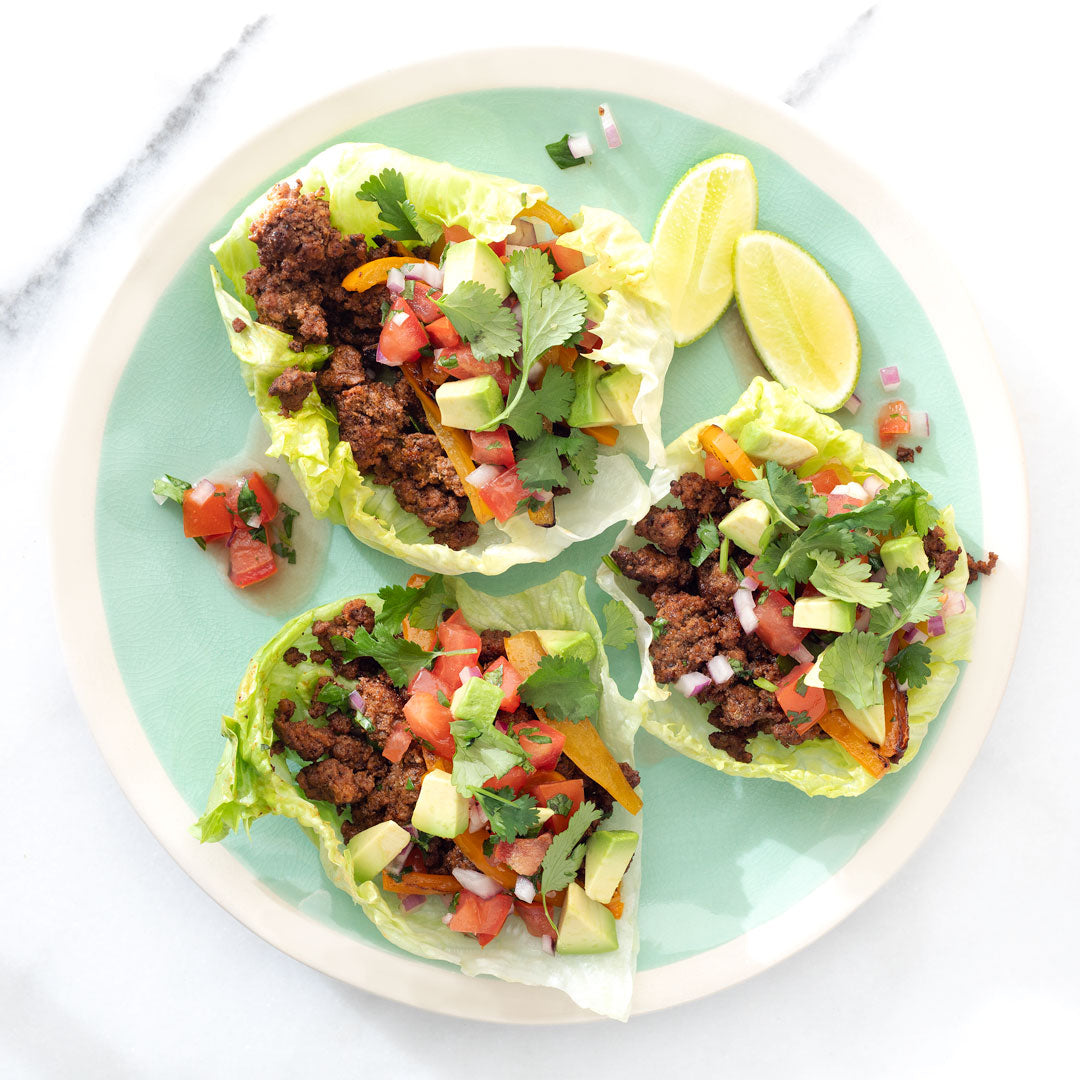 With fall underway, and holidays and festivities just around the corner, things seem to be picking up! So, to help keep the chaos under wraps, we've come up with a list of our favorite keto recipes that you can whip together in under 30 minutes. Get ready to salivate, because our favorite recipes feature our favorite ingredient – tender, grass-fed beef!
Keto Recipes to Fuel Up with Hearty, Flavorful Eats
We all would love to spend a little less time cooking and a little more time doing what we love. So how would you like to add quick flavor to your week without putting in the time? Add any one of these dishes to your collection of keto recipes – you won't be sorry!
Here the avocado isn't layered under the bun, IT IS the bun. We love them, and we're sure you do too. Stuff some avocados with Pre beef, and your favorite toppings like cherry tomatoes, egg, sharp cheddar cheese, and fresh, crisp lettuce.
Try out this wonderful medley of spice that compliments any beef burger perfectly. Top your burger off with avocado, cilantro, red onion, and salsa for full Mexican flavor. And about that beef – grass fed will make your burgers taste even better!
Super simple, and quick to whip up, this app certainly isn't lacking in flavor. Whip up this dish any day of the week with your choice of grass-fed top sirloin or petite sirloin.
Feeling chilled on a crisp autumn day? Whip up this delicious dish full of faraway spices, and you'll be warmed up from the inside out in no time! We recommend some steak, (grass fed of course) to really give your tastebuds something to write home about.
More burgers because we can't get enough of them. Wrap up this flavorful combo in a lettuce wrap, call it a burger, and call dinner done.
Pumpkin seems to be the token squash of autumn, so it's no surprise it makes an excellent accompaniment to an all-time favorite dish – meatloaf. Nourishing, fragrant, and portable, these mini meatloaves bring a touch of home to any meal.
Again with the burgers – we know. But who can resist burgers packed with flavorful spinach and sun-dried tomatoes?
More steak, grass-fed too, of course. Not only will this recipe wow you with its flavor but it'll also wow you with a beautiful splash of color on your plate.
Choose Pre for Your Grass-Fed Beef
With this assortment of recipes, you'll bring flavor to your week with a vengeance. Learn more about the Keto diet here. Just remember to pick up your high-quality grass-fed beef from Pre at your local grocery store. As always, we go above and beyond to make sure our beef is 100% grass-fed, grass-finished, and raised with care.