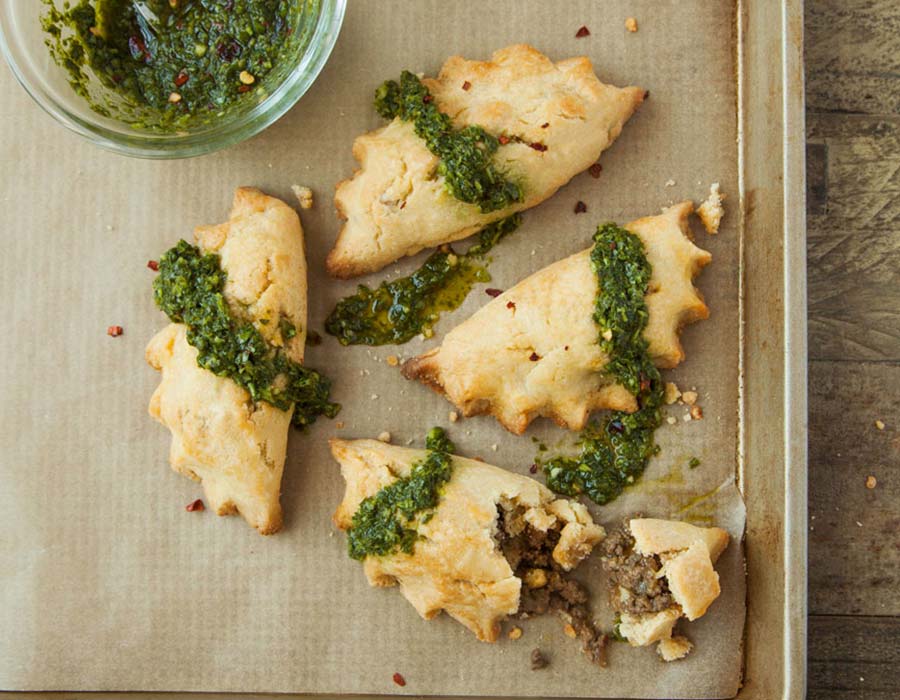 How to Make Beef Empanadas
Argentinian Beef Empanadas
Of all the recipes I have made, Beef Empanadas: Á La Argentina is consistently a crowd favorite. The buttery flaky crust, the spiced ground beef and vegetables, and the zesty chimichurri come together to make empanada heaven! My favorite part of this dish is the chimichurri sauce. Let me tell you why and then, more importantly, how to create this recipe in a few simple steps.
When choosing recipes to make for clients, I gravitate towards dishes from other cultures because they tend to have simple and herb-forward sauces that can turn a meal from good to great! From Italian pesto to Indian chutney, I like to dip my culinary "toes" into different cuisines to bring bold taste to my dishes. Which is why this beef empanada recipe with Argentinian chimichurri is simply the best.
Argentinian Chimichurri
Another thing to appreciate about herb-based sauces: they do not always rely on sweeteners to be delicious. Sauces that feature parsley, basil, cilantro, sage, thyme, oregano, and other herbs make up the flavor profile with compliments of dried spices, garlic, lemon, and more. Packed with essential vitamins and nutrients, it also gives energy for your day! It's especially amazing when your food is as good for you as it tastes. Now, let's make some empanadas!
Pro Tip: All food is better with salt, acid (think: lemon), fat (think: olive oil), and heat (think: chilies), and a sauce can bring all those elements together to wow any dish.
Make Your Own Empanada Dough
Let's talk dough. For this recipe, I have a from-scratch dough that is SO EASY that you will not want to buy dough ever again! I simply pulsed a few ingredients into a food processor and I was good to go. Make sure your butter is cold, and do not over mix your dough. Light pulses will ensure a flaky and crisp crust.
The other great thing about this dough is the ability to make it into anything you'd like. For this recipe, we're filling the dough with traditional empanada ingredients. However, you can easily switch up the filling to what you have lying around: beans, cooked chicken, cheese, and veggies…you name it. You could also swap out the garlic powder for a little sweetener to make this dough into the base for a dessert-like cherry turnover or peach pie.
Quick Tip: If you're in a hurry you can source pre-made dough from the freezer section. Look for a package of 'puff pastry' dough. Roll out and cut your circles.
Filling
For the filling, I used our 85% Lean Ground Beef, cayenne, paprika, oregano, and nutmeg to showcase the flavors of Argentina. I encourage you to 'taste test' throughout making your filling. Make the base recipe first and then improve it any way you like with more spice, zest, or salt. I like the heat, so I always add more chili flakes. I also added some extra ingredients: spinach, onion, and cotija cheese to add heartiness and give a moister texture. The flavors came together harmoniously.
Pro tip: I always try to make sure that all the elements of a recipe taste great on their own. This will ensure the final product will also taste great.
Transport yourself to Argentina with this classic empanada recipe. It is fun, delicious, and good for you, too!
Click here for the full recipe.
If you have any questions or great flavor combinations that you used, please comment below! 
Best Beef from Pre
Order your high-quality grass-fed beef from Pre today and take full advantage of our grass-fed beef's many nutritional qualities. Check out our store locator to find where you can buy Pre near you, or purchase from our online store and get Pre beef sent right to your door!