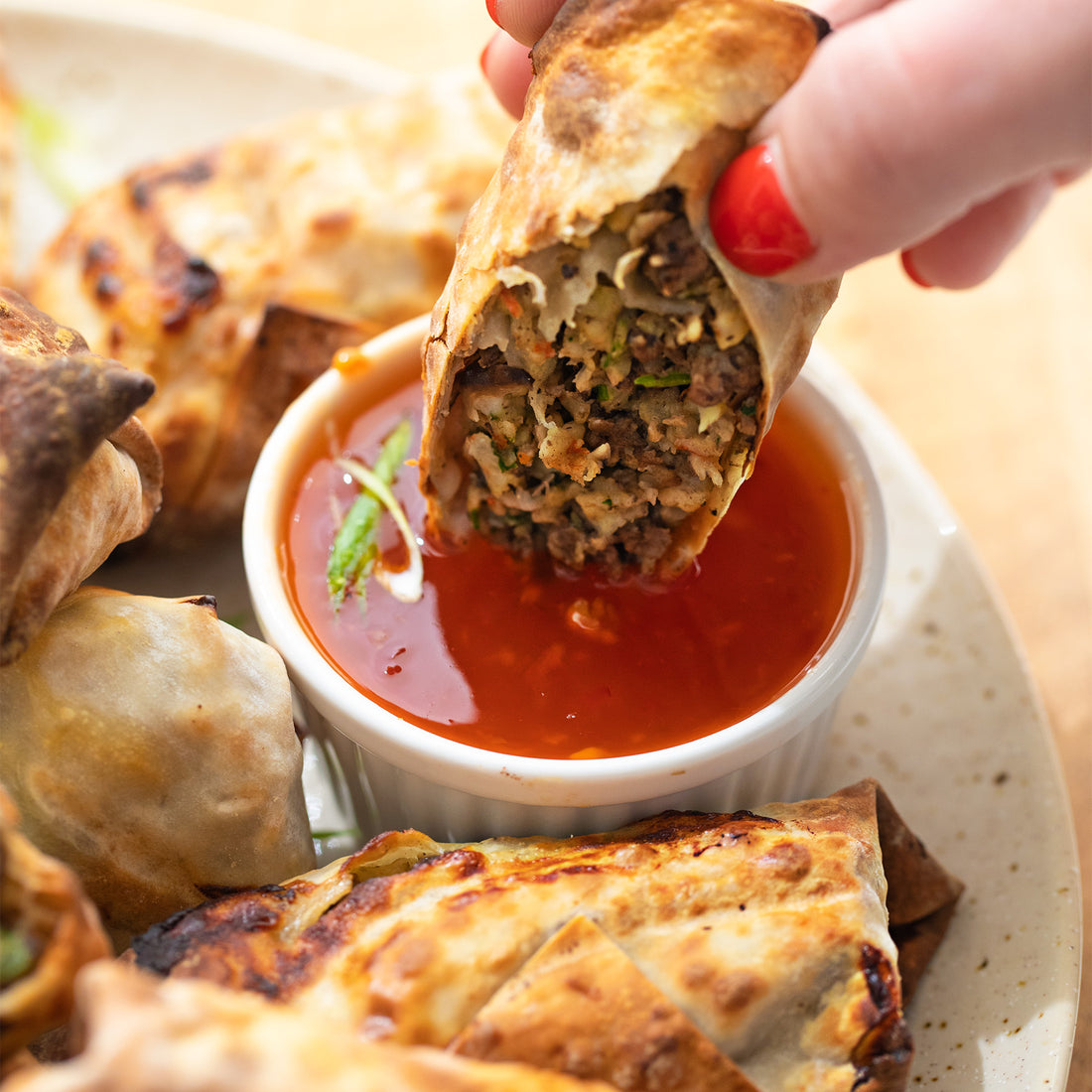 Unsure of what to serve for your Galentine's Day this year? As unwavering lovers of beef, Pre has several Galentine's Day recipes to get you started. Of course, each one boasts some variation of our favorite ingredient – grass fed and finished beef.
Sliders are something everyone can enjoy, and these ones are small, and great for finger food. Using high-quality beef, mixed with this signature bacon aioli, your Galentines will be happy to have you as their friend.
These are the ultimate party food, and will probably not last the night because everyone will be grabbing for them. The special treat to these is the juicy steak topper— it really makes the dish that much more romantic and unique for Galentine's Day. We suggest a platter of these or even a nachos bar, so your guests can pile on all their favorite toppings!
This is an easy recipe that is perfect for grabbing and snacking. Your guests will love the crispy bite. Don't forget the red sweet and spicy sauce, it makes for the perfect final touch.
A classic that's simple and quick and happens to be a definite crowd-pleaser, these sweet and sour meatballs are an excellent way to start off your grazing board. Blended to perfection with all the seasonings and spices, grass fed ground beef will bring the ultimate flavor to this dish.
What's better than grass-fed steak? Grass-fed steak paired with the distinctive flavors of the ocean! Alternate neat little rows of grass-fed steak bites and scallops on several skewers and throw them on the grill. Serve them with a Red Goddess or Zhong Sauce for an added kick.
Don't worry – you're allowed to eat deviled eggs any time of the year (they're not just for easter). Level up this simple and classic hor d'oeuvres by topping them off with some sirloin steak. A bite-sized serving of steak and eggs – count us in!
No need to worry about "toast sweat" on your Galentines grazing board with this dish because, well… the toast is sweet potato. That's not the best part though – top off your toast with beans, sirloin steak slices, and microgreens for a sensational indulgence.
Okay, full disclosure: These are seriously delicious and won't last long so it's probably best that you make a double batch. This dish pairs sweet and tangy onions with funky cheese and savory grass finished beef to make the perfect appetizer.
What's a grazing board without finger sandwiches? With this easy recipe, you can have these flavor-packed steak sammies on your board in 30 minutes or less! So delicious and one of the easiest appetizers that will delight and impress your guests.
Bring the flavors of Sicily into your home this holiday season with this unique spin on an Italian classic. This delightful dish is packed with flavor and fragrance. The added bonus? You'll get to pull out that chuck roast you've been dying to use!
We've all tried apples and cheese, but have you tried these apple and beef bites? The combination of flavors and textures is unreal. The crunch and crispness of the apple paired with the tender, juicy beef is incredibly satisfying and makes every bite delicious.
Obviously you won't be serving full burgers on your grazing board, but you can still serve the flavor of a full burger. Add some classic burger bites to your board this year and they'll be gone in no time!
Grass Fed and Grass Finished Beef from Pre
So what could possibly make these recipes better than they already are? Pre grass fed and grass finished beef of course! Order all of the beef you need for the holidays from Pre this year and discover the difference of grass fed beef!