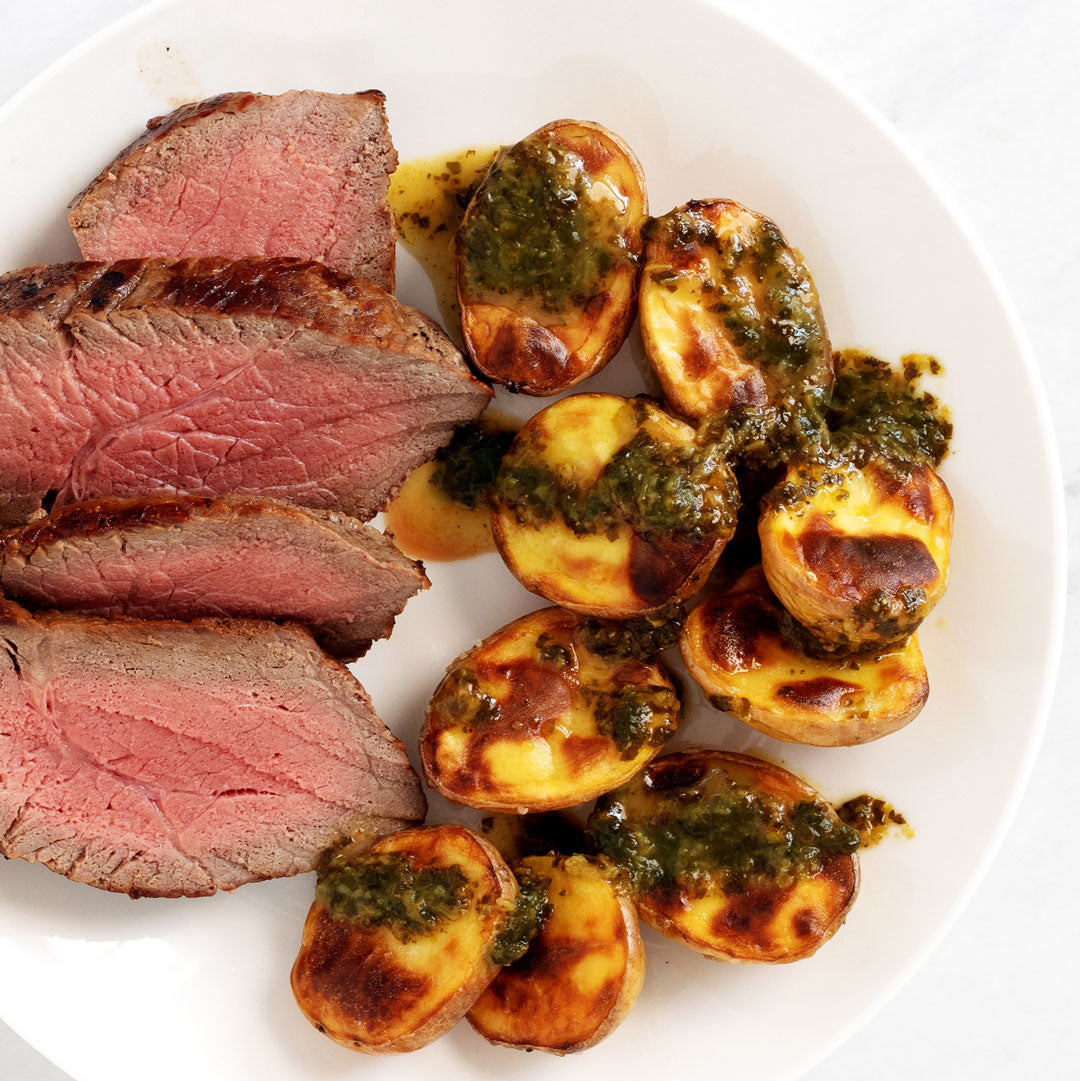 Flavorful Sauces for Your Whole30 Journey
When you are on your Whole30 journey, cooking becomes part of your daily routine, if it wasn't already. It can be intimidating to cook every meal of the day, seven days a week. However, there are ways to add flavor and save time throughout the week that make this transition much easier. A delicious, Whole30 sauce is one of those things. When we are talking about sauce in this blog post we are referring to a liquid you can top on any protein or vegetable. This ranges from salsas to bolognese. It is all fair game.

Prep sauces on Sunday or whichever day you meal prep and add them to your meals throughout the week. If you don't have time to prep sauces, we have also included one of our favorite partners and Whole30 Approved® sauce brands at the end of this post.
Find flavors you enjoy and switch it up! Put Saucy Lips Zesty Cilantro sauce on top of roasted potatoes and a Pre Top Sirloin steak for a classic steak dinner. Make a veggie platter and dip raw veg in some homemade Romesco sauce all day. The possibilities are endless.
3 Homemade Whole30 Approved® Sauces

Sun-Dried Tomato Romesco Whole30 Sauce
This is such a versatile sauce. It works as a dipping sauce, on top of zucchini noodles or with a buttery filet mignon and vegetables. You will be eating this sauce well after the end of Whole30.

Ingredients:
6 oz Sun-dried tomatoes (in oil)
1/2 c. walnuts
1/4 c. water
1/4 c. olive oil
1 tsp. apple cider vinegar
1/2 tsp. sea salt
2 cloves garlic

Instructions:
Add all ingredients to a blender and blend until smooth. It's that easy.


Beef Bolognese Whole30 Sauce
No one can go wrong with a solid beef bolognese. This recipe is great for a family dinner or when you are craving comfort food or a little sweetness. Try on top of roasted spaghetti squash or quick sautéed zucchini noodles.

Ingredients:
1 lb Pre 80% lean ground beef
1-2 tsp salt
1 yellow onion, diced small
4 cloves garlic, minced
1 tsp high heat oil
One large carrot, diced
1 c. packed basil, whole leaves
1/4 c. olive oil
2- 28 oz cans whole peeled tomatoes
4 slices pancetta (optional)

Instructions:
Firstly, heat a large pot or dutch oven to medium-high on the stovetop. Crumble the ground beef into the pan.
Secondly. Brown the meat until almost no pink remains. Remove to a bowl with a slotted spoon leaving behind the fat and small beef bits.
In the same fat, sauté onions and garlic until very fragrant and almost translucent, about 6 minutes. Add 1 tsp salt, carrot, and pancetta*. Cook for an additional 3 minutes stirring frequently.
Stir in half the basil and keep stirring until it has wilted.
Add the oil and the tomatoes. Break the tomatoes with your spoon and continue to break up while cooking. Add the beef back to the pot. Bring to a boil and then reduce heat and cover with a slight crack or opening.
Finally, let sauce simmer for 45 minutes (up to 2 hours if you have time).
When the sauce is flavorful and sweet, add the remaining basil and give it a good stir.
If storing for the week, let cool completely and transfer to a glass jar or secure container.
Try this sauce recipe with roasted Spaghetti Squash. 


Salsa Roja 
A refrigerator is not complete without salsa. Add a spoonful to scrambled eggs in the morning. Prep burrito bowls for the week and add a side of salsa. Make it your own. Add a little more jalapeño for extra heat.

Ingredients:
4-5 Roma tomatoes
1 red bell pepper, sliced in half lengthwise, remove seeds, stems, and ribs
One red jalapeño or Fresno pepper
1 red onion, sliced in half
One bunch ofscallions, sliced
Lime, to taste
Salt, to taste

Instructions:
Grill the tomatoes, onion, bell pepper, scallions, and jalapeño until lightly charred and softened.
Place the warm vegetables in a bowl and cover with a towel to continue to steam and soften the vegetables for about 10 minutes.
Pulse everything together in a food processor or blender until relatively smooth. Mix in lime juice and salt. Taste and adjust for seasoning.
Tip: Make sure to not over pulse or your salsa will turn pink!

Check out our Meal Prepping on the Grill for a Salsa Verde recipe and how to grill veggies for lunches or dinner during the week.

If you don't have time or interest in making your own sauces, no need to fear. Our friends at Saucy Lips have endless flavorful sauces to make your Whole30 journey extra tasty. Make sure you have a few different sauces on hand so you keep your meals interesting and something to look forward to throughout your day.

New to meal prepping? We have the hacks to make meal prepping a breeze. Check out our Meal Prep Hero Tips.