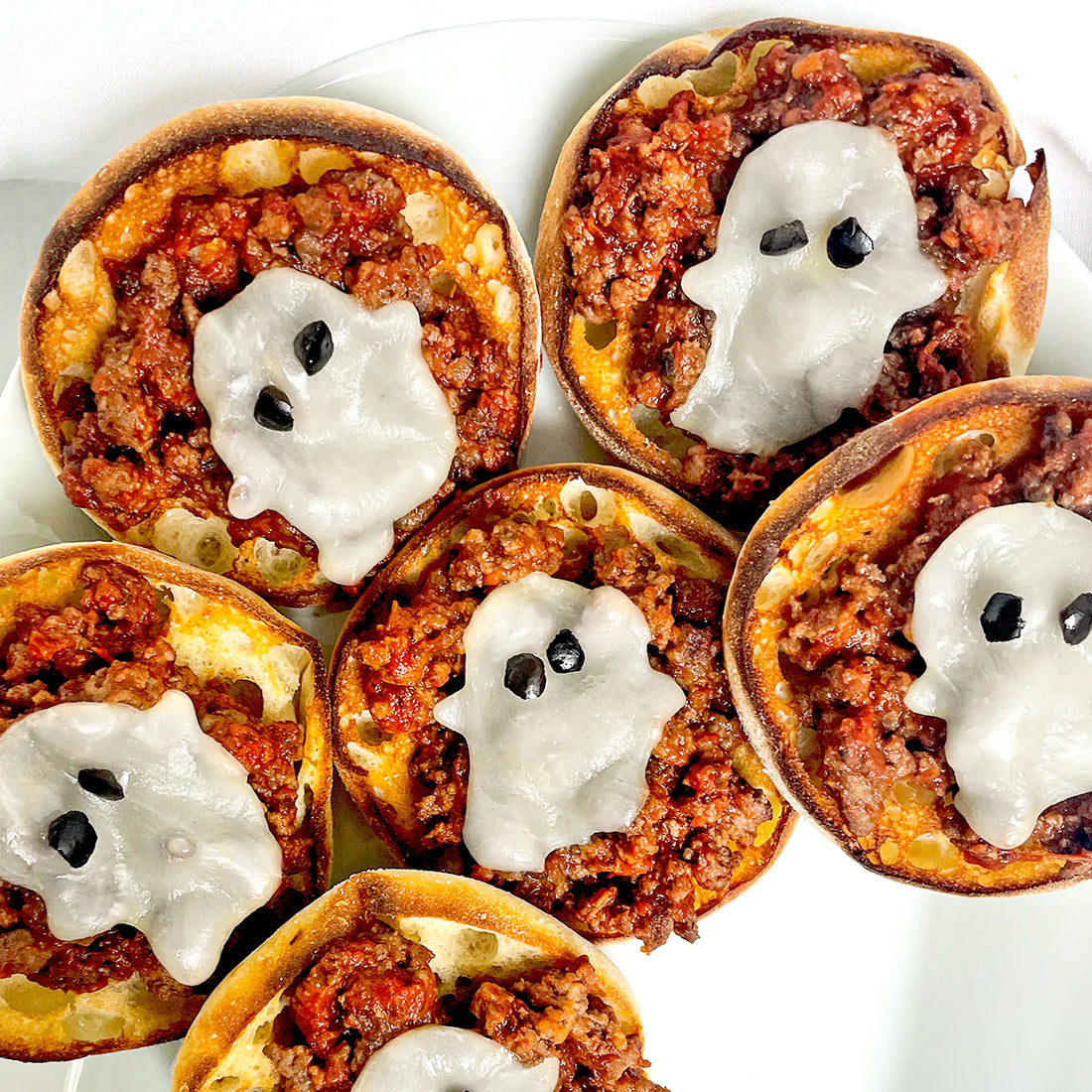 Appetizers for Your Halloween Party
At Pre, we love to offer recipes that are fun and easy to make using our grass fed and finished beef. We're taking it up a notch with these spooky appetizer recipes that are as delicious as they are scary. Make one or all of them for the most epic Halloween party!
Who doesn't love a delicious dip? This spooky chili cheese dip has no tricks, just cheesy, beefy goodness. This dip has a few different kinds of cheese, making it extra creamy and delicious. Decorate the top with some plastic spider rings to really scare your guests. Don't forget to make a platter of chips, veggies, and crackers to scoop this delightful dip with.
The kitchen is officially haunted! You only need a couple of ingredients to conjure these cheesy poltergeists in your home. And by a couple, we mean only four ingredients. Get mozzarella cheese slices, black olives, pizza sauce, and English muffins to create the cutest kid-friendly appetizer. 
These meatballs covered in cheese, sitting in a bed of marinara sauce, are the perfect scary addition to your Halloween spread. Meatballs are a fan favorite and so incredibly easy to make for a Halloween party. Use Pre's 92% ground beef for the most delectable meatballs. 
These kid-friendly pizza fingers are anything but spooky. Using Pre-ground beef and naan for this flatbread makes a difference. Use marinara as a dip for this addicting flatbread appetizer. Trust us; this is a must-have for your Halloween party.
Although this recipe is not spooky, these Whole 30 complaint quesadillas will satisfy all of your Cantina cravings! We used vegan cheese and grain-free tortillas to comply with Whole 30, but this recipe is also great for those with different dietary restrictions. You can also make these with regular cheese and tortillas and add anything to them that your heart desires! Cut them up into tiny slivers and serve on a
Halloween-themed dish
! 
If you're ready to get creative
(and
spooky) with your Halloween recipes, we recommend purchasing some quality, delicious grass-fed beef. Our beef will bring out the best flavor for the best Halloween beef recipes for any party!
Order some today.