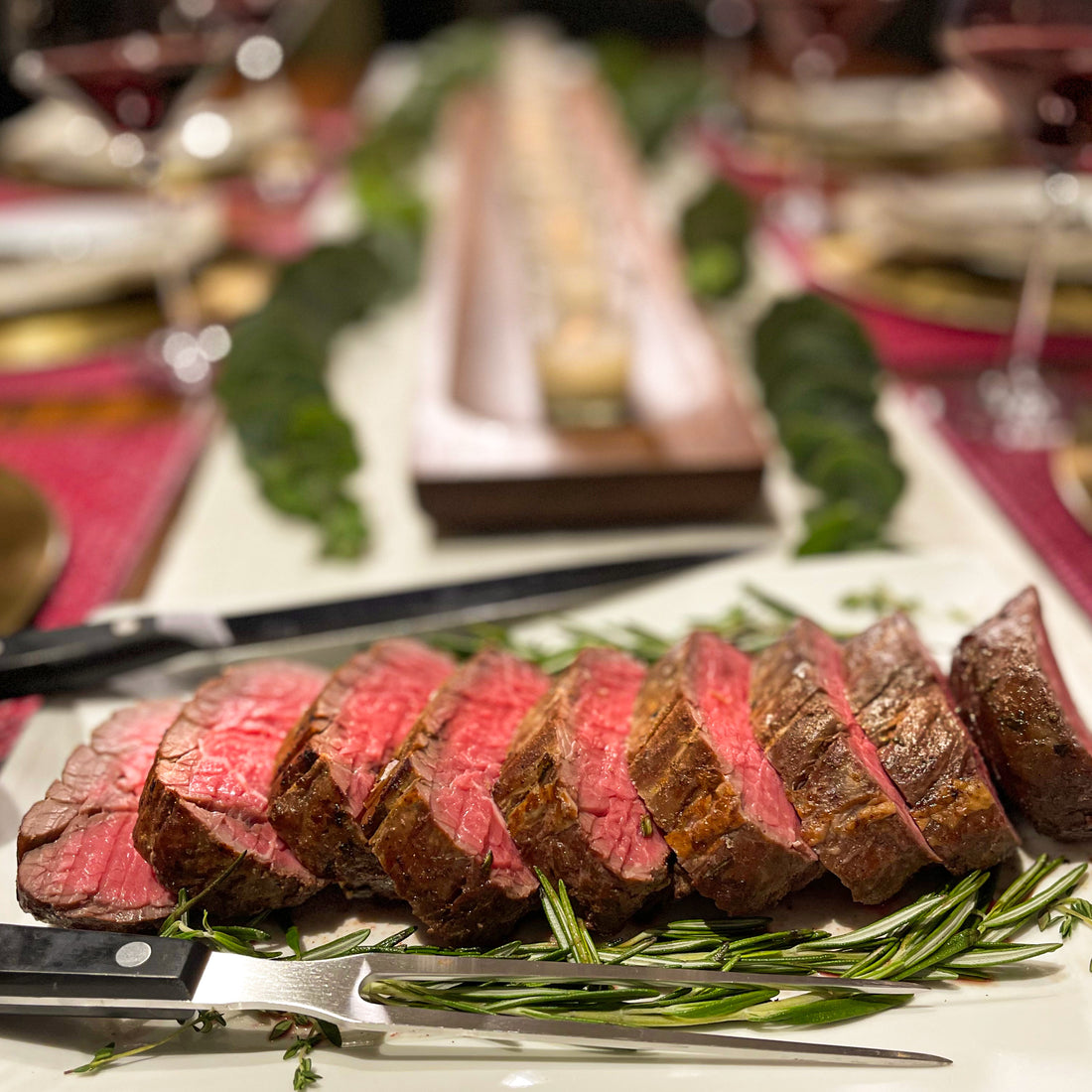 An Easy Guide to Create Your Own Steakhouse at Home
The holidays are full of excitement and energy! We are all for a scheduled time to eat and party, but we thought with all the hustle and bustle, some of you might be looking for a more low-key holiday this year. Try making a steakhouse inspired dinner!
If you want to entertain a smaller crowd, create a memorable date night, or casually have a night with friends, this steakhouse dinner is perfect. You can make most of the recipes ahead of time, and mostly cook on their own with little prep time. This gives you more time with your loved ones. Partying with Pre is the only grass fed beef that will have people calling your kitchen for dinner reservations!
So let's get to it, the perfect do-it-yourself steakhouse menu. Oh and before we forget, we made the perfect little downloadable menu you can print out and write on for your guests to read at the table. Lastly, it also includes a customizable shopping list.  
Take pictures and show us yours at home, we would love to see it. Tag us on social at

@

eatpre_ and be sure to follow us for cooking tips and recipes!
First things first, the hero. This tenderloin can comfortably feed 5-7 people and it is the most tender, decadent way to say I appreciate you. There are two ways to cook it, sous vide or the reverse sear method. Either one works extremely well, and is basically fool-proof. You won't need to worry about it drying out like a turkey and it really doesn't need much fuss to bring out the flavor. We have a few recipes below. It is available in our Holiday Feast Box and you can even add it onto your cart for $39.99 at checkout.
Bearnaise, Hollandaises' herby cousin can be intimidating for many home cooks. We have a fail proof version sure to please, delivering on flavor and ease of preparation. Don't let anyone tell you that you can't use a blender or that Bearnaise can't be made ahead of time. This sauce will perfectly compliment your tenderloin roast. 
We love make ahead recipes, especially for entertaining. These steakhouse inspired scalloped potatoes benefit from resting under a weight overnight which helps the potatoes absorb the delicious cooking liquid. Feel free to make this recipe 2 days before serving! 
A lightened up version of this classic steakhouse side dish. We usually opt for recipes that use fresh vegetables but in this one we think frozen spinach works best. If you want to slim down the fat more than we did you can substitute lower fat milk and cream cheese. This recipe is better made a day in advance and stores and reheats beautifully. For more details, check out the full recipe below.
Easy, make ahead, holds/reheats well, t
his recipe is better made a day in advance, it stores and reheats beautifully. 
Like to cook but not the most confident Baker? Same. We love these pretty popovers because they're easy. And pretty. Popovers are made with a batter, not a dough so no raising yeast, kneading and coating your kitchen in a dusting of flour. It helps to have a special popover pan to create the most dramatic"pop" but a regular muffin tin will also work. Feel free to swap out any fresh herb for the chives in this recipe. You can also omit the onion powder to create a less savory version that pairs perfectly with your favorite jam or marmalade. Remember to plan ahead and have your eggs and milk at room temp. Popovers are best baked and served immediately but the batter can be made in advance, see recipe notes. Makes 12 popovers.
This is the easiest at home steakhouse menu that is sure to impress and leave your stomach completely satisfied. There may be some leftovers, but we can't promise it.
For more cooking inspiration
For more recipes, check out all of our latest recipes here, and don't forget to stock up on our 100% grass fed and finished beef for the holidays and all your future steakhouse parties.