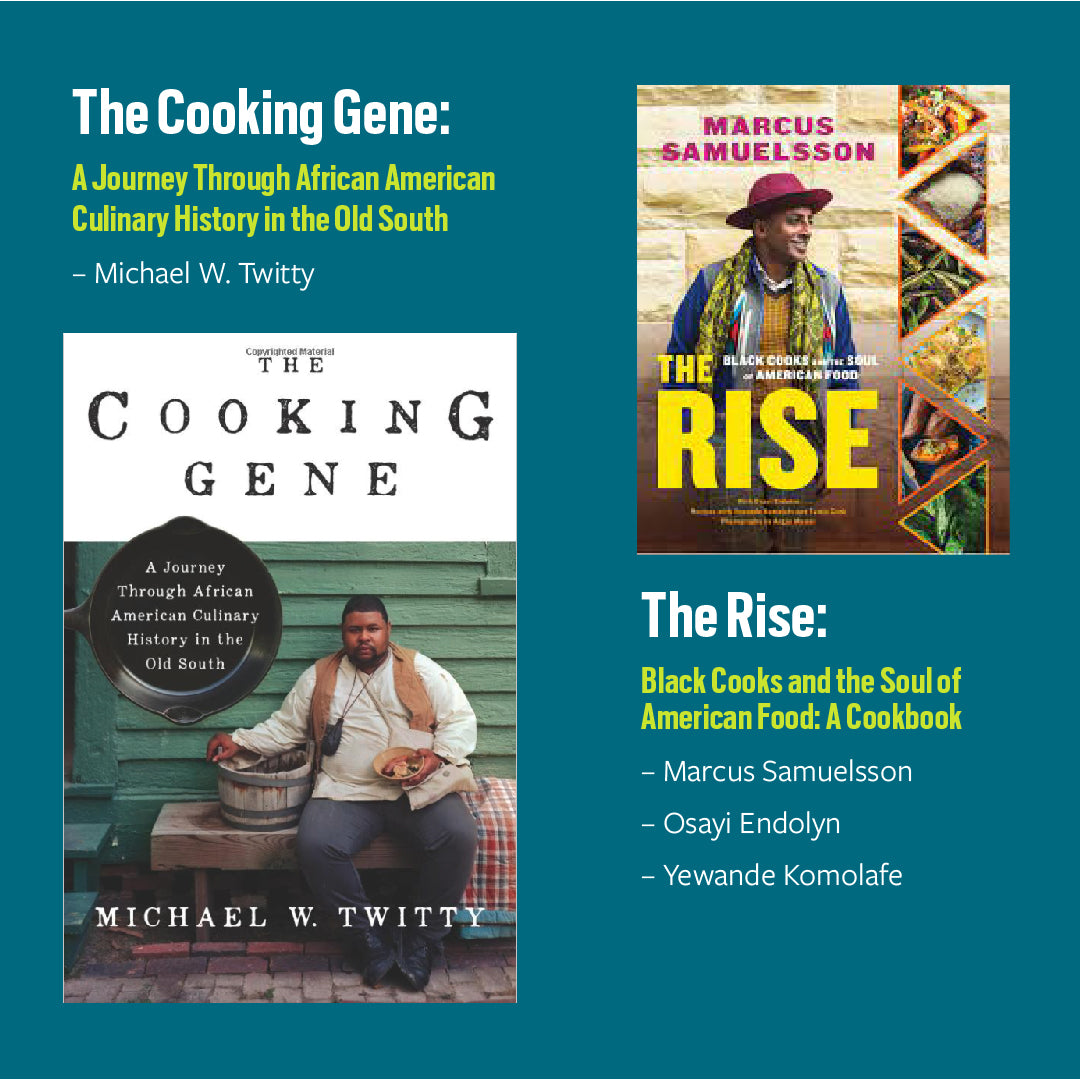 Add the Soul of American Cooking to your Cookbook Collection
Celebrate Juneteenth and Diversify your Cookbook Collection
Collecting cookbooks is a food-lover's weakness. Drunk shopping at midnight? Five new cookbooks may show up at your door within the week. Garage sales, estate sales, Grandma's house —all goldmines for cookbooks from the 60's and 70's waiting for us to reopen their pages. We may strike out and have a cookbook try and tell us to make spaghetti in the microwave, Betty Crocker's Microwave Cookbook circa 1981. But more often than not, a cookbook will not only teach us the correct ratio of oil to vinegar but transport us to a period in time, a personal story, a chef's kitchen. Add the soul of American cooking to your cookbook collection.
A cookbook is not only the instructions to bring together ingredients in a dish, it is what those ingredients can tell you about what is available to that generation and location. Different ingredients, flavors, herbs and spices create stories. Stories create history. So really, cookbooks should be referenced in history classes.
To celebrate Juneteenth (and it finally becoming a federal holiday!), we are urging you to take inventory of your cookbook shelf. Are the recipes and Black chefs that shaped American cuisine next to your copy of Mastering the Art of French Cooking? If not, it's time to add a few missing chapters in history to your cookbook collection and celebrate and learn from these Black authors. 
10 Cookbooks to 
Honor and 
Celebrate Juneteenth and Add the Soul of American Cooking to your Cookbook Collection
| | |
| --- | --- |
|   | 1. The Cooking Gene by Michael W. Twitty |
| | 2. Jubilee: Recipes from Two Centuries of  African American Cooking by Toni Tipton-Martin |
| | 3. The Dooky Chase Cookbook by Leah Chase |
| | 4. The Taste of Country Cooking by Edna Lewis |
| | 5. The Black Family Reunion Cookbook by National Council of Negro Women |
| | 6. Carla Hall's Soul Food: Everyday and Celebration by Carla Hall |
| | 7. Early Enough: A Southern Girl's Love Letter to Brunching, Banter, and the Perfectly Paired Cocktail by Courtnee Futch |
| | 8. In Bibi's Kitchen: The Recipes and Stories of Grandmother's from the Eight African Countries that Touch the Indian Ocean by Hawa Hassan & Julia Turshen |
| | 9. The Rise: Black Cooks and the Soul of American Food: A Cookbook by Marcus Samuelsson |
| | 10. Son of a Southern Chef: Cook with Soul by Lazarus Lynch |