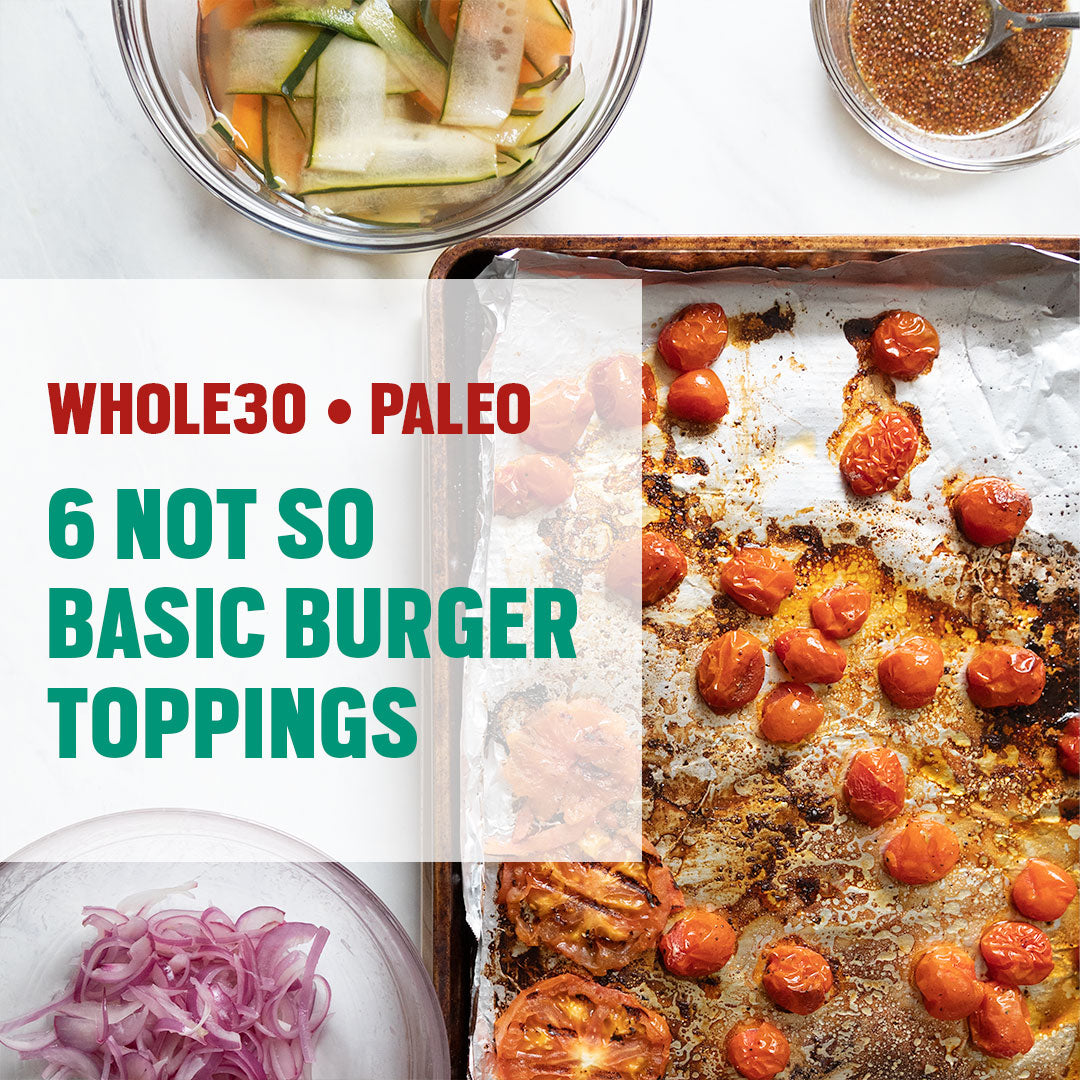 6 Not So Basic Burger Toppings
Tomatoes, red onion, ketchup, mustard, and pickles are all classic burger toppings. You can't go wrong with any of these. A good bread and butter pickle on a juicy burger in the backyard of your family's house is a summer time staple. 
Burgers are eaten all spring and summer long. Cookout season has us eating hamburgers and sliders galore. And by the time the invitation to the fifth cookout comes around, you might be ready for something different. We took these classic burger toppings and elevated them. 
Add a little kick to your ketchup with Gochujang paste. We added a little zest to your red onion with lime juice to go with a margarita. Kick your burger toppings up a notch and add these 6 not so basic burger toppings.
#1 Massaged Onions

Ingredients:
1 Red Onion

Juice of 1 lime

Pinch of salt
Instructions:
Slice red onion and place in a bowl.
Add lime juice and salt to onion.
Massage onion for about 1 minute until onion just starts to wilt.


#2 Roasted Balsamic Tomatoes Burger Topping
Ingredients:
1 container of cherry tomatoes
1/4 cup balsamic vinegar
1 tbsp high heat oil
Salt to season
Instructions:
Preheat oven to 400º.
Line a baking sheet with parchment or tin foil.
Spread tomatoes on the baking sheet and drizzle with balsamic and oil.
Season with salt.
Roast for 15 minutes or until the tomato skin starts to crinkle.


#3 Maple Mustard
Ingredients:
3 tbsp stone mustard of your choice
1 tbsp maple syrup
Instructions:
Mix together. Easy Peasy. 
#4 Spicy Korean Ketchup Burger Topping
Ingredients:
1/2 cup Ketchup (Pick a Whole30 compliant ketchup if Whole30)
1 1/2 tbsp Gochujang Paste
Instructions:
Mix together. Another easy peasy recipe.
#5 Grilled Tomato Burger Topping
Ingredients:
1 Beefsteak Tomato, sliced
Salt to taste
High heat oil
Instructions:
Preheat grill pan or cast iron pan on medium high heat.
Spread high heat oil on pan.
Salt one side of your tomato slices and place in pan, salted side down.
Cook for about 4 minutes.
Before flipping, salt top side. Then flip and cook for another 4 minutes.
#6 Quick Pickled Cucumbers & Carrots
Ingredients:
1 cucumber, peeled into strips
1 large carrot, peeled into strips
1 cup water
1 cup white vinegar
1 tbsp sugar (omit for Whole30 or Paleo)
1 tbsp salt
Big pinch of black pepper
Instructions:
Place all ingredients in a large bowl or mason jar.
Cover and put in fridge for at least 15 minutes.
Best Steak From Pre
No matter how deliciously well you prepare these burger toppings, you need a great burger to eat them with! Check out our store locator to find where you can buy Pre beef near you, or purchase from our online store and get Pre beef sent right to your door! Order your high-quality grass-fed beef from Pre today and take full advantage of our grass-fed beef's many nutritional qualities.
Recipes by Chef Christy Williams (@christinewilliamscooks)