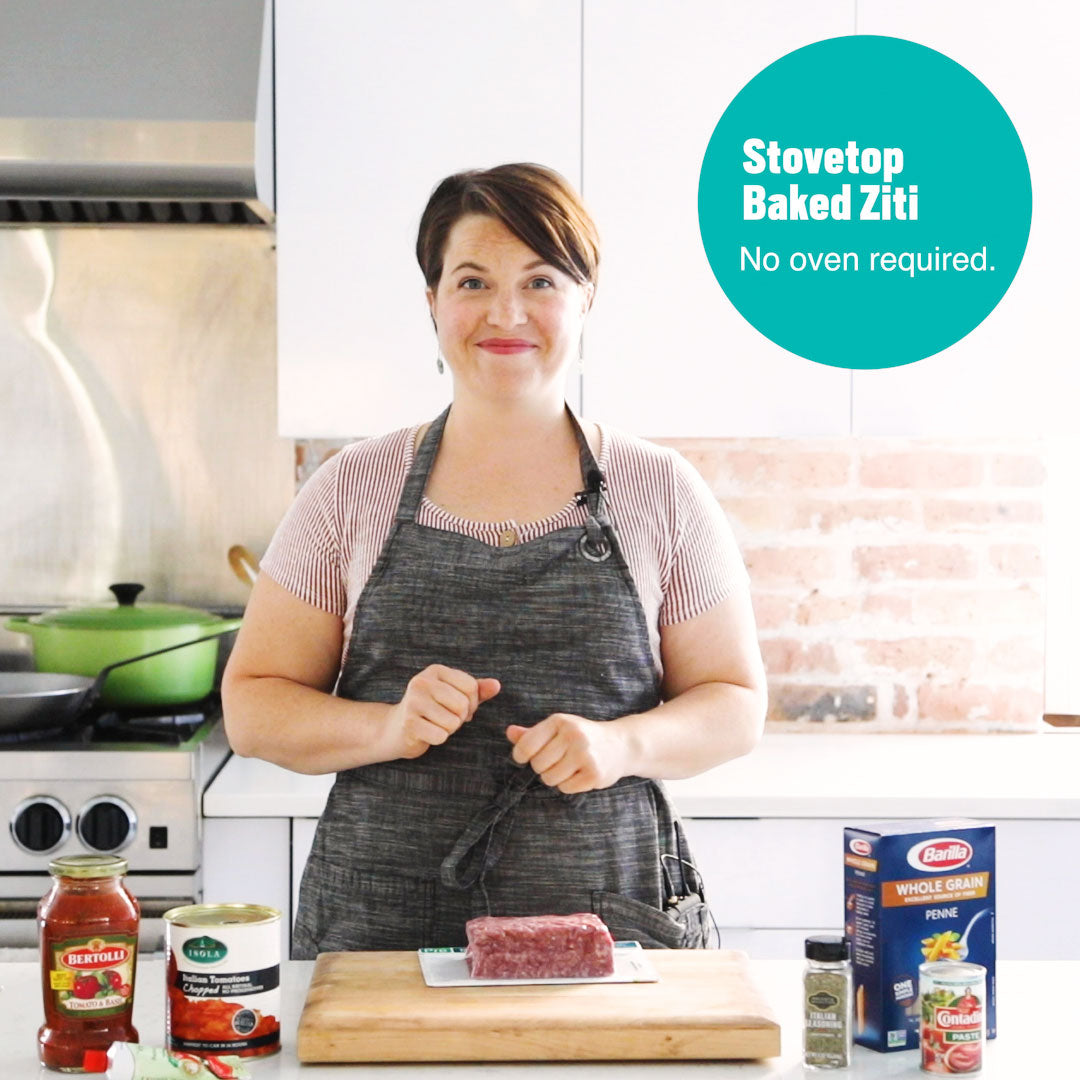 Pantry meals are great for when you forget things at the store or just want an easy stress-free meal. Don't forget you can flavor balance these with any ingredients you have on hand that could substitute. Have fun experimenting with different takes on these ideas and get adventurous, or not, there are no wrong ways to approach these recipes.
Fall Beef Harvest Bowl Pantry Meal
3 HOURS | 15 MINUTES SERVES 1-2
This harvest bowl can be easily made with frozen veggies if you have been stocking up and you can put it on a bed of rice or greens.


Time:
PREP: 15 min.
ACTIVE: 25 min.
PASSIVE: 2 hrs. 35 min.

Ingredients:
1 1/2 lb Pre Chuck Roast
3 Tbsp cooking oil
2-3 Tbsp kosher salt
1 red bell pepper, sliced
1 small onion, sliced
3 cloves garlic, grated or minced
1 Tbsp cumin
1 tsp coriander
½ tsp ground ginger
¼ tsp clove
1 Tbsp cinnamon
½ Tbsp oregano
¼ cup cooking sherry or dry white wine
14oz can diced tomatoes
1-2 Tbsp brown sugar (or your favorite sweetener)
Juice of half a lemon
For Bowl:
1 cup cooked farro
1 acorn squash, roasted and sliced
1 lb roasted brussels sprouts (or your fave green vegetable)Pull your steak from the fridge and start to preheat your cast iron or non-stick skillet to medium-high.
Instructions
Remove roast from the fridge appx 30 minutes before cooking to come to room temp. Cut roast into 2-3 inch pieces. Generously salt all sides.
Heat oil in a large dutch oven over medium-high heat and brown all sides of beef 5-7 minutes. Remove from pot and set aside.
Arrange an oven rack near the bottom of the oven, and preheat oven to 250ºF.
Add onions and peppers. Cook until translucent and a bit browned: 5-7 minutes.
Add garlic and all spices. Cook, stirring constantly 2-3 minutes or until spices are toasted and very aromatic.
Carefully add sherry to pot and scrape any browned bits from the bottom of the pan. Add tomatoes, stir, and bring to a simmer.
Add beef back into the pot. Add water ¼ at a time, if needed for beef to be ⅔ submerged.
Cover pot and place on the bottom oven rack. Roast at 250ºF for appx 2 hours (checking every half hour to stir) or until beef is very tender and shreds with a light touch. Let cool for 5 minutes. Taste and season with salt, sweetener, and lemon juice. Stir to combine. Serve over farro with roasted squash and vegetables.
Tips & Tricks: Be very careful with the dutch oven in and out of the oven. Be sure to leave a potholder on the top when not in use so you don't grab the hot handle! Been there. Not fun.
The meat will technically be edible much earlier than it will be tender enough. Be patient and let it roast for that last 20-30 minutes. You'll be glad you did.
This recipe doubles easily and freezes well!
Microwave squash before cutting to make cutting much easier. Roast in halves and then cut and peel.
Recipe developed by Sarah Beth Tanner



One Sheet Mongolian Beef Pantry Meal
35 MINUTES | SERVES 4-6

This sheet tray is perfect because you can throw it in the oven and let it do it's thing while you catch up on a good book or podcast. You can use powdered ginger instead of fresh ginger, just use a little less if you do. And feel free to swap the green beans when you serve over rice. Any good vegetable will do.



Time:
PREP: 10 min.
ACTIVE: 20 min.
PASSIVE: 15 min.


Ingredients:
1 pound green beans, trimmed and halved
1 Pre Chuck Roast patted dry
1/4 cup corn starch
5 tablespoons high heat oil
1 tablespoon fresh grated ginger
6 cloves garlic, minced
1/3 cup soy sauce
1/3 cup sugar
3 tablespoons apple cider vinegar
1 teaspoon red pepper flakes
1/2 cup chopped scallions
Instructions:
Preheat the oven to 450ºF, convection if possible. Slice the chuck against the grain into thin slivers. Then toss the strips with starch.
Spread the green beans out on a rimmed baking sheet and drizzle with 3 tablespoons melted oil. Sprinkle with pepper. Roast the green beans for 5 minutes.
Move the green beans to the sides of the pan, and spread the chuck roast slivers across the center in a single layer. Drizzle the steak with 2 tablespoons oil and roast in the oven for 8 minutes.
Meanwhile, whisk the ginger, garlic, soy sauce, sugar, apple cider vinegar, and chili flakes together.
Remove the sheet pan from the oven. Pour the sauce over the top of the steak. Roast again for 7 minutes. Then toss the beef and beans together and sprinkle with chopped scallions.

Recipe by Chef Sarah Russo

Stovetop Beef Baked Ziti Pantry Meal
55 MINUTES | SERVES 6-8

Do you have random canned, frozen vegetables or veggies in your fridge? Grab some pasta and frozen ground beef from your freezer and try this Stovetop Beef Baked Ziti. 

Time:
PREP: 10 min.
ACTIVE: 20 min.
PASSIVE: 25 min.

Ingredients:
1 lb 85% Pre Lean Ground Beef
2 tbsp. olive or neutral cooking oil
4 cloves garlic (or 1 1/2 tsp. garlic powder)
1/2-1 yellow onion (or 1 1/2 tsp. onion powder)
1 tbsp. Italian seasoning
Kosher salt & black pepper
Sugar, to taste
Your choice of hearty vegetables (diced very small):
Bell pepper
Carrots
Celery
Mushrooms
Eggplant
Green Beans
Your choice of tomato base:
1 jar marinara sauce + 1 can diced tomatoes
1 can tomato sauce + 2 cans diced tomatoes + 2 tbsp. tomato paste
2 lb grated, fresh tomatoes
Your choice of pasta:
1/2 lb ziti or penne
3/4 lb rigatoni
Your choice of cheese options for stirring in:
1 cup ricotta
1 cup low-sodium cottage cheese (Break up in food processor first for a smoother finish.)
1 cup mozzarella
Parmesan for topping
 Instructions
Cook chosen pasta just shy of al dente. Reserve 2-3 cups pasta water.
Heat oil in a large heavy-bottomed pot or dutch oven. Add the beef and cook until dark brown and very aromatic.
Add diced vegetables (including onion if using fresh) and continue cooking until the veggies are tender and turning translucent.
Add garlic and onion powder (if using), Italian seasoning, and tomato paste (if using). Continue cooking, stirring constantly, 2 minutes to bloom the spices and aromatics.
Add tomato options. Bring to a low boil and turn the heat down to keep the sauce at a low simmer for 10-15 minutes.
Add pasta to the sauce and stir to combine. Add the pasta water 1 cup at a time, as needed, to keep the mixture saucy, 4-5 minutes or until the pasta is al dente.
Turn heat off. Taste and adjust seasoning with salt, pepper, and a touch of sugar.
Stir in mozzarella cheese and plop ricotta or cottage cheese by the spoonful on top. Cover and let sit for 10 minutes.

Recipe developed by Sarah Beth Tanner

Beef Teriyaki Pantry Meal
30 MINUTES | SERVES 1-2
This 5 ingredient, easy teriyaki is perfect when you need a flavor kick.


Time:
PREP: 10 min.
ACTIVE: 20 min.

Ingredients:
1 Pre Top Sirloin Steak
2 tbsp neutral cooking oil (like Grapeseed)
Marinade:
1/4 cup soy sauce or tamari
1/4 cup Mirin (Substitute 1/8 cup cooking sherry or white wine + 1/4 cup rice vinegar or white vinegar)
1/4 cup brown sugar (Substitute honey. Other substitutes, like coconut sugar or brown rice syrup, measure to taste.)
Optional: 1 tbsp. grated ginger root
Optional: 1 clove grated garlic
Optional: 1 tbsp sesame oil
Whisk together marinade ingredients. Taste and adjust as you like. It should be equal parts salty, funky, and sweet.
Slice steak against the grain into small, thin pieces. Add beef and marinate for up to 30 minutes (or don't, still delicious). Taste and adjust as you like.
In a medium saucepan or wok, heat oil over high heat. Add beef slices. Allow caramelizing for 3-4 minutes on each side. Check often. Once dark brown and caramelized, remove from the pan and set aside.
Immediately add the marinade to pan and simmer, stirring constantly, about 2-3 minutes or until sauce thickens by about a third. Add beef back into the pan and coat with the sauce.
Serve over rice or cauliflower rice, steamed vegetables (frozen broccoli works perfectly). Spoon sauce on top.

Recipe by Chef & Culinary Producer Sarah Beth Tanner, @sbtcooks




Whole30 Beef Roast and Hearty Greens
1 HOUR  | SERVES 4-6

Use up some greens in your fridge before they go bad, and easily roast some vegetables. This recipe uses the Instant Pot to cook chuck roast, but if you have a slow cooker or another pressure cooker that works too. Remember if you are not pressure cooking the chuck roast, cook it low and slow for the most tender results.
Time:
PREP: 15 min.
ACTIVE: 15 min.
PASSIVE: 30 min. 
Ingredients:
1 Pre Chuck Roast, cut into 2-inch cubes
1 bunch hearty greens like kale or collard, cleaned and chopped
2 tbsp. cooking oil
1 yellow onion, chopped
3 carrots, peeled and chopped
3 cloves of garlic, grated
2 serrano peppers, chopped
3 bay leaves
1 tbsp. kosher salt, divided
1 tsp. cumin
1 tsp. coriander
1 tsp. black pepper
1 tsp. paprika
1 tsp. chili powder
Instructions:
Clean and chop all ingredients. Season beef on all sides with kosher salt (appx ½ Tbsp total)
Set your pressure cooker to Sauté, add oil.
Brown beef on all sides (4 minutes on at least three sides).
Remove the beef and set aside.
Add onions and carrots. Sauté until onion is translucent. Appx 5 minutes
Add garlic and peppers, then spices. Sauté, stirring constantly, appx 2 minutes until very aromatic.
Add greens and stock into the pot and stir to combine. Add beef, bay leaves, and ½ Tbsp salt. Stir and submerge beef.
Close the pressure cooker, seal valve and set to High Pressure. Cook at high pressure for 30 minutes, and allow for natural release.
When pressure is released, open the pot and remove beef to a plate to shred with two forks. Add shredded beef back to pot and stir to combine.
Adjust seasoning to taste. Serve hot.

Recipe developed by Sarah Beth Tanner